Unifor Deal Created Real Jobs And Pensions Where None Existed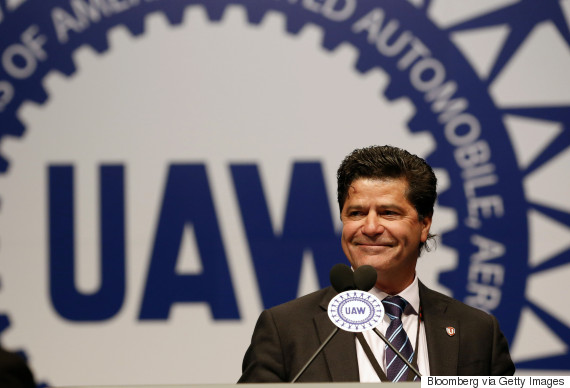 Jerry Dias, national president of Unifor, Canada's largest private sector union. (Photo: Jeff Kowalsky/Bloomberg via Getty Images)
With no new investment in Canada from the Detroit Three automakers, there would be no jobs, no benefits and no pensions of any kind.
That's something armchair observers with no skin in the game need to understand. It is easy to second guess tough decisions from afar, but there are incredible gains made at the bargaining table with GM.
In negotiating our collective agreement with General Motors, Unifor secured a historic investment of $554 million from the company. This includes products for both Oshawa and St. Catharines and an investment at the Woodstock parts centre. The investment helps workers today and well beyond 2019, when the Oshawa plant was set to close.
Incredibly, production will even shift to bring in jobs to Canada with extra volume being added in St. Catharines -- a stunning reversal of what too many of us have come to expect.
To those who claim that Unifor has endangered pensions for everyone, I say this: You don't know what you are talking about.
In recognition of this investment and the job stability it will create, the deal was ratified on the weekend by our membership. Nobody other than our members gets to decide. They knew what was at stake and voted accordingly.
To secure the future of the General Motors operations in Canada for future generations, Unifor's bargaining team had to make some very difficult decisions. The most difficult, by far, was for new hires to be put into a defined contribution pension plan instead of the old defined benefit plan.
To those who call this a sellout of future generations or claim that Unifor has endangered pensions for everyone, I say this: You don't know what you are talking about.
The reality is that GM has not hired any new staff since our last collective agreement in 2012. Instead, it hired only temporary workers, who have not been eligible for any pension at all -- defined contribution or otherwise.
But with this new collective agreement, the 700 temporary workers, known as supplemental workforce employees or SWE, at GM will now be immediately converted to permanent workers -- with rights, benefits and a signing bonus -- and all 700 will be enrolled in the new pension plan. We can talk all day about ideals, but the reality on the ground in Oshawa, St. Catharines and Woodstock -- communities with strong manufacturing histories, but facing increasingly difficult futures -- is that good jobs of any kind have become increasingly scarce.
Free trade agreements that benefit only the corporations, globalization and the race to the bottom have taken their toll on the auto sector and Canadian manufacturing as a whole.
That's why Unifor faced a stark reality heading into this round of bargaining with the Detroit Three - GM, Fiat-Chrysler and Ford. From the beginning I knew that these talks would be the most important round of talks in a generation for good reason, because the very future of the auto industry in this country was at stake.
We reached a critical point in auto in Canada where the industry would no longer be sustainable without future investments. That made this round of talks, with our demands for investment, make or break for the entire industry.
At General Motors, for instance, the workforce has been cut by 70 per cent since 2000, and despite support from the federal and Ontario governments -- not to mention its Canadian workers -- during the 2009 bankruptcy, its Canadian footprint continued to shrink. The Oshawa assembly plant had no work past 2019, and the St. Catharines complex needed new product commitments, too.
That has now changed.
Thanks to this deal, there are real jobs and a pension, where none existed before. With no jobs, there can be no pension of any kind.
It is all too easy to talk about principles when you don't have to look into the eyes of a young person and explain why your ideals are more important than their access to a good job and a pension plan on which they can begin to build a life for their families.
The members of the GM bargaining committee know these young people personally. They work with them every day, and know the struggles they face.
And they know that with no new investment, these same young workers would face a much more uncertain and difficult future than the one this new contract offers.
Young workers deserve an opportunity to build that life, to buy homes and plan for the future, and in so doing build stronger communities for all of us and our children.
That's what unions are here to fight for, and that's what Unifor achieved with this contract, and will continue to as attention turns to Fiat-Chrysler and then Ford.
Follow HuffPost Canada Blogs on Facebook
Also on HuffPost:
9 Things Trade Unions Have Done For Us
Without trade unions promoting the aim of a 40-hour work week, there would have been no pressure on employers to limit the amount of time employees spend working. While of course employees are free to choose how long they spend working, trade unions worked to ensure this was the choice of a worker, not their boss. The movement for an 8-hour work day peaked at the turn of the 20th century, just before the First World War. And more recent moves towards re-imagining the working day have seen big businesses use technology to limit after-hours email traffic. Arguably such ideas are borne out of trade union campaigning more than a century ago.

While European rules introduced the basic legal right to paid-for annual leave, it is the trade unions which fought for enhanced entitlements over and above the basic EU provision. Since the early 2000s, the Trades Union Congress has fought for increases to the amount of leave, which is now the equivalent of 5.6 working weeks (PDF).

Before the Employers and Workmen Act 1875, workers were the only ones who could be sued for breach of an employment contract. The increased organisation of trade unions and the Great Reform Act prompted both Tory and Liberal governments of the time to take a renewed interest in employment laws. Ultimately this brought about greater parity in the relationship between employer and employee.

Trade unions were instrumental in lobbying government for the provision of leave for new parents - at workers' own discretion. In 1998, the Trades Union Congress launched a campaign to ensure that proposed parental leave would be flexible and well promoted to employees.

Cases of discrimination aren't uncommon, but they'd be a lot more if it weren't for trade unions. As the European Commission says: "Trade unions play a primary role in fighting against discrimination through a variety of actions and tools". They negotiate with employers, support victims, and monitor discrimination cases - keeping up-to-date with the latest case law so that we don't have to.

Although trade unions had reservations about the effect of a national minimum wage, they declared their support for the policy in the mid-1980s. By the 1990s, scholarly evidence caught up with the unions - arguing that a minimum wage would not reduce adult-age employment (PDF). And through the Labour Party, trade unions were able to influence policy in government after the 1997 election.

In the 1840s, unions that were highly centralised and which employed full-time officers brought about negotiation and arbitration as their preferred method of achieving a good deal for their members. This had a significant effect in improving worker/industrialist relations, and while not always successful, they fundamentally changed workplace relationships for the better.

In the 1830s, a Chartist movement was organised around 6 clear principles - and mobilised mass support for its aims through petitions. Just like trade unions, the Chartists' relied on collective aims amongst like-minded people - most visible in the form of three 'monster' petitions presented to Parliament. These contained millions of signatures and proved a desire amongst workers for improved working conditions.

The history of the working week lies in industrial practices, and in Britain factories operated 6 days a week to maintain efficiencies of scale. Sundays were always the day of rest. But trade unions fought to secure the Saturday for workers, too. And now the Monday-to-Friday work week is accepted across industries, as the LSE notes.
Follow Jerry Dias on Twitter: www.twitter.com/JerryPDias