Malala Believes In Canada. Let's Prove Her Right
Recently, two women Nobel Laureates -- Malala Yousafzai and Leymah Gbowee -- inspired Ottawa, sharing their stories of advocating for girls' education and boldly leading movements for peace.
When Nobel Laureates descend upon your city -- your nation's capital -- you know it's time to listen up and take note.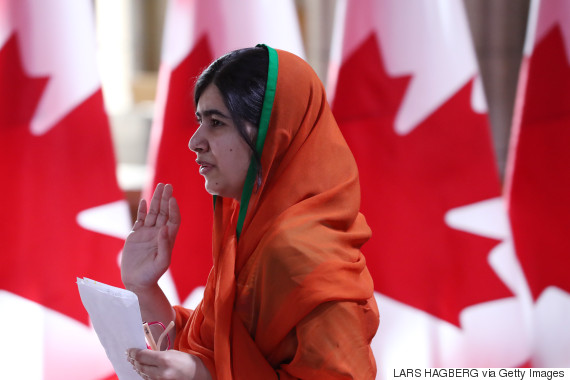 Pakistani Nobel Peace Laureate Malala Yousafzai leaves Parliament Hill after receiving an honorary Canadian citizenship in Ottawa, April 12, 2017.(Photo: Lars Hagberg/AFP/Getty Images)
Here's what I heard:
The world believes in us
Canada matters. As Malala herself said, "If Canada leads, the world will follow." Malala, the Pakistani girl who was shot in the head for the "crime" of going to school, believes in Canada. Leymah, the woman who led a sex strike to demand peace in her war-torn country, believes in Canada.
As a country, we have an opportunity to aid the global women's human rights movements that, at this moment, are more powerful than ever. At Canada's 150th anniversary, there is no better time to show Malala, Leymah and the rest of the world that Canada merits their optimism. Canada needs to channel its lauded feminist rhetoric into meaningful action.
Canada must support women at the grassroots
Women with very few resources are constantly creating and recreating out of necessity. They are the true innovators. When girls in Malawi were missing school because they didn't have period products, a group of mothers designed a pad out of local materials and trained other women in the community how to make them. Now their daughters are in school.
I am hopeful for a policy that puts women and girls front and centre.
Sometimes big problems really do have straightforward solutions. We know that these solutions are often led by the women in a community who best understand the local context and what's at stake. Yet, Canada's aid for grassroots women's organizations is but a crumb, totaling only $1.7 million in 2013. As Leymah Gbowee herself said, "there are 10,000 Malalas and 10,000 Leymahs in every community." We must find them and support them.
Canada can do (and has done) better
In 1975, two Canadian women came together at the First World Conference on Women in Mexico City. They knew that Canadians had an appetite to support women around world. That was the spark for what is, today, Canada's only global fund for women and girls.
In that same year, Canadians gave the highest percentage of their gross national income to official development assistance. Since then, that contribution has decreased by nearly 55 per cent. The 2016 OECD data, released just this week, reports that Canada's official development assistance (ODA) is down by 4.4 per cent compared to last year.
Yet, today, we see individual Canadians privately sponsoring Syrian refugees. We see women (and men) taking to the streets for women's rights. And we see Canada's feminist prime minister announcing $650 million for women's sexual and reproductive health.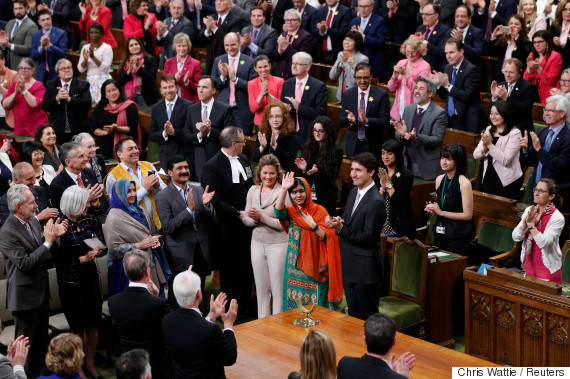 Malala Yousafzai receives a standing ovation while standing with Prime Minister Justin Trudeau and his wife, Sophie Gregoire Trudeau, April 12, 2017. (Photo: Chris Wattie/Reuters)
Anticipating the upcoming release of Canada's International Assistance Policy, I am hopeful for a policy that puts women and girls front and centre. And I am equally hopeful for a renewed and significant commitment to funding the advancement of women around the world.
Standing beside brave activists working at the grassroots, particularly in this scary and unprecedented time, is the bravest form of leadership.
Today, The MATCH International Women's Fund and the Nobel Women's Initiative announced the Canadian Feminist Action Lab. This pilot project will aim to provide $5 million in grants to 150 grassroots women's organizations around the world. This is an exciting opportunity to examine Canada's aid delivery and to ensure that more money gets into the hands of women and girls working at the local level.
This is about legacy for Canada and standing on the right side of history. Women like Malala and Leymah are counting on us. As Canadians, it's our time to stand alongside the brave and bold women holding ground and breaking ground building a better future for us all.
Follow HuffPost Canada Blogs on Facebook
Also on HuffPost:
Why Malala Yousafzai Is An Inspiration
As early as 2008, Malala had already begun her fight for education rights. According to the Toronto Star, her father brought her to Peshawar to speak to a local press club in September of that year. "How dare the Taliban take away my basic right to education?" she said to the group gathered, adding that she hid her textbooks under her clothes when she walked to school. Malala was just 11 at the time. Since the failed assassination attempt, terrorists have said that they will "attack" her again if they get the chance; but Malala, who — at the age of 11 also began writing a blog for the BBC, describing her life under Taliban rule — has refused to be intimidated. "If I speak truly, I'm a little bit scared of ghosts," she famously told NDTV in 2013. "But I'm not afraid [of the Taliban]. No, not at all."

Malala famously left "The Daily Show"'s Jon Stewart speechless when she told him what she would tell a member of the Taliban if she ever met one face to face. She said: "I would tell him how important education is and that I would even want education for your children as well. That's what I want to tell you. Now do what you want."

Last year, on July 12, when the United Nations declared the teenager's birthday "Malala Day," the youngster stood up to address the dignitaries gathered and told them about how she represents the estimated 57 million children around the globe who are not currently going to school. "'Malala Day' is not my day," she said in a speech delivered at the U.N. in New York. "Today is the day of every woman, every boy and every girl who have raised their voice for their rights." "One child, one teacher, one book and one pen can change the world," she said later. "Education is the only solution. Education first."

In the weeks after she was shot, United Nations Special Envoy for Global Education, Gordon Brown, launched a petition in her name. The Malala Petition called for the U.N. to recommit to Millennium Development Goal 2, which aims to get every child in school by 2015. The petition eventually got more than 3 million signatures. The petition reportedly prompted Pakistan to pass a Right to Education bill, which guarantees free education for all children.

"We must help girls fight all the obstacles in their lives, and stand up and speak bravely and overcome the fear they have in their hearts," Malala said at a private dinner in August, per Forbes. A month before, the young woman had met with Nigerian President Goodluck Jonathan in Abuja, Nigeria, to advocate for the 219 schoolgirls kidnapped by terrorist group Boko Haram. At the time, Malala addressed the girls' captors: "Lay down your weapons. Release your sisters. Release my sisters. Release the daughters of this nation. Let them be free. They have committed no crime."

Malala said at this year's Clinton Global Initiative that her fund is pledging a $3 million multi-year commitment, in partnership with Echidna Giving, to support education initiatives in developing countries, according to ABC News. Also this year, Malala and other team members from her fund helped hundreds of Syrian children refugees cross from their war-torn country into Jordan. Malala and her organization have been advocating for the more than 1 million displaced Syrian refugee children and helping them get access to education. (In the photograph above, Malala is pictured chatting with a 16-year-old Syrian refugee during a visit to a refugee camp near the Syrian border, in Mafraq, Jordan, Tuesday, Feb. 18, 2014.)

She has supporters worldwide, but Malala has also endured her fair share of criticism. She has, for instance, been accused by some of abandoning her own people and becoming a Western mouthpiece. Responding to these accusations, she told the BBC last year: "My father says that education is neither Eastern or Western. Education is education: it's the right of everyone."

Malala told CNN's Christiane Amanpour last year that she hopes to one day be the prime minister of Pakistan. "Through politics, I can serve my whole country," she said. The youngster is a believer in big dreams. "The important thing is to always ask the world to do some things. But sometimes they cannot be done, so you have to take a stab and you have to do them," she said in August.
Follow Jess Tomlin on Twitter: www.twitter.com/MATCHIntFund