A Positive Mindset Helped Me Lose Over Half My Body Weight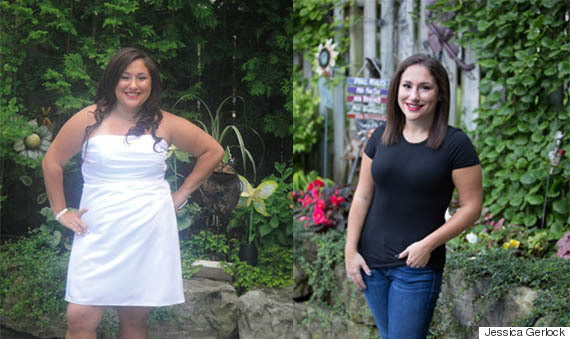 I was about seven years old when I started to feel different. Growing up I never cared about what I ate or what I looked like. I was always on the chunkier side as a little girl and it only got worse as I grew up.
As a young girl, I was a tomboy, and I believe my tomboy-tendencies came from my brother who is three years older than me and really into sports. I played softball and hockey. I never was amazing at sports. I was overweight and just looking to fit in. Boys were less judgmental. I continued playing softball until years later, until the boys weren't so accepting anymore of playing with a girl.
It was the summer of 1999 and my brother was going away to sleepover camp for the first time. I wanted to go with him. Now looking back, I feel bad for my brother. If I thought the girls were cliquey at school, it was even worse at camp. I didn't really have any girlfriends I knew there, so it was a new experience for me.
I was about 40 pounds heavier than my friends so for me wearing a bikini was already out of the question. The one piece was my outfit of choice for the summer. It really kills a girl's self-esteem when you're seven years old and the only girl in your cabin wearing a one piece. I ended up feeling even more alone and homesick.
I ran to my brother's cabin every day because he was always there for me. I wrote home all the time and cried to the staff. I was miserable but I stuck through the 10 days and came home. I tried to act so tough, but no matter where I went, I didn't feel welcome.
I can clearly remember the first time I was ever called a fat name. It was a few years later. A boy called me "Free Willy". He thought it was funny. Something so insignificant to someone else, stayed with me for 14 years. 14 years of overeating, some health problems, a lot of tears and lots of anxiety and depressive moments.
I hit rock bottom.
I always cared about what people thought of me. I still do to this day. I worried about recess because I didn't really fit in with the girls. I felt I was being judged if I played sports with the boys. I didn't know if I would have anyone to hang out with.
Now, don't get me wrong. I still did have girlfriends but the Barbie and jump rope thing wasn't really for me. A fat girl hates jump rope. It is the worst feeling to have your rolls hit your face every time you jump. It sucks. Trust me. I was unhealthy and nearly double the size of my peers. I just didn't fit in and felt out of place.
I was verbally bullied about my weight throughout school. The weight started increasing exponentially while I was in high school. That is when it started impacting my moods and the way I looked at life. I was suicidal at one point. I did not want to be around my friends and I started isolating myself. I became physically sick with stomach problems, mentally sick and looked down upon myself. I hit rock bottom.
The teenage lazy factor definitely hit me hard and I was eating out all the time and barely could keep up in gym class. Going to school in a very middle-to-upper end area, kids weren't very accepting if you were different.

My turning point didn't come for a while, not until long after high school. During grade 11, I was homeschooled for a semester because I refused to go to school. I was so uncomfortable in my own skin and I made myself physically sick. I was in and out of the hospital for stomach problems. I did graduate on time with my grade in June 2010, and then in September of that year I went off to London, Ontario for college.
I ate alone way more than people knew. I had many issues with friends and a few romantic relationships, but I did not love myself, so it was hard for people to love me back.
Throughout three years in college studying Interactive Media, I gained a lot more weight and hit the 200 pound mark. I lived alone in the same building as a lot of people I knew, but I didn't socialize or go out a lot. I ate alone way more than people knew. I had many issues with friends and a few romantic relationships, but I did not love myself, so it was hard for people to love me back.
After finishing college and completing an internship, something clicked. I went to the "city of dreams", Los Angeles in May 2014. I guess the week alone finally cleared my head. Before I left for LA my parents were so worried about sending their depressed baby girl on a week trip alone but it was actually -- exactly what I had needed.
It made me realize that something had to change. I was so depressed and so upset for so long, that this trip showed me that I needed to focus on myself for a bit.
I'm not sure if it was seeing the beautiful people walking around Venice Beach, or the gyms on every corner you turned, or if it was just the smoggy air but the day after I returned home I got a gym membership and then a personal trainer.
I had a goal, and I wasn't going to stop -- I needed to get healthy! I saw many professionals over the years but in the end it had to be me who wanted to change. It had to be me who wanted to turn that frown upside down. It took years to make me feel great and at a healthy weight, but I guess everything happens for a reason.
Now I have lost over half my body weight and I am a certified personal trainer who wants to help young women who are ready to make a positive change in their lives. I know how it feels because I have been in their position and I know how it feels emotionally as well. It is always easier to not work out and eat fast food, but it feels so much better to stand up and change something you are unhappy with.
Frame Of Mind is a new series inspired by The Maddie Project that focuses on teens and mental health. The series will aim to raise awareness and spark a conversation by speaking directly to teens who are going through a tough time, as well as their families, teachers and community leaders. We want to ensure that teens who are struggling with mental illness get the help, support and compassion they need. If you would like to contribute a blog to this series, please email cablogteam@huffingtonpost.com
More From HuffPost:
Frame of Mind: Youth Mental Health Issues And Suicide In Canada
One in five Canadians will experience mental illness in their lifetime Source: Canadian Mental Health Association

Nearly half of those who feel they have suffered from depression or anxiety have never gone to see a doctor about this problem. Source: CMHA

Latest studies showed more than 1.3 million young Canadians have a mood disorder or addiction. Two-thirds had symptoms before the age of 15. Source: Statistics Canada, Government of Canada

Suicide is among the leading causes of death in 15- to 24-year-old Canadians, second only to accidents. In 2012, 261 Canadian kids and teens took their own lives. Source: CMHA, Statistics Canada

LGBTQ youth face about 14 times the risk of suicide and substance abuse than their heterosexual peers Source: CMHA Ontario

First Nations youth are at a higher risk. The suicide rate among First Nations youth is roughly five to seven times higher than that of the general population. Source: Parliament of Canada study, 2014

People with mental illness and addictions are more likely to die prematurely than those without. Mental illness can cut 10 to 20 years from a person's life expectancy. Source: Centre for Addiction and Mental Health

Contending with her bipolar disorder brought Yashi Brown to poetry, and with it, she's trying to end the stigma of mental illness.

If you need help, visit ementalhealth.ca to search for services in your area. Or call the Kids' Help Phone at 1-800-668-6868, it's Canada's only free phone counselling service for youth under 20.
More From Frame Of Mind:

Follow Jessica Gerlock on Twitter: www.twitter.com/fat2fitgal