13 Professional Tips to Stay Organized for Life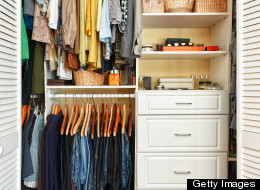 Think of your home as an extension of your body. Do you want to be fit? You have to work out. Do you want to have a streamlined and organized life? You have to do a "stuff workout" on a regular basis. I wish there was a magic bullet. Believe me. But I can't think of many more things more fulfilling than knowing where everything is and knowing that everything you have is something you want and need. And P.S., IKEA did a survey of customers in which 31 per cent reported they were more satisfied after clearing out their closets than they were after sex. Oh yeah.
1. Make your bed every day: This means soon as you get up. A freshly made bed is less of a magnet for discarded jeans, handbags, belts and piles of magazines and newspapers. Think of it like brushing your teeth, you wouldn't leave home without doing it.
2. Put clean garbage bags at the bottom of the garbage can: Bagging and taking out the trash is never fun, but it's a dirty job that somebody has to do. This simple trick removes two or steps from the process. When the garbage is full, just tie the bag, pull it out and pull up a clean one -- all in one go. Admit it, this is genius.
3. Stop junk mail before it gets to your front door: Each year, about 100 million households receive 16.6 billion catalogues -- Direct Mail Association. The average American gets 49,060 pieces of mail in a lifetime, one third of it is junk mail. Sign up for a service that stops unwanted brochures, catalogues and other unsolicited mail from coming to your door and save a couple of trees in the process. There is absolutely no excuse.
4. Create a "life surgery" board and get rid of the junk drawer. Think of it this way, if it's junk, why are you keeping it? Instead, keep a drawer with things you need. Use dividers to make compartments for items like scissors; hair elastics; mints; tape and band aids.
5. Hang a bulletin board to post and keep track of events, happenings and issues. Tack items like concert or theatre tickets, wedding invitations and receipts for items you want to return to the store. Think of it as a revolving inbox.
6. Deal with the garage/attic/basement clutter issues once and for all: Do one area at a time and make the time. Schedule two weekends in a row (winter is optimal so you don't feel like you are missing all the nice weather). It doesn't sound as fun as watching a movie marathon with a giant bowl of popcorn, but it can be way more satisfying than worrying about it for years. Enlist the family, if you need help do a trade with a friend or relative. You will truly enjoy your leisure time (and deserve it) when your mind and attic are clear! To maintain a clutter free existence: try to schedule two weekends in a row every year to deal with the clutter that builds up.
7. Get your documents in order: Make sure wills, living wills, birth certificates and all vital documents are in a safety deposit box. At a time of crisis, having your paperwork all sorted will make all the difference. I would hate to say I told you so.
8. The hook is an invaluable organizational tool: Put them inside of the closet to hang clothes that are worn but not dirty. Put them near your front door to hang keys, near the washing machine to hang wet clothes, towels etc. so you don't mildew up the hamper. LOVE the hook!
9. Invest in a uniform system of hangers for your closet: Duh! It works. You will love how much easier it can be to find something to wear.
10. Get rid of the guilt: I know those pants cost $300 but the tags are still on and they are two sizes too small. It lowers your self-esteem if you look at clothing that doesn't look good. It feels bad knowing that you know you have things in your house that are unused, used to fit, were expensive so you should keep them. Get rid of the guilt and then get rid of them by donating, recycling or tossing. Hallelujah!
11. Go with white: Buy housewares in plain, pure white. No patterns or decorations. This means all paper goods like toilet paper, tissues, paper towels, napkins, and dishtowels. I swear by only white for bath and hand towels and bed linen. It is a clean look and doesn't distract the eye. So fresh.
12. Be media friendly: Get rid of all the audio cassettes and VHS tapes you have been holding on to. Be honest, you don't even own players for them anymore. Also get rid of all the DVD and CD towers. They make you look like you are in your college dorm. Get the media books and put your extensive music collection in the sleeves and recycle all the jewel boxes. No more losing the jewel case, scratching the DVD and having piles and piles gathering dust on top of your stereo and TV. If you want to travel with CDs get a small case and keep them in these and replace when you are done. Keep all the remotes in basket or tray on top of the media centre or on the coffee table. Remind husband daily where they live.

13. Know your hourly wage: Even if you get paid an annual salary, knowing your hourly after tax wage could change the way you think about your spending. Consider this: If you earn $50,000 per year and work an average eight hour work day, you earn approximately $24/hour before taxes. If you pay 30 per cent of your income in taxes, you walk away with about $16/hour. You might still want your morning latte but maybe not that new handbag that's on sale. That way you'll know how much of your day you need to work to pay for it. To determine this number for yourself, figure out how many hours you work in an average week. Multiply that figure by 52, the total number of weeks in one year. Then take your yearly salary and divide it by the number you just calculated. This will tell you how much you make per hour over the course of a year. Terribly eye opening.
Produced by Paperny Entertainment, "Consumed" season two airs Saturdays at 5 p.m. ET/2 p.m. PT beginning June 1st on HGTV Canada

The Best Cleaning & Organizing Tips
remove stick price tags.

using a baking soda and water cleaning solution.

to reuse their glass holders.

using crumpled aluminum foil.

using a coffee filter.

using a colander.

to clean your outdoor grill.

catch the debris when using a drill.

remove coffee and tea stains on your cups.

by wiping your space down with vinegar.

unclog your drains.

by using rubber bands to keep them in place.

by using binder clips to keep them in place.

fix stubborn carpet dents.

save time and money when ironing clothes.

clean those hard-to-reach places in vases.

make your own broom.

and six other home tasks you've probably been neglecting.

they're a huge germ hot spot.

using baking soda.

help from your hair dryer.

by placing your items on cutting boards.

by using a clothing hanger.

by rubbing it down with flat beer.

with a rub of toothpaste.

with these easy laundry tips.

clean small spaces in your home.

that are dirtier than your toilet.

by dusting your lightbulbs.

to organize your hair ties.

by standing it upright with a binder clip.

to organize your bathroom.

using shower curtain hooks.

with these mail organizing tips.

to mark your keys and prevent losing track of them.

by lining the bottom of your trashcan with newspaper.

with these stress-free organizing tips by 'A Bowl Full Of Lemons' blogger.

clean out bottles with persistent odors.

water your plants.

a bar of soap.

make nifty magazine storage.

make your pillows fluffy again.

clean stainless steel appliances.

help you dust a ceiling fan.

remove rust stains from your toilet.

make your home smell like cookies all day.

as air purifiers at home.

to deodorize your home.

How often should you wash scarves, gloves and hats?

eliminate litter box odors.

keep dust baseboards clean.

eliminate litter box odors.

They're kind of gross.

protect floors from scratches when moving furniture.

polish forks between the tines.

using a hanging shoeholder.

remove paint stains on the floor.

Browse through these surprising bathroom items that have expiration dates.

clean your toilet bowls.

to clean your cheese grater.

It's one dirty little thing.

to remove sticky price tags.

as a garbage bin.

Check and clean your vacuum without making a mess.

clean your coffee grinder.

Don't let it ruin your New Year's Eve!

remove oil stains on cement.

remove ink stains from fabric.

make your fire smell even better this winter.

Make sure you aren't exposing your best friend to any harmful chemicals.

remove water marks from wood surfaces.

a Post-It note?

remove scuff marks from vinyl flooring.

It's the dirtiest part in your home, so make sure you're cleaning it thoroughly!

with plastic bags filled with ice

reduce static cling on your clothes.

with this beauty salon product.

fix scratches on CDs.

clean a dirty wall.

attach pairs of socks so you'll never have a mismatched pair again!

remove staples.

filling them with baking soda and putting them in the fridge.

with foam rubber, which can be found on dry-cleaning hangers.

increase suction of a toilet plunger and keep it in good shape.

help remove wine stains from your tablecloth.

place a teabag in water in the microwave.

clean food particles out of your can opener.

stop a shower curtain from sticking.

safely store candles.

create a yummy (and all-natural!) home fragrance.

help clean the keys and buttons on your cell phone, laptop and remote control.

remove grease stains from clothing.

remove paint odor from any room.

naturally polish silver.

silence squeaky door hinges.

protecting doorknobs and other hardware while painting.

help you clean soap scum from your shower.

fix a shrunken shirt.

help dry your delicate sweaters.

clean your bathtub.

remove mineral stains from glasses.

freshen a linen closet.

collect particles from your broom.

turn discolored socks white again.

clean laminate floors.

dust Venetian blinds.

clean the dust off your houseplants.

clean burnt food out of your oven.

get rid of spiderwebs in your home.

remove gum from the soles of your shoes.

clean up an egg spill.
Follow Jill Pollack on Twitter: www.twitter.com/jillpollack