The Public's Fair Election Fatigue Is the Left Wing's Doing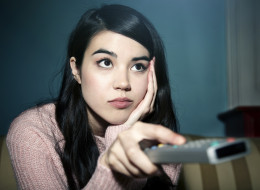 If you get your news solely from the nation's opposition parties and editorial pages you can be excused for thinking the Harper government's proposed Fair Elections Act is something vile indeed. An "assault on democracy" getting "rammed through" Parliament, as the left-wing Tyee recently put it.
But never fear, those same voices comfort, the bill is so bad it will invariably spawn a cross-country "voter surge" of opposition as Canadians of all stripes repulse at its sheer horror. Both Thomas Mulcair and Justin Trudeau have pledged to make the thing a centrepiece of their 2015 election campaigns, and doubtless all the very smart people in their inner court insist they'll be winners for sure if they do.
Or not. A recent poll from the Angus Reid people reveals a reality that doesn't quite match the hype.
"Sound does not necessarily equal Fury," they declare. What's being spun as the most important debate in the history of the nation may just be another boring partisan squabble. If that's the case, critics might want to reflect on the diminishing returns of political hyperbole.
As it stands, public opinion on the Fair Elections Act is split 50-50. Despite two months of endless media coverage and opposition outrage, support has shifted a staggering two points over that period -- from 51 per cent in February to 49 per cent today -- well within the 3.4 per cent margin of error.
Even more revealing is the stark ideological cleavage of such opinions; 70 per cent of Conservative voters back the Act; only around 30 per cent of left-leaning party supporters do. There's little evidence, in short, that the vast backlash to the bill is in any way politically neutral, a conclusion re-enforced by similarly polarized responses to the question of whether the Tories can be trusted to "ensure Canada has the best elections oversight possible."
Partisan polarization also helps explain the high amount of public ignorance regarding the Fair Elections Act -- only 30 per cent of Canadians claim to be "very familiar" or "fairly familiar" with what it does -- particularly why those most boastful of their knowledge tend to be the most skeptical (56 per cent of the know-a-loters profess opposition).
Critics, by definition, are often malevolently well-informed about what they despise, and the rise of the Fair Elections Act as a subject of endless left-wing editorials, blog essays, open letters, petitions, Facebook pages, Twitter accounts, YouTube videos, infographics, and terrible editorial cartoons certainly reveals a culture of obsession unmatched by the quiet deference of the right. Unless you're highly motivated to hate this government, in other words, it's hard to get too worked up over "arcane changes to regulations," to quote EKOS pollster Frank Graves. He found disinterest rates closer to 80 per cent.
But ignorance can also foster opposition, especially when the conventional summary of the Act's content occurs on the critics' terms.
Some 56 per cent of Canadians are said to oppose "transferring election 'watchdog' responsibilities away from the Chief Electoral Officer," for instance, which does indeed sound bad if that's all you hear. But the Act doesn't transfer those 'watchdog' powers into the trash can -- they're being reassigned to the Department of Public Prosecutions. Name-dropping that impressive-sounding office would probably shift replies.
Ditto for "reducing Elections Canada's public information activities," which garners 62 per cent opposition -- the most of any specific provision. Who could be opposed to information? Possibly lots, if pollsters made clear the info in question is not useful stuff like where and how to vote, but rather maudlin pro-voting propaganda with a proven track record of failure.
What's most interesting of all, however, is that the provision of the act most contentious with critics -- strengthening the requirement for voters to show valid ID and eliminating honour-system "vouching" for those without -- is enormously popular, boasting over 70 per cent in favour, including 59 per cent of the well-informed set. The NDP and Liberals may have thus pulled a rather significant strategic blunder in making the supposed "disenfranchisement" of the ID-less (always a far-fetched fear) the central focus of their opposition campaign.
Though conventional cliche holds Canadians to be a jolly, friendly people, we're actually pretty strict and unforgiving when it comes to anything that whiffs of rule-breaking. In that sense, strengthening voter ID laws is perhaps best seen as a logical outgrowth of the Conservatives' "tough on crime" agenda, which remains popular with the public despite constant media and opposition scolding that it shouldn't.
Though debate over the Fair Elections Act currently feels like one of those bogs from which the news cycle will never emerge, there's increasing reason to believe it's in everyone's interest to bring the conversation to a swift close. The overblown rhetoric of critics has simply not moved public opinion -- particularly Tory opinion -- where it needs to be, in part, I suspect, because overblown rhetoric is starting to lose its impact by virtue of over-use.
We may recall hearing some years ago that Stephen Harper had a sinister backdoor plan to re-criminalize gay marriage. It never happened. We may also recall that he was supposed to build boatloads of private prisons, blow billions on expensive fighter jets, and take a meat cleaver to science funding, none of which happened either. These were all hysterical tropes of the Canadian left at one time or another, yet as accurate warnings go, they bring to mind a certain little shepherd boy who wouldn't shut up about a non-existent hairy carnivore.
No one should be surprised that the conspiratorial claims of the Fair Elections Act -- you know, that it'll instigate a Mugabe-esque dystopia of rigged elections run by partisan bagmen as the streets run red with the blood of disenfranchised undergrads -- aren't really sticking. There's only so many times you can evoke the spectre of looming right-wing tyranny before folks start to tune out.
Election policy may be important, but if Canadians seem disinterested -- well, it's not just the Conservatives' fault.
ALSO ON HUFFPOST:
How Tories Plan To Vote On Bill C-23
"I love the bill the way it is."

"It's a very good piece of legislation and I will be voting for it with enthusiasm."

"There might be minor changes, but yes, I support it...I'm anticipating there might be some little minor changes, but in essence, I support the bill. People should identify themselves when they're voting. I don't believe in vouching, okay. That's the big issue here. I don't support that."

"I certainly support the Fair Elections Act, absolutely...I think that it's great legislation, and it will be supported by the government members."

Miller: "I will support the bill, yes." Q: Whether it's changed or not or? Miller: "Yes, because no bill, doesn't matter what, is ever perfect. But I think that it's a step in the right direction."

"I'm supporting the bill, and I think it's a good bill. I think it's making some changes that are necessary in our elections laws."

Declined to answer. "Hmm...," he said as he walked away munching on a chocolate chip cookie.

UP NEXT: Pierre Poilievre Through The Years

Conservative MP Pierre Poilievre rises in the House of Commons to apologize for making an obscene gesture yesterday, in Ottawa Wednesday June 14, 2006. (CP PHOTO/Tom Hanson)

Ottawa-area Conservative MP Pierre Poilievre smiles as he talks with reporters on Parliament Hill in Ottawa Tuesday Feb. 27, 2007. Poilievre referred to "extremist elements" in the Liberal party that want to ease anti-terror laws and shut down the Air India inquiry last week.(CP PHOTO/Tom Hanson) Canada

Democratic Reform Minister Peter Van Loan (right), with Conservative MP Pierre Poilievre looking on, makes an announcement on the introduction of the Accountability with Respect to Loans legislation at the Canadian Museum of Civilization in Gatineau, Quebec across the river from Ottawa, Tuesday May 8, 2007.(CP PHOTO/Fred Chartrand) CANADA ,

Conservative MP Pierre Poilievre rises in the House of Commons to apologize for saying in a radio interview Wednesday that native people need to learn the value of hard work more than they need residential schools compensation, on Parliament Hill in Ottawa, Thursday June 12, 2008. THE CANADIAN PRESS/Tom Hanson

With copies of the Conservative accountabilty booklets, Conservative M.P. Pierre Poilievre waits for the start of the Commons House affairs committee looking into allegations of Tory election spending misconduct during the last election, on Monday Sept. 10, 2007 in Ottawa. (CP PHOTO/Fred Chartrand)

Conservative MP Pierre Poilievre speaks in the House of Commons during question period on Parliament Hill in Ottawa on Monday June 16, 2008. THE CANADIAN PRESS/Sean Kilpatrick

Pierre Poilievre, parliamentary secretary to the prime minister, leaves a news conference after speaking with the media about the gun registry in the Foyer of the House of Commons on Parliament Hill in Ottawa, Tuesday September 14, 2010. THE CANADIAN PRESS/Adrian Wyld

Conservative MP Pierre Poilievre listens to a question during a news conference in Ottawa, Friday October 15, 2010. THE CANADIAN PRESS IMAGES/Adrian Wyld

Conservative MP Pierre Poilievre poses with a bust of Sir John A. Macdonald after announcing the former Bank of Montreal building would be renamed in honour of Canada's first prime minister during a ceremony in Ottawa, Ont., Wednesday January 11, 2012. THE CANADIAN PRESS/Adrian Wyld

Conservative MP Pierre Poilievre rises during Question Period in the House of Commons on Parliament Hill in Ottawa, Tuesday February 28, 2012. THE CANADIAN PRESS/Adrian Wyld

Conservative MP Pierre Poilievre holds up copies of legislation as he responds to a question during Question Period in the House of Commons in Ottawa, Friday October 19, 2012. THE CANADIAN PRESS/Adrian Wyld

Pierre Poilievre is sworn in as the minister of state for democratic reform during a ceremony at Rideau Hall in Ottawa on Monday, July 15, 2013. THE CANADIAN PRESS/Adrian Wyld

The Honourable Pierre Poilievre, Minister of State (Democratic Reform), poses for a group photo after the swearing in of the federal cabinet at Rideau Hall in Ottawa on Monday, July 15, 2013. THE CANADIAN PRESS/ Patrick Doyle

Minister of State Pierre Poilievre stands in the House of Commons during Question Period, in Ottawa Friday, February 7, 2014. THE CANADIAN PRESS/Fred Chartrand

Minister of State (Democratic Reform) Pierre Poilievre responds to a question during question period in the House of Commons on Parliament Hill in Ottawa on Thursday, February 27, 2014. THE CANADIAN PRESS/Sean Kilpatrick

"The Fair Elections Act will ensure everyday citizens are in charge of democracy, by putting special interests on the sidelines and rule-breakers out of business," says Democratic Reform Minister Pierre Poilievre. Read more about the Fair Elections Act here.

The legislation proposes a mandatory public registry for mass automated election calls, jail time for those convicted of impersonating an elections official, and "increased penalties for deceiving people out of their votes."

In the interest of cracking down on voter fraud, the bill would prohibit the practice whereby one Canadian vouches for another's identity at a polling station. In fact, voter information cards will no longer be accepted as proof of identity. But the government says voters will still have 39 forms of authorized ID to choose from in order to prove their identity and residence.

The Commissioner of Canada Elections office, responsible for enforcing the elections law, will be moved under the mantle of the public prosecutor's office, not Elections Canada. Conservatives believe this will give the commissioner more independence as the Chief Electoral Officer will no longer be able to direct him to carry out investigations. In future, the commissioner would be appointed by the director of public prosecutions to a non-renewable, seven-year term. The legislation also bars former political candidates, political party employees, ministerial or MP staffers or employees of Elections Canada from being named commissioner. Tories believe the legislation will give the commissioner "sharper teeth" and a "longer reach" to seek out stronger penalties for offences.

The ceiling for individual political donations would be raised to $1,500 from $1,200 and party spending limits would be increased by five per cent. Union and corporate donations are still banned, though.

A long-standing ban on the premature transmission of election results will be lifted, meaning voters in Western Canada will get to know how things are shaping up out East before heading to the polls. Broadcasters can share results from Eastern Canada on election night, even if the polls aren't closed in the West. The government believes this change will uphold free speech.

The legislation would raise the amount candidates can contribute to their own campaigns to $5,000. Leadership contestants will be allowed to give their own campaign up to $25,000.
Follow J.J. McCullough on Twitter: www.twitter.com/JJ_McCullough