My Fond Memories Of A B.C. Education Are Sheer Fantasy For My Kids
I am proud to say that I received my education from the public school system in British Columbia. The education I had in Vancouver in the '70s and early '80s prepared me well for both higher education and the business world.
I have vivid memories of my Algebra 12 teacher drumming the quadratic formula into my thick teenage skull. I recall my Chemistry 11 teacher reviewing periodic tables, formulas and inert gases. Although I didn't go on to higher education in science, years later when I was working in international shipping I could at least have a basic understanding of the difference between sodium chloride and sodium chlorate. (No Google search in those days.)
Through chance, hard work and that B.C. education, my career took me away from B.C. for 13 years (three in Toronto and 10 in Montreal). I moved back to Vancouver in 2011 with my girls -- then ages 6 and 9 -- who had up to that point been educated in the French immersion program in Quebec.
I didn't expect the province that I grew up in to have changed their priority on public education so much that there will be a lost generation of students.
When I enrolled my children in the public school system in B.C., I had every reason to expect that they would get the benefit of the quality elementary and high school education that I had. Sadly, I was wrong.
I overlooked the fact that Grade 4 math in B.C. is taught in Grade 3 in Quebec. I also overlooked that in reading was introduced in Grade 1 in B.C., while in Quebec reading starts in kindergarten.
What I couldn't ignore was the critically overcrowded schools in the Surrey school district, where I chose to live in Cloverdale.
I didn't expect to be moving back to a province where government enacts draconian measures to cut funding to education. I didn't expect to see brand new schools that could not afford textbooks.
I didn't expect the province that I grew up in to have changed their priority on public education so much that there will be a lost generation of students.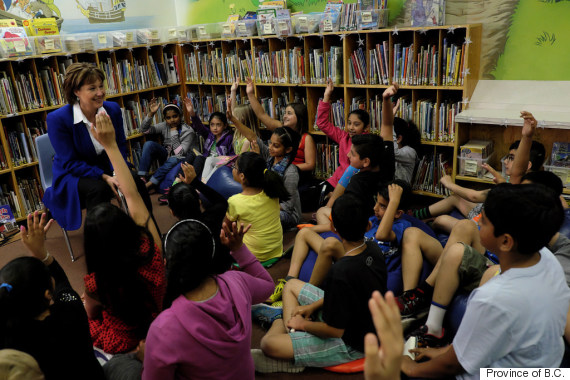 The announcement last week by B.C. Premier Christy Clark that there would be more money poured into the Surrey school district to accommodate another 2,700 students is a mere drop in the bucket and, frankly, too little too late.
My youngest daughter is in Grade 5. She attends a new school in Cloverdale which opened in 2011. That school had portables from the moment it opened and now is up to 12. Built for 280 students, there are over 500 and the number continues to grow.
The high school is worse. My oldest daughter started Grade 8 in the fall of 2015. She attends a school built for 1,400 students. There are over 2,400 pupils in that school and it continues to grow.
She tells me that the hallways are so crowded getting bumped and pushed trying to move from one class to another is a normal part of the day. It gets worse.
My daughter's Grade 8 science class takes place in a portable. The portable is not set up like a lab, it is simply a building with four walls, chairs and desks. About half the Grade 8s in the school are lucky enough to be in proper science labs and the rest are in portables.
In a meeting with the teacher (who was clearly frustrated), I learned that there will be no lab time at all for my daughter or any of her classmates this year.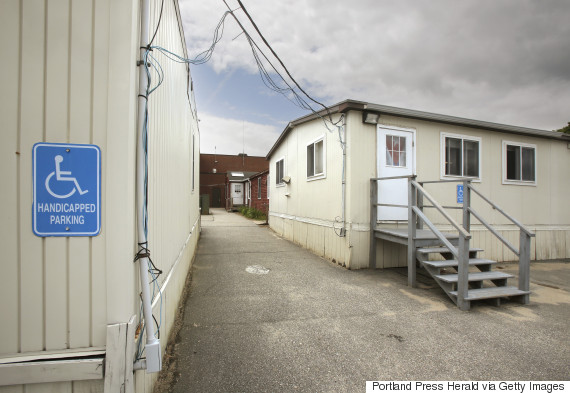 I researched the Grade 8 science curriculum to see how much the students will be short-changed. The curriculum says the following: Students will learn to select and carefully use appropriate technologies including microscope, balances and other measurement tools."
Without science instruction in a proper lab, these students will be denied what is clearly in the Ministry of Education curriculum. Why are these students denied what is a right? Public education is by definition a public good. One person's consumption of that good should not interfere with another's. There are bound to be countless other examples.
The high school which is now being built will not be ready until 2018. This means my daughter's high school will be at 170% - 200% capacity until then.
The entire situation is so sad and could have been avoided by making public education a priority. I never had a single class in a portable in my elementary school years and had only a single class in a portable in high school. Not a single person I went to school with took Grade 8 science in anything but a proper lab.
Yes, I am proud to say I had a good public education in this province. Will my children be able to say the same?
Also on HuffPost:
Coolest Schools Around The World
Where: Tokyo, Japan This is the coolest classroom we've ever seen! This building doubles as a classroom and playground for students. Clearly, it's greatest feature is the large tree that protrudes from the middle of the building, giving the space an open and natural feel. According to Design Boom, "the learning environments aim to project a fruitful and liberating atmosphere that is free of constrictive elements." More photos here.

Where: Kumamoto City, Japan This preschool in Japan was designed to "let kids be kids." The courtyard was designed by lead architect Hibino Sekkei to accumulate rainwater when it pours. That way, kids can splash and play in the gigantic pool once the rain stops.

When dry, the courtyard can be used as a badminton or softball court. Now kids can play in rain or shine. More photos here.

Where: Stockholm, Sweden This unique school doesn't believe in having classes or classrooms. Instead, the school is set up with open spaces filled with colourful furniture, learning zones, and workstations. Children are then taught in small groups. With this type of learning environment fosters children's "curiousity and creativity" and encourages them to work independently. More photos here.

Where: Ljubljana, Slovenia This kindergarten school allows its students to change its colour whenever they want! The school was constructed using prefabricated wood panels that are painted in bright colours on one side. The design is meant to be a learning tool and play thing for kids. It helps them learn their colours, get familiar with wood as a nautral material, and change the appearance of their school. More photos here.

Where: Paris, France Designed by Palatre & Leclère, this kindergarten school is known as one of the most colourful in the world! The architecture firm used splashes of colour both inside and out of the 1940s building as part of its renovation. The results were a "youthful and fun cartoon-esque environment" for the staff and students. More photos here.

Where: Lagos, Nigeria Makoko Floating School is exactly what it sounds like. Due to unpredictable weather changes, this school was built to float and consists of a playground and two stories of classrooms. But the coolest part of all? The school partially self-sustainable thanks to its ability to collect solar energy and rainwater. More pictures here.

Where: Bali, Indonesia Like the name suggests, this school is one of the greenest in the world. Made of bamboo, the school not only includes classrooms, but also a gym, offices, cafes, and faculty housing. The building is only powered by clean energy sources, such as solar panels. More photos here.

Where: Tianjin, China This doughnut-shaped school has no corners. Everything has rounded edges, even the windows! The three-story building is painted in 18 different colours, making is very fun and kid-friendly. The colours are also used to help kids identify different areas of the school so they don't get lost. More photos here.

Where: Glasgow, UK This elementary school was designed for kids with visual, sensory, or motor impairments. The school's main feature is its "sensory wall" to help students orient themselves and a "trailing board" to help the visually impaired. More photos here.

Where: Sichuan, China After an earthquake in 2008, the community worked together to rebuild the local elementary school. The concept for the new school was to make it like a small city, with courtyards and a labyrinth of passages and playgrounds. This was meant to foster children's curiousity and imagination. More photos here.

11 Ways Schools Across Canada Are Very Different

Depending on the district and the school, Alberta's school year can begin in August or September. For instance, most schools under the Calgary Board of Education start the year in September, but about 25 begin in August.

When students graduate high school (at the end of Grade 11, called Secondary V), they attend two years at a general or vocational college before qualifying for university in Quebec. This is called Collège d'enseignement général et professionnel, aka "CÉGEP."

Nunavut schools are grounded in Inuit Qaujimajatuqangit, which translates as Inuit ways of knowing, being and doing. Principles include: respecting each other, being resourceful and working together. Until grade three, students receive bilingual instruction in the Inuit language, and either English or French. As of 2019, dual-language lessons will extend through all primary and secondary education.

Reflecting its French and English speaking population, the province of New Brunswick is divided into a set of Francophone Districts and a set of Anglophone Districts.

Some cities in Ontario, such as Hamilton, Ottawa and Toronto, have middle schools for kids in grade 7 and 8, sometimes called "junior high" and sometimes include Grade 6. However, other Ontario cities, like Barrie, don't use a middle school system at all.

In BC, there is government funding for Sikh, Hindu, Christian and Muslim religious schools.

School attendance is not mandatory in Ontario until the age of six (or grade one). At the other end of the spectrum, school is mandatory until age 18 (it's 16 in many other provinces) or until you get a high school diploma.

Manitoba primary schools are tightly capped by a strict class-size formula. From kindergarten to grade three, classrooms are capped at 20. There is wiggle room for up to 23 students -- but only one class out of 10 is allowed to be larger than 20.

In Regina, school bus transportation is cancelled if the wind chill or temperature is below -45 C as of 7 AM.

High school students in Newfoundland and Labrador can access free online tutoring. Tutors in subjects like chemistry, grade nine math, french and history make themselves available for five to six hours per week.

Yukon schools finish the year on various weeks in June. For example in June 2015, the last day of school dates range from June 5 to June 25.

Facts About Schools Around The World

Amazingly, South Korea is 100 per cent literate, which is likely due to the fact that children study all year round -- in school and with tutors. The average student works up to 13 hours per day in South Korea. This is because the culture believes that if you work hard, you can achieve anything, so there is really no excuse for failure. South Korea has very big class sizes compared to North America. This allows for the teacher to teach the class as a community and for students to develop relationships among their peers.

In Japan, schools don't have janitors. Instead, it's up to the kids to clean their own school every day. This is thought to teach them respect. Japan's school year starts in April and ends in March. The country's compulsory education consists of six years of elementary school, three years of junior high, and three years of high school. Japanese school buses can get really creative, as proven by the photo to the left.

In Finland, kids don't start school until they are seven years old. Finnish kids get 75 minutes of recess every day, which is a lot compared to the average of 27 minutes in the U.S. Finland has short school days usually starting at 8 or 9 in the morning and ending between 1 and 2 in the afternoon. This is because Finnish culture believes important learning experiences occur outside the classroom.

Education in Ireland is compulsory from ages six to 16 or until students complete three years of second-level education.

German kids only get six weeks of summer vacation.

In Russia, school is only mandatory until grade 10. Eleventh and twelfth grade are optional.

Because Australia is in the southern hemisphere, kids enjoy summer vacation in December and January. The year is then divided into four terms with a two-week vacation period between them.

New Zealand's school terms are divided into four semesters with two-week breaks in between.

Kids in Israel go to school six days a week from September to July. Education is compulsory from age five to 16.

Kids in Italy go to school from Monday to Saturday.

Kids in Chile get 12 weeks of summer vacation, lasting from mid-December to early March.

In Brazil, school starts at 7 AM and runs until noon. Kids then go home to enjoy lunch with their families, which is considered the most important meal of the day.
Follow John Doble on Twitter: www.twitter.com/cntrshpgcanada