Do Ontario Liberals Want to Ban Solutions to Healthcare Challenges?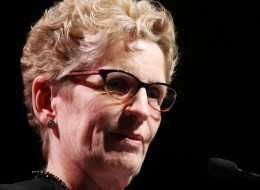 Do you think anyone would disagree to finding savings in the healthcare system that wouldn't affect patient care, that would increase employment, reduce taxpayer burden, and help increase pharmaceutical self-sufficiency? It turns out the Ontario Liberals don't think that is a good idea. It is time to talk seriously about Canadian Plasma Resources and their plans to compensate plasma donors in Ontario, something that has been happening in Manitoba for years, without any of the doom and gloom scenarios the scandal-ridden Deb Matthews believes would happen here.
The primary job of government is the allocation of limited resources to programs and services. Healthcare is the greatest public expenditure in Ontario. In 2013, according to the Canadian Institute for Health Information, the province spent nearly $54 billion, the equivalent of 42 per cent of our entire spending budget, on healthcare resources. It is no surprise then, that healthcare is of primary concern for voters in the upcoming provincial election. Ontarians are worried about the accessibility of quality primary and home care, rising drug prices, cutting hospital wait times, etc. In this election, there's been a lot of debate over what investments should be made and where the government should make cuts.
Costing Ontario hundreds of millions of dollars annually (give or take a few million for currency fluctuations), are plasma-derived products sourced mostly from compensated donors in the United States. Canadian Plasma Resources (CPR) is trying to address this issue. Their plan includes compensating donors here in Ontario for their plasma donations -- instead of sending our precious healthcare dollars to American companies to compensate donors there. The Liberal government's response CPR has been to table a bill banning compensated blood and plasma donors.
Self-sufficiency is a crucial element in the responsible management of healthcare costs. According to the Canadian Blood Services, however, depending on voluntary plasma donations is "not operationally or economically feasible" -- and that is why Ontario buys all of its plasma products from elsewhere, mostly sourced from compensated donors.
It was once possible to donate plasma voluntarily in Ontario. The last clinic, located in Thunder Bay was closed recently and it was due to low volunteer turn out and cost of running the clinic. It is estimated that voluntary plasma donation clinics costs between 500 and 1000 per cent more to run than commercial ones: due to increased variables, such as overhead, from the under utilization of facilities and the cost of advertisement to raise awareness. Until the Thunder Bay clinic was closed, these expenses were on the backs of the Ontario taxpayers.
Canadian Plasma Resources will not be paying donors for their plasma donations, but rather compensating donors for their time -- up to two hours every week -- it takes to donate plasma. The compensation for time is in the form of a non-cashable, non-transferable gift card or a tax receipt under the donor's name, which would be awarded only to qualified donors.
In fact, since 2007 the Ontario government has been compensating living organ donors, of organs such as kidneys and livers, under the Program for Reimbursing Expenses of Living Organ Donors. Compensating plasma donors would be no different. With the notable exception that unlike the compensation for living organ donors, that the province covers, compensation for plasma donations would be covered by CPR.
The reality is that demand for plasma is increasing exponentially every year. The main plasma product used in Canada is immunoglobulin, which is used to treat certain conditions and severe infections, has seen an average increase in demand of almost 10 per cent in the last 15 years. This year alone, demand increased by 7 per cent and it is projected to increase by 5 to 8 per cent next year.
By wanting to address this potential crisis, Canadian Plasma Resources is looking to invest millions in the economy of Ontario, in addition to creating thousands of well-paying jobs. However, none of this can happen if the government maintains its bizarre and hypocritical position on compensating plasma donors. Without a reversal of policy, Ontario will continue to see its dependence on foreign plasma product increase, as well as its costs. It's time for a responsible policy, which aims for self-sufficiency, in an efficient and well-regulated manner, with a compensation model.
John Laforet is the spokesperson for the Ontario Plasma Coalition.
MORE ON HUFFPOST:
In QUOTES: Ontario Election Debate
"The decisions around the relocation of the gas plants were wrong. There was public money that was wasted, and in the process, the public good was sacrificed to partisan interests."

"The Liberals have betrayed you. They've lied to you and they've wasted billions and billions of your dollars."

"Yours is the signature on the contract that sold taxpayers up the river. Why didn't you just say no?"

"Your tough medicine is not Buckley's. It tastes awful and it's not going to work."

"I'm so confident in my plan that if I don't carry through and keep my promises in the Million Jobs Plan, I'll resign. I'll step down from office."

"There is only one leader standing here who would push us back to recession with his plan, and that is Mr. Hudak."

"You don't have to choose between bad ethics and bad math."

"You're acting like someone who won the lottery when you're bankrupt."

"There's no evidence that your plan would create a million jobs."

"Students need strong math skills to succeed in acquiring knowledge for tomorrow's jobs."

"You've got a big audience tonight, please tell us what you regret the most about the Dalton McGuinty legacy that you share?"

"I've seem Tim Hudak's movie before, too. Tim Hudak was part of a government that slashed public services and didn't care about the people of Ontario."

"You're making things up, Andrea."

"The shock to the system that Tim Hudak is suggesting would push us backwards."

"It's sad that Alberta's number one export is oil and ours has become the next generation."

"You took on some tough cabinet jobs but you've changed. And you're using the same tricks you learned from Dalton McGuinty."

"I've made a lot of changes. There are more changes that we need to make."

"Hope is on the way."
Follow John Laforet on Twitter: www.twitter.com/laforet