Shut Down B.C. Lottery's Annual Taxpayer-Funded Spending Binge
The BC Lottery Corporation's big schmooze-and-booze conference should have taxpayers, who pick up the tab, singing the blues.
Documents obtained by the Canadian Taxpayers Federation through a Freedom of Information request found that BCLC lost $208,642 on its 2016 New Horizons in Responsible Gaming conference. The conference attracted only 85 paid registrants, meaning each of those attendees was subsidized by nearly $2,500 apiece.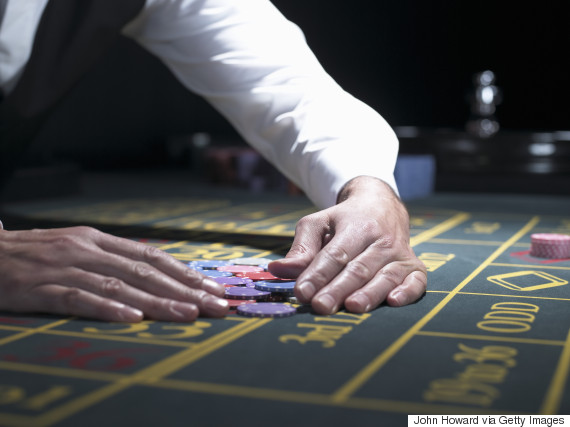 (Photo: John Howard via Getty Images)
Most taxpayers can't even imagine having $2,500 per head to party with. For BCLC, it was just another edition of their annual conference. They blew $55,282 on food and drinks, including a "sushi demo," "top sirloins carving station," "moja organic coffee," "porcini and chive quiche," copious amounts of craft beer and wine, and much more.
BCLC spent $40,922 to rent the Vancouver Convention Centre (despite there being conference facilities at several nearby casinos), and another $79,314 for tech equipment. They shelled out $63,750 for an event management firm.
More than $23,000 went out the door for speaker airfares, including pricey return trips from London ($2,687.24), New York ($2,242.55), Las Vegas ($923.12) and Manchester ($2,678.33). Another $662 was spent buying carbon credits to cover those flights' greenhouse gas emissions.
It has all the trappings of a money-spending binge by a bunch of high rollers.
And BCLC spent $6,500 to develop a conference-specific phone app -- again, for just 85 registrants. To try and get them to download it, BCLC handed out $275 in VISA gift cards as an incentive.
It has all the trappings of a money-spending binge by a bunch of high rollers. The problem is, they were spending taxpayer money -- not their own. How can a conference about social responsibility be so, well, irresponsible?
"We're not selling products, it's a development and learning opportunity," a BCLC spokesperson told the Vancouver Sun in defence of the spending. As if that makes a lick of difference.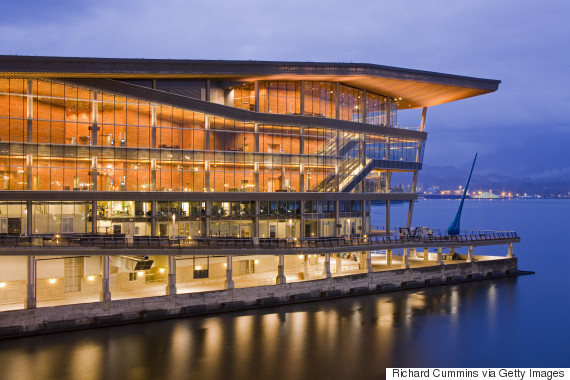 BCLC spent $40,922 to rent the Vancouver Convention Centre, shown here. (Photo: Richard Cummins via Getty Images)
The conference has been a money loser since the start. The first edition, in 2014, lost $57,000. The 2015 conference lost $138,000. The 2016 gabfest, as detailed above, lost $208,642. And the BCLC spokesperson claims the 2017 version lost $140,000 -- a fact that still needs to be verified through Freedom of Information.
All told, that's $543,642 in losses on the conference in just four years. Why is the BCLC in this business?
It's an obscene amount of money, especially when charities who work up close and personal with gambling addicts in B.C. are crying out for resources. Studies show an estimated 125,000 problem gamblers in the province, or 3.3 per cent of the population.
"Know your limit, play within it," has been BCLC's responsible gaming slogan for years. Time for its executives to take their own advice.
"For the person who needs to pay for private treatment -- because there is no treatment paid for gambling -- can you imagine how many people could get into treatment for that [$543,642]?" addictions expert Dr. Jennifer Melamed told Global BC.
The BCLC offered one other explanation for keeping the conference going, saying the conference is paid for out of the lottery corporation's generous $9.5-million annual budget to support responsible gaming.
But that's less than a third of what the corporation spends on advertising every year, showing where their priorities lie.
"Know your limit, play within it," has been BCLC's responsible gaming slogan for years. Time for its executives to take their own advice and step away from the conference table. And if they won't, then it's up to Premier Christy Clark or Community, Sport and Cultural Development Minister Peter Fassbender to intervene and make BCLC walk away.
Follow HuffPost Canada Blogs on Facebook
Also on HuffPost:
8 Tmes Winning The Lottery Ruined Someone's Lifei
Britain's most notorious Lottery winner was without doubt Michael Carroll who won £9.7 million in 2002. He made no attempt to hide the fact he spent his winnings on drugs, parties and prostitutes - and a destruction derby race track in his back yard. Ten years later and he was broke and working in a cookie factory in Scotland.

Now here is a story of karmic justice if ever there was one. In 1996 Denise Rossi won $1.3m on the California Lottery. Instead of informing her husband of 25 years, Thomas, she applied for divorce instead. Denise then kept her winnings secret during the entire court proceedings. Three years later though the truth came out and a court ruled she had violated state asset disclosure law. Her punishment? She was ordered to pay every single penny of her winnings to her ex-husband.

Roger and Lara Griffiths won £1.8m on the UK National Lottery in 2005, allowing them both to pursue their hobbies. She splurged on designer handbags and he recorded an album with the band he played with in university. Oh, and they also bought a massive house. Then began a catalogue of misfortune as they split up over affair allegations, their house burnt down and then Roger - who was in charge of the money - admitted that all the money was gone. In 2013 Roger had £7 left in the bank and was relying on handouts from his parents.

William "Bud" Post won $16.2 million in the Pennsylvania lottery in 1988 - which is about when everything started to go wrong. First of all a former girlfriend sued him for a share of the winnings and then his brother hired a hit man to kill him. He didn't help matters when he fired a shotgun at a man who was trying to collect a debt from him related to his rapidly deteriorating home. Post died, broke, in 2006.

While most of us dream of winning the lottery once, Evelyn Adams of New Jersey hot the jackpot in 1985 and 1986 bagging a total of $5.4 million. Fast forward 20 years though and she was living in a trailer completely broke.

Abraham Shakespeare won a $17 million lump-sum in 2006 at the age of 40. He was deluged by people asking for financial help and couldn't say no to people, even allowing homeless people to stay in his new house. One of those who made an extra-special effort to befriend Shakespeare was Dorice Donegan "Dee-Dee" Moore (right in picture). Soon after Shakespeare disappeared. His body was found under a slab behind a home owned by Moore, shot two times. Moore was convicted of first-degree murder and sentenced to life in prison.

Jack Whittaker won a massive $US315 million in 2002 but has since said he wished he had torn up his winning ticket. He was the victim of two thefts robbing him of $745,000, was the victim of an attempted plot to drug and rob him and then tragically, his grand-daughter and her boyfriend both died of drug overdoses in his house.

Billie Bob Harrell, Jr. won $31 million on the Texas lotto and, at first, thought his problems were over. He quit his job and gave much of his fortune to help those in need. Eventually he became more and more hassled by people demanding money from him, having to change his phone number numerous times. The pressure of this combined with separating from his wife were too much for him and he was found dead by his son with a self-inflicted head wound just two years after his win.
Follow Jordan Bateman on Twitter: www.twitter.com/jordanbateman