It's Time for a Big Data Code of Ethics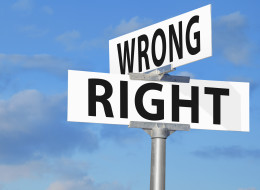 Advertisers are creeping people out -- at least according to a recent report by the Privacy Commissioner of Canada, which found that 73 per cent of Canadians feel they have less protection over their personal information than they did 10 years ago.
A full third of Canadians said they were "extremely" concerned about privacy -- that's up from 25 per cent in 2012. Of those respondents, 49 per cent said that targeted ads were at least partly to blame.
This research has implications for nearly everyone involved: media platforms, agencies, clients, researchers, and the public. As Big Data and the Internet of Things continue to revolutionize how we live, ads will become increasingly personal in nature.
Data pulled from your credit card and social media, coupled with an increase in programmatic media buying means that you're more likely to be see ads related to your behaviour.
This is a tremendous opportunity -- but also one rife with ethical landmines.
Even de-identified data has the potential to cause harm to the targeted individual, as Ken Wheaton points out in Ad Age. Ads for personal lubricant on a shared work computer, for instance.
Perhaps it's time to establish a Big Data code of research ethics.

At present, there is no one governing body that oversees data usage by marketers and media platforms. There are codes of ethics put out by the Canadian and American Marketing Associations, as well as individual ethical codes drafted by marketing research associations among others, but who is accountable to them?
The data from online research subjects belongs to everyone and no one. Researchers and their subjects are far removed from each other.
So what might a Big Data research ethics body look like?
1. Independent and Objective Governing Body

An objective group of individuals educated in research and ethics, with practical knowledge of the industry, would oversee industry trends and issues and react accordingly. They would make changes to policies which are consistent with the evolution of technology and the concerns of citizens.
2. Participation of all Digital Media Platforms

Digital media platforms would be accountable to this body, and be expected to act according to its principles. This takes the burden off individual marketers and agencies, and places it on those responsible for displaying the ads.
Centralizing responsibility with organizations who already oversee the ad buying process means that ad-vetting requirements can be easily extended beyond violence, sex and language, to include ethical factors.
Holding these companies accountable to an independent body also ensures that the data they own can't be used against their own subjects without consent.
As we saw with the Facebook emotional manipulation experiment, not all big data is used to sell products or services on behalf of others. Facebook simply wanted to see what impact algorithm changes would have on their main product -- Timeline. This didn't make it any less ethical.
3. Meaningful Enforcement

Digital media platforms have a vested interest in seeing as many ads sold as possible, putting them in a position to turn a blind eye to unethical use of their data for marketing and advertising practices.
Oversight, auditing, enforcement of guidelines, and repercussions for violations are essential to policy effectiveness. Given the size and financial resources of companies like Facebook and Google, punishments for violations should be swift and firm.
4. Special Attention to Vulnerable Populations

There are specific members of society who are especially prone to harm by manipulation of their data.
There is inherent risk in revealing information about individuals with health conditions at work, or outing LGBTQ individuals to their friends and family through ads. An ethical board should give special consideration to the content of ads targeting vulnerable groups of people.
5. Standardized Data Storage Requirements

Each company has its own safeguards in place to protect its information. Data is treated as a valuable commodity, but breaches do happen.
Standardizing data storage requirements keeps everyone up to date, and reduces the chances of a major data leak happening.
This is by no means a complete examination of big data and ethics, and it does not address issues around data collection.
However, personal data has been around since the dawn of modern civilization -- it's only recently that we've been able to do anything with it. Therein lies our responsibility to treat it respectfully.
Marketing is evolving, and so should its oversight. We all have a duty to ensure the responsible use of data -if used well, its benefits can greatly outweigh its risks.
ALSO ON HUFFPOST:
The Human Face Of Big Data
Consumers have long paid their utility bills with little inkling of how much each device in their home costs to run. Shwetak Patel has found a better way. The MacArthur Fellow recognized that every device has a unique digital signature that can be detected with simple wireless sensors. Patel's smart algorithms, combined with a sensor plugged anywhere in a home, inexpensively provide visual feedback allowing consumers to see which devices are the biggest wasters and how to conserve. The family who lives in the Hayward, California, home pictured here, was surprised to learn that digital video recorders eat up 11 percentof their household power.

Australia touches more ocean than almost any place on the planet. To monitor this enormous territory, scientists have formed the Integrated Marine Observing System (IMOS) to collect and share terabytes of data from sensor floats, underwater autonomous vehicles, scientific monitoring stations, remote satellite sensing, and animal tags. This data is continuously captured and integrated into IMOS's massive database of information about animal migration, ocean salinity, temperature, currents, and carbon storage. Pictured here are an elephant seal with a sensing tag, and a diver servicing an acoustic receiver mooring at Ningaloo Reef that "reads" any passing tagged fish or animal.

Researchers John Guttag and Collin Stultz (shown here) along with Zeeshan Syed have created a computer model to analyze formerly discarded EKG data of heart attack patients. Using data mining and machine learning techniques to sift through the massive quantities of data, they found that three abnormalities in an EKG are correlated with a two to three times higher risk of dying from a second heart attack within a year. They believe their computer model will significantly improve today's risk-screening techniques, which miss identifying about 70 percent of patients likely to have a repeat heart attack.

Best-selling author A.J. Jacobs, pictured here, declares his love for self-tracking in "Quantifying Myself," a delightfully candid and humorous essay he wrote for The Human Face of Big Data. "What Billy Beane did to baseball, what day traders do to the NASDAQ, I want to do to my body," he writes. "And not just out of idle curiosity. Studies show that keeping track of your body's numbers makes you behave in healthier and more productive ways."

A dozen years ago, computer legend Gordon Bell decided to try an experiment to go paperless so he could work virtually - a novel idea at the time. First, he set out to digitize his books and papers. That gave way to digital documentation of his photographs and memorabilia. Today, it involves conversations, keystrokes - even real-time records of his heartbeat and cholesterol. A SenseCam that Bell wears around his neck snaps photos every few minutes. To date, he has logged 200 gigabytes of data. Bell believes that collecting and analyzing our behaviors over a lifetime will lead to a greater understanding of what harms or enhances us.

Retinal diseases such as macular degeneration destroy the photoreceptors in the eye that detect light and relay that data through the ganglion cells in the optic nerve to the brain. But even when the photoreceptors are damaged, the ganglion cells remain alive and functional. Sheila Nirenberg of Weill Cornell Medical College has found a way to artificially recreate the complex code that a healthy retina produces when a person sees an image, so the brain can translate those signals, and a patient with macular degeneration can see again - faces, animals, even the dimple in a baby's smile. Using high-speed, parallel processing computers, Nirenberg has embedded custom software in microprocessors and cameras that will be built into eyeglasses, such as the ones on the test model shown here.

Early radar equipment has always been plagued by noise. Radar operators at the beginning of the 20th century considered scattered radio waves troublesome interference. Only later did scientists realize what they were seeing: storm clouds on the horizon. The discovery gave birth to modern weather radar.

Data transparency, amplified by Twitter and Facebook, has led to mass movements on a scale never seen before. From the Greek protests to the Arab Spring, a global citizenry is tapping into social media to create an unstoppable cascade of change in politics and government. In this photo, supporters of Antonis Samaras, the leader of Greece's conservative New Democracy party, wave flags during a pre-election speech in Athens on May 3, 2012.

Paul Butler believes that visualizing data is like photography. Instead of starting with a blank canvas, he manipulates the lens used to present the data from a certain angle. When the data is the social graph of millions of Facebook users, there are many lenses through which you can view it. One that piqued his curiosity was the locality of friendship. He set out to create a visualization showing which cities had a lot of friendships between them. After a few minutes of rendering, the image that appeared on his screen was a surprisingly detailed map of the world—with lines that represented not coasts or rivers or political borders, but real human relationships … a friendship made while traveling, a family member abroad, an old college friend pulled away by various forces of life. The result is not just a pretty picture—it's a reaffirmation of the impact and relationships people have as they connect across oceans and borders.
Follow Joseph Donia on Twitter: www.twitter.com/josephdonia