Changing Manscape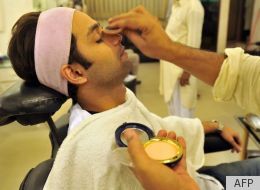 My guy's not really the spa type. I just can't see him getting excited about a "Pumpkin Peel" or a "Contouring Body Wrap," but treatments like these available specifically for men at Vancouver's Absolute Spas are becoming more and more popular.
The sexy Burt Reynolds chest rug of the '70s is long gone. With the rise of the metrosexual in the '90s and the more recent trend of "manscaping," it seems men are getting massaged, waxed and polished, well frankly, like a bunch of girls.
Men now make up nearly a third of all spa-goers, according to the International Spa Association, which oddly seems to only carry stats on U.S. spas. The Canadian Spa Association didn't have stats, but one can assume more and more Canadian guys are also getting massaged, waxed and polished.
Personally, I'm quietly impressed by a guy who's confident enough in his masculinity to have his dry skin buffed by microbeads of volcanic pumice as they do in the Defense Zone Facial for Men at The Camelback Inn in Arizona. And frankly, women have long known that you have to be tough as well-manicured nails to endure a genital waxing.
While there seems to be some concern that all this primping and pampering is threatening more traditional notions of masculinity -- real men are hairy, smell like horses, and don't fuss over their looks -- I think it's about time. Given the work women have been putting into their appearances for ages, it only seems fair that guys at least worry a little bit about, oh, I don't know, their back hair.
Still, there's a fine line, it seems, between maintenance and high-maintenance when it comes to male grooming. As my cousin's daughter, Angela Vogels, put it: "It's nice if men put some effort into their appearance, but high maintenance men are a turn-off. I like to be the prettiest one in the relationship."
That fine line is emphasized by the fact that most spas clearly try to make the experience as "ungirly" as possible with manly sounding packaging like the Tough Guys spa package at Ocean Key Resort & Spa in Key West, Florida, or the The Gentlemen's Urban Defense Facial at the Four Seasons Hotel Chicago. The Men's Zone Spa at Caesar's Palace in Las Vegas features a big screen TV so guys can get pampered while watching the game. They can even bet while they get buffed.
The insane popularity of that immensely popular and brilliant "The Man You Man Could Smell Like" Old Spice campaign last year (if you were living under a rock, check it out) is the perfect example of this new masculinity. Today's man is manly enough to ride a horse backwards or sail a yacht, but sensitive enough to buy us diamonds and offer us two tickets to that thing you love.
While an all-in-one is convenient, it can also take a toll on the sensitive skin on your face. "It may seem that women have too many products, but using an 'all purpose' antibacterial soap can dry your skin," says Dr. Meghan O'Brien, M.D., a New York dermatologist and consulting dermatologist for Physician's Formula. Over time, drying out skin can cause irritation and even eczema, so opt for a gentle cleanser.

"Many women have the benefit of getting daily protection from the sun just by applying their makeup and moisturizer," O'Brien says, as many of these products have a built-in sun protection. In fact, according to the Skin Cancer Foundation, 47 percent of men report never wearing sunscreen, compared to 34 percent of women. Daily sunscreen application reduces risk of melanoma by half, so slather it on each morning -- and don't leave it just at the face. Try a body cleanser that also has a wash-on SPF in it, suggests Carmindy, the makeup artist behind TLC's "What Not To Wear."

Daily conditioning can keep hair looking healthy and shiny, says Anthony Morrison, hair stylist on TLC's "10 Years Younger," especially if it's longer than two inches. During the summer months, he recommends trying a leave-in conditioner to protect the hair color from changing or fading in the sun.

Most women know to wash their faces every night to remove makeup that can build up in the pores and cause acne, but men's hair gels and sculpting pastes can actually lead to breakouts on the forehead and face, as well, according to O'Brien. "Washing the product out of your hair may help prevent so-called pomade acne or acne as a result of contact with hair styling products," she says.

While women are more likely to report dry, cracked or irritated feet than men are (59 vs. 37 percent, according to the American Podiatric Medical Association), that doesn't mean they can forget about removing any dead skin building up on the heels. Odor-causing bacteria feeds on dead skin -- and hey, it's flip-flop season.

Hoping for a summer glow? According to the Skin Cancer foundation, the majority of people diagnosed with melanoma are white men over the age of 40. And 39,000 of new melanoma cases each year are diagnosed in men, compared to the 29,000 that are women. "Men should embrace self-tanning, especially gradual self-tanners," says celebrity makeup artist Laura Geller. "They can also apply a little dusting of powder bronzer to give them some color!"

"Men definitely need to try exfoliating facial cleansers and masks to stimulate cellular turnover," Geller says. The process removes dead skin cells on the outer layer of the skin -- you can also slough these off with a professional facial.

"Men need soft lips too!" says licensed aesthetician Scott-Vincent Borba, founder and creator of BORBA and author of "Skintervention: The Personalized Solution for Healthier, Younger, and Flawless-Looking Skin." His go-to trick is to first apply a liquid lip balm and then exfoliate by running a toothbrush over them to remove any dead skin.

"Men should try shaving with a cream-based facial cleanser instead of a shave gel," Borba says. The gel-based products can contain more alcohol, meaning increased drying and irritation -- "and their creamy consistency will make the shave smooth."

With harsh soaps and daily sun exposure, men's faces can become dry and flaky. Carmindy tells her own boyfriend to keep a bottle of moisturizer right outside the shower so that putting it on becomes a daily routine (added bonus if it also has an SPF -- see trick number one). If flakes become a real problem, she suggests buffing the face with plain sugar in the shower -- she keeps sugar packets in her shower for her boyfriend to rip open and use. "That way he doesn't feel like he's doing anything girly," she jokes. This trick can also stop ingrown hairs in their tracks.

"Men absolutely need to groom their brows just as women do," Geller says. "To establish their ideal shape they should visit a brow professional." For DIY maintenance, grab a pair of tweezers and pluck only in the unibrow area, Carmindy suggests. Then brush the brows straight up and trim any unruly hairs using a pair of cuticle or mustache scissors. Repeatedly over-plucking can stop eyebrow growth for good, so take it easy.

"Historically, women are better than men at seeing physicians for preventative exams and check-ups," O'Brien says. Get a full body skin check from your doctor each year -- and scan your own skin once a month. "With monthly scanning, one can become familiar with moles and other spots on the skin and will have a greater chance of detecting a suspicious lesion earlier." Early detection is your best bet for successful treatment, according to the American Cancer Society.

Women are 26 percent more likely to floss every day than men are, according to the American Academy of Periodontology. We all know the dentist's lecture that getting in between your teeth on a daily basis can allow plaque to build up, eventually resulting cavities and gum disease. But then there's the beauty angle. Daily flossing can help teeth stay white and keep gums from becoming puffy, red and inflamed -- not a good look. And, of course, remember to keep up with twice daily brushing for better breath, brighter teeth and multiple health benefits.

You don't have to get the full mani treatment, if that's not your thing, but keep nails clipped and filed -- cleaning regularly under the nails can keep bacteria and fungi from growing under the nail, according to the Mayo Clinic. Try a quick cuticle oil, moisturize your hands and nails daily and always clip (not bite or rip) hangnails so that they don't become infected.