I'll Take Disney on Ice, But Hold the Firearms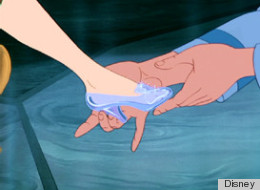 The Rogers Centre is replete with popcorn-covered parents and cotton candy-infused kids when the green army men skate out. Their presence isn't exactly unexpected, considering we're in the second half of Disney on Ice: World of Fantasy, during which pretty much all of Toy Story 3 is reenacted with retro-toy costumed figure skaters, but their rifles sure are.
As a parent who has been trying to keep my three-year-old son, Emile, away from "shooters," I'm not particularly impressed with the presence of army men at all.
But having them actually armed with rifles -- flipped to and fro as part of their opening figure skating routine -- feels beyond the pale, especially these days. We're barely a week beyond Newtown and removing guns from kids entertainment should be a first step in reducing the our society's fetishization of firearms.
My son, admittedly, barely noticed them, focusing instead on the characters he knew -- Woody, Buzz, the Potato Heads, etc. He also didn't notice the metrosexual jokes about the ascot-adorned, fashion-obsessed Ken getting locked in the closet by Barbie as part of the toys' daycare escape plan. He simply remained mesmerized throughout the two-hour "World of Fantasy" skating spectacular, which also included too-brief appearances by Mickey, Minnie, Donald and Goofy.
Walt's core quartet from the 1940s were like barely-there hosts, their ice-time limited to make room for new-school merchandise, er, characters from Cars, Little Mermaid and "Disney Fairies," the Tinkerbell-led magical equivalent to the infamous Disney Princesses line.
The show was a hit with Emile because there was skating, pretty costumes, pyro, fairies flying around on wires, his tow truck Tow Mater and the singing mermaid Ariel, to whom he had just been introduced the previous weekend by his five-year-old female cousin and which featured the most beautiful and intricate routines and song list. (Emile was literally dancing in his chair to the Calypso rhythms of "Under the Sea.")
I only really liked the parts that I knew from my own childhood, like Mickey and The Little Mermaid, though the latter's message that a girl should give up her whole life for a guy is pretty bad, especially given Hayao Miyazaki's more nuanced take on the same story with Ponyo.
That, of course, Miyazaki's Studio Ghibli is distributed by Disney, too. And Disney outright owns Pixar, Marvel and the Muppets, to boot. There really is no way for a parent to escape -- and we're not really trying too hard. After all, I brought E to see Disney on Ice as a prelude to our upcoming trip to Orlando when we'll take him to Disney World.
At the age of three, they're most amazed by seeing something they're already familiar with. So I thought Disney on Ice would be good prep. And for all my ambivalence, it seemed to have worked. When I asked his favourite part of the show, Emile brightly replied "Mickey!" So I bought him a old-school Mickey doll on the way out and the next morning we watched some classic 'toons from the 1940s that I have in a Walt Disney Treasures box set (and, ironically, had to fast-forward through a couple that included guns, but at least they were 70 years old).
What I realized is that my issue with Disney is the marketing, not the content. I certainly was raised on The Wonderful World of Disney on CBC Sunday nights, and loved all the old classics (and, I must admit, the not-so-classics like Fox and the Hound).
E and I both would have probably preferred the old "100 Years of Magic" show, which incorporated 65 characters from throughout Disney history, rather than the more current approach of the "World of Fantasy." There's just something special about the really old characters and the notion that not just my wife and I but Emile's grandparents watched them, too, back when they were wee bairns.
In the end, I'm glad we went because I loved sharing the spectacle with my son, even if it was up to me afterwards to school him on the House of Mouse's history since they only put skates on their most popular products.
But seriously Disney, please consider leaving the army rifles backstage. They add nothing but awful realism to what is otherwise a pretty magical experience.
DISNEY ON ICE: WORLDS OF FANTASY
December 23 @ 12:00 p.m. and 4:00 p.m.
Monday, December 24 and Tuesday, December 25 @ 4:00 p.m.
Wednesday, December 26, 2012 - Sunday, December 30, 2012 @ 12:00 p.m. and 4:00p.m.
Five Years, 19 Mass Shootings, No Action
The shooting at Sandy Hook Elementary on Friday was the second-deadliest school shooting in U.S. history, leaving 27 dead -- including 20 young children. President Obama gave an emotional address, calling for "meaningful action": As a country we have been through this too many times. Whether it is an elementary school in Newtown, or a shopping mall in Oregon, or a temple in Wisconsin, or a movie theater in Aurora, or a street corner in Chicago -- these neighborhoods are our neighborhoods, and these children are our children. We're going to have to come together to meaningful action on this, regardless of the politics.

Andrew John Engeldinger, a recently laid off employee of Accent Signage Systems, entered the office building and opened fire. (No public comments from the president.)

White supremacist Wade Michael Page entered a Sikh Temple, opening fire on congregants. He later shot and injured a police officer responding to the scene. Presidential reaction: Michelle and I were deeply saddened to learn of the shooting that tragically took so many lives in Wisconsin. At this difficult time, the people of Oak Creek must know that the American people have them in our thoughts and prayers, and our hearts go out to the families and friends of those who were killed and wounded. My Administration will provide whatever support is necessary to the officials who are responding to this tragic shooting and moving forward with an investigation. As we mourn this loss which took place at a house of worship, we are reminded how much our country has been enriched by Sikhs, who are a part of our broader American family.

During a midnight screening of "The Dark Knight Rises," a gunman opened fire on the suburban Denver movie theater, killing 12 and injuring dozens of others. Two days later, Obama delivered a ten-minute speech from the University of Colorado that made no mention of gun control: God bless all who helped to respond to this tragedy. And I hope that over the next several days, next several weeks, and next several months, we all reflect on how we can do something about some of the senseless violence that ends up marring this country, but also reflect on all the wonderful people who make this the greatest country on Earth.

A man opened fire in a cafe, fatally wounding four people, then killed another in a carjacking before killing himself. (No public comments from the president.)

A former student of Oikos University, a Korean college, entered a building on the campus and shot repeatedly at random targets. (No public comments from the president)

A man shot and killed two of his sisters and their husbands and then himself in a Korean health spa. (No public comments from the president.)

Scott Evans Dekraai, 41, stormed a hair salon where his ex-wife worked and killed eight people. (No public comments from the president.)

Jared Lee Loughner, 22, opened fire in a Safeway parking lot, killing six people and injuring others including U.S. Rep. Gabrielle Giffords, who was shot in the head at point-blank range. Two months later, Obama addressed gun control issues in an op-ed for the Arizona Daily Star: I know that every time we try to talk about guns, it can reinforce stark divides. People shout at one another, which makes it impossible to listen. We mire ourselves in stalemate, which makes it impossible to get to where we need to go as a country. However, I believe that if common sense prevails, we can get beyond wedge issues and stale political debates to find a sensible, intelligent way to make the United States of America a safer, stronger place.

A driver for Hartford Distributors killed eight people and then himself in this workplace shooting. (No public comments from the president.)

A Washington man walked into a coffee shop and shot four police officers execution-style. (No public comments from the president.)

In the deadliest shooting to ever happen on an American military base, an Army Major serving as a psychiatrist went on a shooting spree that killed 13. Obama said at a press conference: This morning I met with FBI Director Mueller and the relevant agencies to discuss their ongoing investigation into what caused one individual to turn his gun on fellow servicemen and women. We don't know all of the answers yet, and I would caution against jumping to conclusions until we have all of the facts.

Jiverly Wong, a naturalized immigrant from Vietnam, gunned down students and employees at the American Civic Association, where he had been taking English lessons. President Obama said in a statement: Michelle and I were shocked and deeply saddened to learn about the act of senseless violence in Binghamton, N.Y. today. Our thoughts and prayers go out to the victims, their families and the people of Binghamton. We don't yet know all the facts, but my administration is actively monitoring the situation, and the vice president is in touch with Governor Paterson and local officials to track developments.

A 28-year-old man killed his mother then drove ten miles to kill several members of his extended family, neighbors and a bystander. The victims ranged in age from 18 months to 74 years old. (No public comments from the president.)

A gunman opened fire on a nursing home, killing seven residents and a nurse. (No public comments from the president.)

After an argument with his boss at the Atlantis plastics plant, Wesley N. Higdon, 25, killed five colleagues and then himself. (No public comments from the president.)

A former Northern Illinois University student, 27-year-old Steven Phillip Kazmierczak, opened fire on the campus, killing five people then himself. George W. Bush spoke with school president John Peters and told him "that a lot of folks today will be praying for the families of the victims and for the Northern Illinois University community. Obviously a tragic situation on that campus and I ask our citizens to offer their blessings, blessings of comfort and blessing of strength." Then an Illinois senator and presidential candidate, Barack Obama said in a statement that "we must also offer ... our determination to do whatever it takes to eradicate this violence from our streets and our schools; from our neighborhoods and our cities."

A gunman opened fire on a public meeting in the city hall, killing six people before he was shot and killed by police. (No public comments from the president.)

Robert A. Hawkins, 19, went on a shooting spree at the Westroads Mall, killing eight people and then himself. George W. Bush had been visiting Omaha for a fundraiser but left the city just an hour before the shooting took place. "Having just visited with so many members of the community in Omaha today, the president is confident that they will pull together to comfort one another as they deal with this terrible tragedy," the White House said in a statement.

Tyler Peterson, 20, killed six people, including his ex-girlfriend, at a post-homecoming party. (No public comments from the president.)

Seung-Hui Cho, a senior at the school, shot and killed 32 of his classmates before committing suicide. George W. Bush addressed the nation: I've spoken with Governor Tim Kaine and Virginia Tech President Charles Steger. I told them that Laura and I and many across our nation are praying for the victims and their families and all the members of the university community who have been devastated by this terrible tragedy. I told them that my administration would do everything possible to assist with the investigation, and that I pledged that we would stand ready to help local law enforcement and the local community in any way we can during this time of sorrow.
Follow Joshua Ostroff on Twitter: www.twitter.com/joshuaostroff