Just Committed a Crime? Tweet About it and Give Cops a Break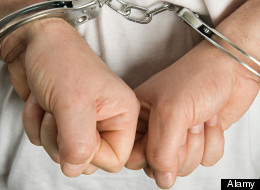 There's no way that I could pull off being a criminal -- not a chance. The first indicator of this came when I was seven years old and stole a Batman figure from a movie store, only to break down crying the moment I walked out. I promptly returned the stolen property and apologized. Funny part is, immediately thereafter, I asked my father if this meant that I couldn't be a lawyer. Once again, I was a seven-year-old child. If that doesn't illustrate the pressures of Jewish Day School, what does?
Granted that I developed thicker skin as I got older, as times changed, something new entered into my life that would be the ultimate reason why I could never pursue criminal activity: I became a full fledged, card carrying social media junkie. And let me tell you something about the Web 2.0 prison I live in -- everything gets posted, especially when it involves career and business developments. So if I were a criminal, that probably means I'd be tweeting stuff like "...just stole 3 cartons of cigarettes from the corner store! 30 % discount - private message me for details!! #stolen #cigarettes" (I must admit, it seems easier than knocking on each person's door and making face-to-face sales).
OK, so maybe I'm being a little silly. But the truth is, I'm not that far off. Social Media has evolved into an invaluable tool for law enforcement professionals to track crime. Furthermore, nowadays, there is story after story being written about criminals that do stupid things online to get busted, and they have only themselves to blame.
I thought it would be interesting to explore a few of these instances, where the combination of bad decisions and social media brought people to justice:
Brooklyn, NY: Fourteen gang members committed a series of violent crimes, befriended a cop on Facebook and then uploaded a video of the crime, which included footage of an argument over division of "loot." Needless to say, all 14 criminals were busted. Talk about guilty beyond a reasonable doubt!
Calima, Columbia:A brilliant young man committed an armed robbery at an Internet café. However, prior to committing the crime, he logged into Facebook and forgot to log out. This made it very easy for the cops to bust him. It's kind of like handing the cops your own warrant for arrest.
Palmetta, Florida: Two high school girls got into a physical fight at school, and one of the girls' mothers was present. The mother was encouraging her daughter to "fight and win"! Little did she know that she was busted on video camera. The video was then uploaded onto Youtube -- only for the mother to face charges of child abuse and neglect. It's always nice to know that positive role models do exist.
London, England: Police utilized social media to crack down on crime by asking citizens to upload photos to [police operated] Tumblr and Flickr accounts: To Catch a Looter. Check out this picture of one looter -- he just looks so content with his new findings!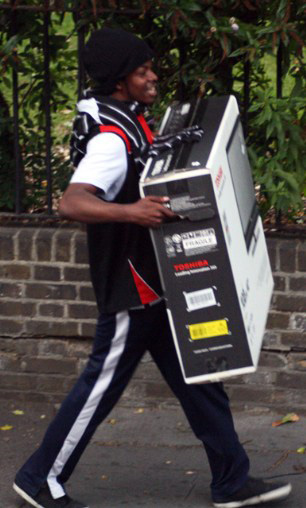 Photo Credit: The Blaze
Vancouver, Canada: When the Vancouver Canucks lost the NHL Stanley Cup Final in 2011, rioters went on a looting binge. One such looter, 23-year-old Camille Cacino, was seen smiling on camera as she happily stole a pair of pants. Despite her academic achievements at the University of British Columbia, Ms. Cacino made a split second decision that she, the justice system and the online community will never forget. Despite her heartfelt apologies, doesn't it look like she's just having a blast?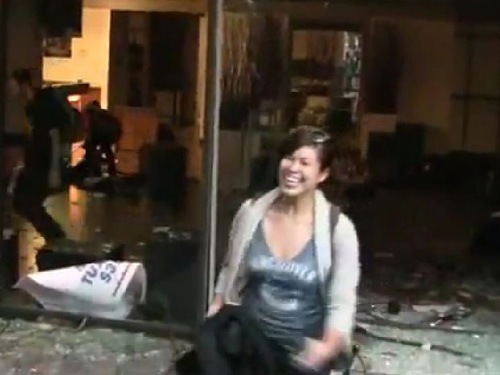 Photo Credit: The National Post

So, what's the point of all this? I promise, it's not just to make fun of the people who have dealt with the harsh ramifications of poor decisions. The thing is, if we don't take a minute to soak in just how public of a life we now live, then we can't govern ourselves accordingly. And how should we govern ourselves in this new digital age? Simple: If you don't want it on camera, don't do it.
There are some places you just shouldn't hide a weapon. Take it from Michael Leon Ward, who -- despite multiple searches -- managed to sneak a 10-inch gun into a prison last January by concealing it in his rectum. Police in North Carolina found the weapon in a toilet after other inmates reported Ward's extra personal item.

Ouch! Fei Lin, 41, of the Niqiao village near Wenling City, in east China's Zhejiang province, told police he was asleep when thieves broke into his room, put a bag over his head and cut off his penis.

Save the woman! Save that, ohhh. In July, 18 police officers in China's Shandong Province rescued a drowning victim who turned out to be an inflatable sex doll. It took more than 40 minutes before the officers were able to recover the pleasure toy.

Looks cold up there. A very nude Dan Motrescu shocked central London when he mounted the bronze statue of the 19th-century Duke of Cambridge on Nov. 23. It took several hours for officers to talk him down, but once they did, Motrescu was charged with possession of an offensive weapon, criminal damage and a public order offense.

Hypothesis: Not good. Officials jailed Coley Mitchell, 32, on August 13 after he was discovered intoxicated with his pants down in a campus locker room. In the same room: two lab monkeys who had been let out of their cages.

Real smooth. Police dubbed 27-year-old Efrain Hardman the "Oil Of Olay Bandit" after he allegedly stole $40,000 worth of skincare products. Staying clean and clear is hard, so Hardman eventually gave up and turned himself in to Texas police.

It's OK to be a little pissed over getting pulled over, but it's never OK to piss on a police car. just ask Roger Alvin Henderson, who can be seen in this priceless screen grab relieving himself on a cruiser after he was pulled over for a tinted window violation.

Police placed Nicole Huey's hamster in protective custody after arresting her for a DUI during October. The hamster "was not not using any safety equipment," wrote Officer Mike Rowe in a post, titled "A Hamster Was Taken Into Protective Custody," on the Beaverton Police Department's Facebook page.

Verdon Lamon Taylor, 32, was busted at a Pennsylvania Walmart during February after he allegedly walked naked into the store and stole a pair of socks. Police said the suspect stripped off his clothes in the parking lot before waltzing into the mega-store in nothing but his birthday suit.

Terry Davis, 25 of Prospect, Ky., allegedly stole a textbook called "Resolving Ethical Issues" from a Barnes and Noble college book store near the University of Louisville's Health Sciences Center. He later tried to sell the text to Gray's College Bookstore, a rival book shop in Louisville.
Follow Joshua Slayen on Twitter: www.twitter.com/joshuaslayen