Earlier this week, a photo surfaced online that featured Dasha Zhukova (a white, female fashion editor) sitting on top of a chair made to look like a semi-nude black woman, bound at her legs, and wearing knee-high stiletto boots.
My first instinct upon seeing said image was to point out its blatant racism -- how on earth could an editor (in this case, Miroslava Duma) think this was OK? How did she not think that people would be outraged? Right away, I shared the image (and a link to this story) on my Facebook page because I just couldn't believe what I'd seen.
Since sharing the photo, I decided to do a little more research. At first glance, I thought the black woman was a real person, but I soon realized it was a mannequin. Still, I felt the image was offensive. Then I went to read the editor's apology, which essentially wasn't an apology at all. Saying sorry for the fact that the public felt offended by the image just doesn't cut it with me. And I'd have to be a fool to believe that Duma didn't think for even a second that the photo (below) would come off as extremely offensive.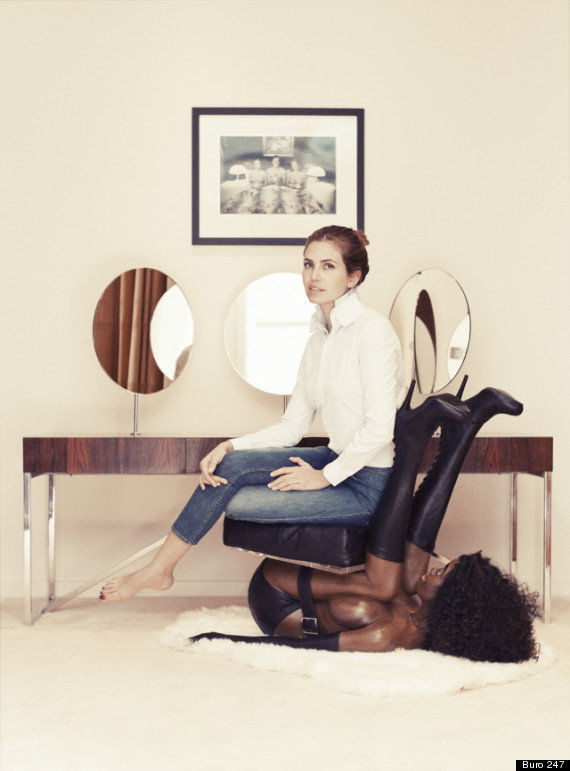 But one line in particular stuck out for me: "The chair in the photo should only be seen as a piece of art which was created by British Pop-Artist Allen Jones, and not as any form of racial discrimination. In our eyes everyone is equal. And we love everybody."
If the chair was art, why did I find it so offensive?
The next thing I did, being an art nerd, was look up the artist. To my surprise, I found that the chair in the photo wasn't actually by Allen Jones. (Side note to the editor: Next time you decide to publish a controversial image, and follow it up with a seemingly scheduled apology, get your facts straight.)
The controversial piece of furniture is in fact by a Norwegian artist named Bjarne Melgaard and within its art context, it's a direct reference to the work by Jones (simply titled, "Chair") from 1969. As I continued to look into the works of art -- both Jones' original and Melgaard's parody -- I came to realize that the chairs, in and of themselves, were not racist. However, in the context of the now-infamous photo, the chair takes on a completely different meaning.
In an article on Complex magazine's website, Leigh Silver states:
"The problem may not be the chair itself, but the fact that Zhukova, a privileged white woman, is sitting on a completely powerless black woman. As a stand-alone work of art, the chair becomes a satire on art history. As a piece of furniture, it means something entirely different -- something much more offensive. Whoever decided to plop Zhukova on Melgaard's chair should be fired."
I couldn't have said it any better myself. Once I looked at the sculptures as art, my perspective changed, but that doesn't mean I think the photo is in any way acceptable. As art, the human furniture pieces speak to the power structures put in place by society, and as the artist himself states, they "exist to destabilize and unhinge our hardened and crusty notions of race and sex and power."
As a literal chair, the piece just brings to mind ideas of white supremacy and dominance by the caucasian race. It also raises questions like: Why did she have to sit on the chair of the black woman? What would we say if she was sitting on a chair of a white woman? And what if a black woman were sitting atop a white woman?
All the hoopla surrounding this fashion controversy just kept bringing to mind all of the other instances of racism in the industry -- the numerous counts of blackface, the white-washing of coloured women, and alternatively, the covering up of coloured skin -- these things happen way too much for us to believe they're coincidental anymore.
Since when did the fashion world become so racist? It's almost as though these fashion editors do it on purpose, just to get people talking. But as someone who loves fashion and art, I often find myself conflicted.
ALSO ON HUFFPOST:
Racist Moments: 2013 Edition
During an interview with Entertainment Tonight, Winfrey was asked if she had personally experienced racism. She responded with an anecdote about a clerk at a shop in Switzerland who had recently refused to show her an expensive bag, even though she repeated her request multiple times. "That one will cost too much, you won't be able to afford that," Winfrey claimed the clerk told her. Read the full story, here.

The 66-year-old chef and Food Network star admitted in a deposition in a discrimination lawsuit that she used racial slurs in the past. Deen was asked under oath if she had ever used the N-word. "Yes, of course," Deen said, though she added, "It's been a very long time."

Yes, racist tweets will get you in trouble. AJC posted this, deleted it, and had to apologize.

Michael Dunn, the Florida man charged with shooting 17-year-old Jordan Davis after an argument over loud music, is currently awaiting trial and maintaining that he acted in self-defense the night of the fatal confrontation. In several letters reportedly written from jail, and obtained by News4Jax, Dunn rants about killing "thugs" so "they take the hint and change their behavior," black-on-white crime and the liberal media.

Barneys New York and the New York Police Department have been slapped with a lawsuit by Trayon Christian, a college student from Queens, who was arrested at the luxury department store in April. "His only crime was being a young black man," Michael Palillo, Christian's attorney, told The New York Post. The Post reports that the 19-year-old was at the store buying a $350 Salvatore Ferragamo belt, but following the purchase, he was stopped by undercover officers that were allegedly called on by a Barneys sales clerk who believed the transaction was fraudulent.

A young Australian woman hosted an "African" themed 21st birthday party. Afterwards, she shared photos that show attendees In blackface and KKK costumes.

A black woman was allegedly fired from her job because of her blonde highlights. Farryn Johnson told Maryland's CBS News affiliate that she was let go from her job as a waitress at Hooters due to '"improper image" after the 25-year-old refused to remove blonde highlights from her dark brown hair. "They specifically said, 'Black women don't have blonde in their hair, so you need to take it out,'" Johnson told CBS.

An Ohio charter school attempted to ban "afro-puffs and small twisted braids."

WANE-TV shared an image of the billboard, which is said to flash with the words "Impeach Obama."

Kayla Phillips, a 21-year-old nursing student from Brooklyn, told the Daily News that she was stopped by police after purchasing a $2,500 Céline bag at the store on February 28. After buying the luxury item with the money from a tax return, the woman left the Madison Avenue store. Three blocks away, she says she was surrounded by four undercover police officers -- two white, one African American and one Asian -- at a nearby subway station.

Ashley Davis, a 24-year-old from St. Peters, Mo., said a change in her company's policy now requires her to cut off her dreadlocks. "I've only been there for two months, and they came up with a policy. I feel like it's degrading," she said.

The New York Post reports that actor Robert Brown, who's most known for his starring role opposite Sean Connery in the film "Finding Forrester," has filled a civil suit for an unspecified sum against the luxury retail store and the New York Police Department, citing that he was unlawfully searched by undercover police officers on June 8, 2013. The 29 year old, who is black, was stopped after making a purchase at the Sunglass Hut store located inside Macy's flagship location in New York's Herald Square

A group costume features a man dressed as Martin, wearing blackface and a blood-stained hoodie, and a man portraying Zimmerman, wearing a shirt that reads "Neighborhood Watch." In a photo uploaded to the Facebook account of Caitlin Cimeno, the woman in the picture, the man portraying Zimmerman has fashioned a gun out of his right hand and has pointed it at the man dressed as Martin.

An Arkansas town with a reportedly dark past rooted in racial discrimination is pushing back after an "anti-racist" billboard went up on a major roadway there last month. Someone in Harrison, Ark., is paying $200 a month for an entire year to display this 12-by-24–foot sign with the message "Anti-Racist is a Code Word for Anti-White."