Sticky situation: Bringing a Newborn to a Gala?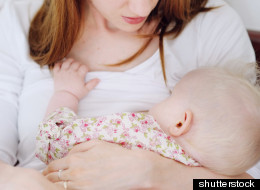 Sticky situation:

Our law firm has been nominated for our local Chamber of Commerce's annual Business Achievement Award. The celebration and unveiling of the winners is in two weeks. It is a very high profile event for our business community.

As I have personally worked, for the past two years, on the new vision of the firm, I am very excited by this nomination and truly feel that we may win.

This is a joyous time in my life, as I also just gave birth to a baby boy. My newborn will be five-weeks-old on gala night. I am still nursing so, I was thinking of bringing him with us. For the most part, my husband would take care of him and come feeding time, I would excuse myself to discreetly nurse him.

This scenario also means having a stroller by our table and walking around with a diaper bag, not very glamorous for a gala evening.

I spoke about this plan with one of our senior associates and he is very concerned that other attendees may disapprove of bringing a baby to a gala.
Solution(s):
First of all congratulations on your nomination and on your newborn baby boy!
For starters, when invited to an event, including a gala, you should always respect the name(s) on the invitation. Generally speaking a gala invitation for a nominee would read "name of the nominee and guest."
In the event of a celebration where children are welcome, your invitation would have the mention "and children." For a Chamber of Commerce gala, I suspect that this is not the case.
Even in the case of a non-professional occasion, such as a wedding, if your baby's name is not on the invitation, he is not invited. Even if he is but a few days old.
As a self-employed businesswoman and mother of two sons, now adult, who also breastfed, I can certainly empathize with your predicament.
Although you may think that your husband can take care of your little one, while you are networking and accepting praise, your senior associate brings a valid concern.
Not only may some attendees disapprove and gossip about you bringing your newborn but, as small as he may be, he is still unpredictable and his restlessness or cries may hinder other gala-goers' enjoyment.
As you mentioned, the baby paraphernalia will also definitely bring undue attention to yourself and your firm.
I'd like to add that I don't think that you will really be able to focus on all the mingling opportunities, that this type of recognition will bring to you and your firm.
If you see your hubby walk out of the room with your little one or even if you hear his cry in the distance, you will be distracted and risk looking disinterested to the other people that you will be interacting with.
For this Sticky Situation, I only see three options:
Find out from the event's host organization. Call and ask how they feel about you brining your son, to their event. Your Chamber of Commerce may have guidelines or they may be very open to this extra guest. In either case, you will be avoiding embarrassment on either party's side.
Don't go. Stay home and send another representative from your firm. You could even prepare words to be read by your colleague.
Extract your milk ahead of time and go with your husband to enjoy the forthcoming honours. Leave your little one in the care of a loved one.
One of times where you could bring your baby, could be if your firm was recognized as a Breastfeeding-Friendly Workplace or was receiving some other kind of family accolade.
If you decide to stay home, you could hold a mini-celebration of your own by dressing up and enjoying a nice dinner with your loved ones.
Have a Sticky Situation yourself, write to julie@etiquettejulie.com and Julie will reply promptly. You can also ask your questions on her Facebook page. Julie travels coast to coast to give interactive conferences.
9 Ways Google Can Help Normalize Breastfeeding
With approximately 88 billion searches per month on Google.com, a Google Doodle during World Breastfeeding Week (August 1-7, 2012) could literally be viewed by millions of people. Breastfeeding needs to be seen in order to become normalized. It needs to be such a common sight that it barely registers for people. Obviously Google can't do this alone, but it can help us out by featuring a beautiful breastfeeding baby on its search engine.

Many states specifically protect the rights of breastfeeding pairs. For example, the Connecticut law states that no person may restrict or limit the right of a mother to breastfeed her child. (Conn. Gen. Stat. Ann. ß53-34b.) Other states, like Arkansas, simply exempt breastfeeding from public indecency statutes. (A.C.A. ß 5-14-112.) And there are three states that do not protect breastfeeding pairs at all - West Virginia, Nebraska, and Idaho. Google can figure out what state we reside in when we are searching Google.com. Let's ask Google to include a note on the top or side of every search result that lists the searcher's breastfeeding state law. If there is no law, or if the law simply exempts nursing pairs from public indecency laws, Google could add a note that says "lobby your legislators to create a state law protecting nursing pairs," with a link to a site that will connect the searcher to his/her representatives. With 34,000 searches per second on Google.com, we could inform a lot of people about the rights of nursing pairs.

There are so many wonderful organizations and communities dedicated to supporting and normalizing breastfeeding: NursingFreedom.org, La Leche League, Kellymom, Best for Babes, Human Milk for Human Babies, Natural Parents Network, Code Name: Mama's "Joys of Breastfeeding Past Infancy" series, The Leaky B@@B, and more. One of the main reasons women stop (or never start) breastfeeding is due to a lack of support. We can reach out to breastfeeding mothers who might otherwise feel isolated by advertising on Google and YouTube -- the 2nd and 3rd most visited websites (just behind Facebook). Google can help us increase the visibility of supportive breastfeeding networks by promoting them on Google-owned sites.

From making babies healthier to decreasing a mother's risk of disease, there is a reason that breastmilk is the biological norm. There are at least 101 reasons to breastfeed, and many wonderful uses for breastmilk even outside of nourishing a baby. Instead of the usual sponsored ads in your Gmail inbox, Google could feature one of the many reasons to breastfeed, with a link to one of the supportive breastfeeding organizations and communities.

Google Calendar users can choose to have federal holidays listed in their normal view. How cool would it be to have World Breastfeeding Week highlighted in the holidays? It might prompt some users to help support the events planned in their area or online.

Google continues to update its street view images, so why not incorporate images of breastfeeding pairs? I'm sure Google could find willing participants in many cities, like Jennifer of True Confessions of a Real Mommy, shown here nursing at Huntington Beach, California.

"The primary purpose of the 'WHO-CODE' is to protect mothers and babies from the highly effective, aggressive and predatory marketing of substitutes for breastfeeding (i.e. infant formula, bottles, artificial nipples)." Google can help us promote breastfeeding and deter formula marketing by refusing to accept advertising contracts from companies that do not comply with the WHO Code.

Google Maps is the most popular "travel website," ranked over Mapquest and Expedia. Maybe that is because visiting Google Maps can be fun. Who doesn't love the little Pegman on Google Maps?! Pegman has dressed up as Santa, a panda, an astronaut, and more. Why not replace Pegman with Pegwoman for awhile? She'll proudly nurse in public all over the two dimensional globe.

Rather than plugging the next hit movie, feature breastfeeding videos on YouTube's front page during World Breastfeeding Week. Let some of YouTube's 800 million monthly viewers see the biological norm in nourishing our little ones.

The large G in Google is the International Breastfeeding Symbol.
Follow Julie Blais Comeau on Twitter: www.twitter.com/EtiquetteJulie