Sticky Situation: Your Ultimate Holiday Hosting How-To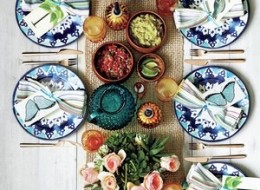 Sticky situation:
"It's the hap-happiest season of all. With those holiday greetings and gay happy meetings. When friends come to call. It's the hap- happiest season of all. There'll be parties for hosting.... " and on goes the traditional hosting hymn originally sung by Andy Williams.
At this most wonderful time of the year, I share with you place-setting guidelines, dining dos and don'ts and of course solutions to sticky hosting situations.
Solution(s):
From now on, all family members can set the table. No more excuses! Print and post this Holiday Hosting infographic.

1. Do respect pre-assigned seating.
2. Don't place your phone, keys or other personal effects on the table.
3. Do put purse under your chair.
4. Don't touch your napkin, the bread, nor have a sip of water before the guest of honour or host places their napkin on their lap
5. Don't use your napkin to sneeze, blow your nose, dap your sweat or remove your lipstick.
6. Do identify your place setting with B-M-W; Bread - Meal - Wine or Water.
7. Do use your utensils & glasses from the outside-in.
8. Do tear, butter, and eat your bun, one small bite at a time.
9. Don't flip your wine glass upside down if you are not drinking wine.
10. Don't put your elbows on the table, as long as food is on the table. Between courses, it is perfectly acceptable to put your elbows on the table and even to rest your chin on the back of your hands.
11. Do eat soup by holding your spoon with your thumb on top: slide the spoon away from you, gently rub it on the outer edge of the bowl to remove drips and sip from the side of the spoon
12. Do practice continental style dining: your knife is in your strong hand and your forefinger points down on the handle while your fork is in the opposite hand with its tines down.
13. Do spear your meat with your fork tines and cut, one piece at a time, with your knife.
14. Do remove food that may not be swallowed, from your mouth, the way that it went in. For example: a pitted olive went in on your fork and its pit will exit on your fork.
15. Do place discarded food from your mouth, on your plate behind other untouched food, like a broccoli spear.
16. Don't allow used cutlery to go back on the table.
17. Do circulate dishes and the breadbasket counter clock wise; to the right, around the table. Salt and pepper shakers are a pair, and should always be presented together.

18. Don't use your fingers to push foods onto your utensils.
19. Don't redo your makeup at the dinner table
20. Do send a thank you note to your host within 24 hours of the meal
For all your other family sticky situations, refer to this previous blog post, Family Survival Guide for the Holidays.
Enjoy making memories with loved ones as you host, during this most wonderful time of the year.
Happy holidays!
ALSO ON HUFFPOST:
Worst Dinner Party Guests
We love the lush for getting the party started. They tend to get people talking and make everyone feel more comfortable. That is until they've had that one drink too many; the one that takes them from charmingly buzzed to embarrassingly drunk. Not worth the gamble guys.

Some people want to savor their food, we get that. But please don't make everyone wait 30 minutes for you to finish three asparagus spears. Try and keep up.

Just look at that chart! How are we non-Paleo dieters suppose to get this straight in time to have people over for dinner? Don't even try. Repeat after us: "No, we will not make your pizza with a cauliflower crust or even a bacon crust. Please just stop ruining everything that is good about food."

Dear oenophile: we love that you love wine, because we love wine too. But your wine nerdery makes us feel insecure about the merlot we're pairing with our rack of lamb. (Is it okay?? Can you tell that it only costs $12???) Also, the way you aggressively swivel your glass makes us nervous that you're going to drench the person sitting to your left in red wine -- and we don't have any clean shirts to spare.

As hard as you try to be careful when preparing a meal for someone who follows a gluten-free diet, there will almost always be one small detail where you will slip and accidentally sneak in gluten -- like with the splash of soy sauce you added to your salad dressing. SURPRISE! Soy sauce is loaded with gluten. If your gluten-free guest has serious allergies, this could make for a very scary night. (Maybe have them over for drinks instead, where you have less chances of doing them harm.)

If you don't like to eat, please stop accepting invitations to dinner parties. When people cook for you, it's because it gives them pleasure to feed you. Please, eat with gusto. We don't want to see even one strand of pasta left behind.

Look, we're just going to come right out and say it: we bought our cheese at Costco. And we want to serve it as an appetizer, not as an after-dinner course.

They present all the same challenges as the gluten-free diner, only with a side of judgement. Because, the animals.

Unless your guest is five years old, or has allergies, they have to eat the foods served to them at a dinner party. We don't care how much they hate lettuce, there will be no Kraft mac and cheese to replace it (no matter how much we secretly love the stuff ourselves).
Follow Julie Blais Comeau on Twitter: www.twitter.com/EtiquetteJulie