Sticky situation: A Family Survival Guide for the Holidays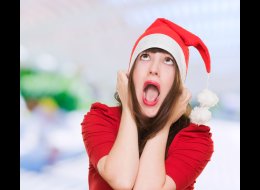 Your house is decorated. The majority of your gifts are bought. Some are already wrapped.
You've done your shopping at Costco and have ordered a fresh turkey from your local butcher. You are almost ready. On second thought, you're ahead! Yeah!
You should be happy anticipating the family reunions. But you are worried and apprehensive. In your family, this supposedly festive and joyous time may bring a few sticky situations.
Probably like most of us, your family is not close to perfect like George Bailey's. It probably is closer to one of the three Modern Family families or the Griswolds.
To avoid getting wrapped up in garlands, here's your family survival guide for the holidays.
1. Sticky situation: A family member asks you an indiscreet question.
Solution: You have a few choices.
Reply with empathy and a positive attitude.
"How much money do you make?
"I'm doing quite well thank you, but I'm always open to suggestions to make more. Do you have any ideas for me?"
Respond with humour.
"How old are you?"
"Today I feel like I did at 20!"
Answer with a question in return.
"When will you guys have children?"
"Hmmm, why do you ask?"

Switch to another topic of conversation.
"Do you have a girlfriend?"
"What are your plans for New Year's eve?"
Generally, when you feel uneasy about answering a question, use this sentence: "I am quite a private person and prefer to keep that to myself."
2. Sticky situation: You are hosting and two family members don't get along very well. In the past, there have been eruptions, even at the dinner table.
Solution: Assign them very distant places by using nametags. Prepare conversation topics and include the whole table in your discussion. If the volume rises, propose a toast or invite one of them to come help you in the kitchen. Be careful not to serve too much alcohol. Offer water and other non-alcoholic drinks
3. Sticky situation: You received a gift you don't like from a client and want to pass it on, re-gift it, in your family.
Solution: These days with overconsumption and environmental concerns combined with the current economic situation, regifting may be acceptable. First, there should be no chance that the "original donor" will be looking for his gift in your environment. You must be sure that the recipient will appreciate it. The item should be new, unused and still available in stores. The packaging and the original instructions must be intact. Replace the wrapping and the note card. For obvious reasons, do not practice re-gifting in front of your children.
4. Sticky situation: It's dinnertime and many of your family members arrive at the table with their cell phones in hand. You want the real "Facetime" and not the Apple company kind.
Solution: If you are hosting, put a beautiful empty basket in the center of the table. As your guests arrive to take their seats, cell phone in hand, ask them to deposit them in it. Whoever retrieves their phone, will be recruited to help clear the table or do the dishes.
5. Sticky situation: Your sister in law is having a potluck dinner. You are wondering if you should bring her a hostess gift, on top of your contribution to the meal.
Solution: No, there is no obligation to bring a hostess gift when you are asked to contribute to a meal. You should also inquire to find out if you have to B.Y.O.B. (bring your own beverage), as well. Buy a new serving set to use as a "thank you for organizing the party" gift. Use the recipient to present your dish and bring the utensils for the service. Leave them behind for your host to use. This way you don't have to wait for them to be washed or returned to you.
Often, in the name of peace, it is better to let a word or a gesture go by. Use these classic tips: prepare yourself mentally, think positive, breathe and remember that it's only for a few hours.
You have a sticky situation at work or at home? This is your forum. Write to Julie and she will reply promptly. Want more solutions to sticky situations? Go to Facebook, Twitter or order your autographed copy of Etiquette: Confidence & Credibility. Planning a conference? Julie happily travels coast to coast and beyond, to present customized activities. With Julie's help gone will be awkwardness, embarrassment and faux-pas.
ALSO ON HUFFPOST:
11 Quotes To Beat The Holiday Stress
"There must be quite a few things that a hot bath won't cure, but I don't know many of them."

"A crust eaten in peace is better than a banquet partaken in anxiety."

"Sometimes the most important thing in a whole day is the rest we take between two deep breaths."

"Do you remember the things you were worrying about a year ago? How did they work out? Didn't you waste a lot of fruitless energy on account of most of them? Didn't most of them turn out all right after all?"

"Don't underestimate the value of Doing Nothing, of just going along, listening to all the things you can't hear, and not bothering."

"For fast-acting relief try slowing down."

"How we perceive a situation and how we react to it is the basis of our stress. If you focus on the negative in any situation, you can expect high stress levels. However, if you try and see the good in the situation, your stress levels will greatly diminish."

"Being in control of your life and having realistic expectations about your day-to-day challenges are the keys to stress management, which is perhaps the most important ingredient to living a happy, healthy and rewarding life."

"Some of the secret joys of living are not found by rushing from point A to point B, but by inventing some imaginary letters along the way."

"Stress is basically a disconnection from the earth, a forgetting of the breath. Stress is an ignorant state. It believes that everything is an emergency. Nothing is that important. Just lie down."

"As we struggle with shopping lists and invitations, compounded by December's bad weather, it is good to be reminded that there are people in our lives who are worth this aggravation, and people to whom we are worth the same."
Follow Julie Blais Comeau on Twitter: www.twitter.com/EtiquetteJulie