'Twas The Night Private Shopping Party! The CORE Shopping Event Where Style, The Season And Charity Meet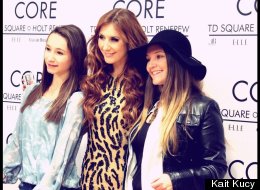 CORE Shopping's 'Twas The Night Biggest Private Shopping Party!
Shoppers & fashionistas waiting for the event to open.

DJ at Papyrus

Local Style Photographer Aldona Barutowicz

MTV's Jessi Cruickshank on the Red Carpet

MTV's Jessi Cruickshank on the Red Carpet with fans

Pre-lighting of the CORE Christmas Tree

The Calgary Boys Choir Performs

Indoor Pyrotechnics

The CORE Christmas Tree

The CORE Christmas Tree

Crowds Gather at 'Twas The Night

The Alberta Ballet performs The Nutcracker.

The Calgary Fiddlers perform before the unveiling of Paul Hardy's Tweet Dress.

Designer Paul Hardy with Tourism Calgary's Gisele Danis

Paul Hardy's Tweet Dress Revealed

The Calgary Fiddlers with Paul Hardy's Tweet Dress

Paul Hardy's Tweet Dress Revealed

Live Music at Harry Rosen
What an incredible evening was had at The CORE Shopping Centre's 'Twas The Night Private Shopping Party! The downtown Calgary mall was chockful of incredible music performances, fashion shows, pyrotechnics and most importantly, amazing deals at many of the shops. With ticket proceeds going to two valuable local causes, BeCause Foundation and the National Music Centre - this event affected not only retailers in the mall but also the downtown community as a whole.
Red carpet cruiser and celebrity host for the event was MTV's Jessi Cruickshank, also known for Etalk and E! Network.
The Tree Lighting was quite the spectacle with an incredible indoor pyrotechnic show that also featured the sweet voices of the Calgary Boys Choir.
Shoppers and fashionistas of all kinds enjoyed a stunning performance by the Alberta Ballet featuring an excerpt from The Nutcracker. Definitely got the crowd in the mood for Christmas and hopefully to go see the ballet at the Jubilee.
Local Calgary designer Paul Hardy also revealed his much-awaited Tweet Dress which was a collaboration between the designer and Tourism Calgary. Essentially, Hardy asked twitter followers to send him what they think is in style in Calgary and he would create a completely original dress based on these tweets. The dress was majestically revealed and included so many great elements of Calgary. Everything from the Stampeders logo on the back of the dress to the soft grey Smithbilt Cowboy Hat the model wore, this dress was Calgary through and through.
All in all, this was a beautiful Christmas-inspired event filled with some old-fashioned holiday charm, excitement and plenty of goodwill!
Follow Kait Kucy on Twitter: www.twitter.com/yuppielove