I'm Honoured To Portray The Black Canadian You've Never Heard Of
It was 1947. While the government of Canada was helping to draft the Universal Declaration of Human Rights, a woman named Viola Desmond (née Davis) was in a legal battle with the province of Nova Scotia. She was seeking justice after being thrown out of a movie theatre near Halifax while she was watching "The Dark Mirror," a film starring Olivia De Havilland.
Her crime? Sitting in a section of the movie theatre reserved for white Canadians. Viola Desmond lost her case in court.

In 2015, actress Viola Davis became the first African-American woman to win an Emmy in a dramatic role in the 66-year history of the award. She used her acceptance speech to call out Hollywood, shining a spotlight on the vast chasm that is a lack of opportunity for women of colour in the industry.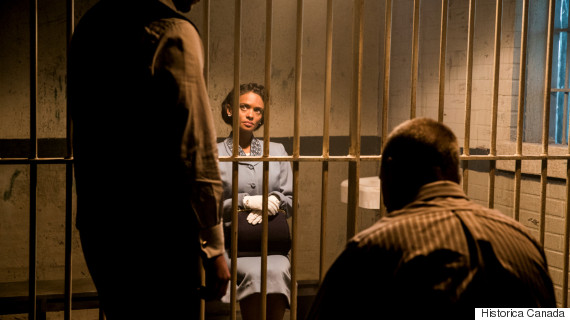 By way of a phone call from another woman of colour (a dear friend and actress herself), I was given the opportunity to tell the story of Viola Desmond in a new Historica Canada Heritage Minute released to mark Black History Month.
There's something profoundly poetic about the intersection of the lives of these two Violas with my own.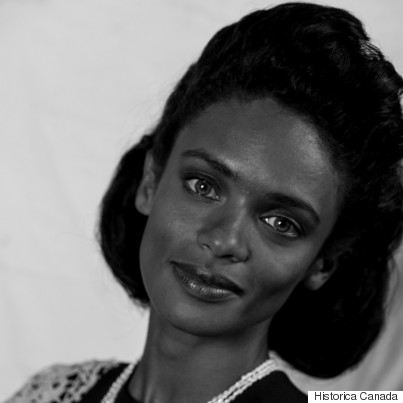 As an actress in Hollywood, I know a little of the uphill battle that Viola Davis faced to reach that pinnacle of achievement on the night she won the Emmy. Born into South African apartheid, I also know what it's like to be treated as a lesser human, just as Viola Desmond was that day in the movie theatre.
South African apartheid was at least honest. Blatant. Legal. You knew where the lines were drawn, knew the ins and outs of how you could expect to be treated, that the rules of the game were squarely stacked against you.

But the racism in North America is covert, the rules not always clear. North American racism blindsides you when you've been lulled into believing in what Malcolm X called "being a diner." You can sit in a restaurant, but you're a diner only if you're eating what's on the menu.
So often, people dance between their unconscious racism and their curiosity about me. They ask:
"What's your background?"
"What other languages do you speak?"
"You're mulatto, right?" (which means "mongrel" or "much milk").
Or they just mistake me for a server: "Oh, I'm sorry, I thought you worked here!" It's polite in its way -- but more insidious.

But where this dance with racism is even more obvious is on the casting breakdown sheet. Even though I can accept that there is a need for structure and categorization in the business of casting film and television projects, what I can't accept is the sheer failure to imagine what else could be possible. After all, aren't we the magic makers, the storytellers?
What if we imagined character traits instead of physical attributes? Stories instead of skin colour? Why can't the diversity on our streets be reflected on our silver screens?
"... it feels like my involvement in the story of Viola Desmond is both serendipitous and synchronous."
At the start of my career, I was lucky enough to connect with an agent and casting directors who thought outside the box as a matter of course. Thank you, Richard Lucas and Lynne Carrow for taking a chance on me.

Like Sandra Bullock's role in "Our Brand Is Crisis," my first part was written for a man. I played Brady alongside Lou Diamond Phillips in "In a Class of his Own." I also reprised Amy Irving's role in the 2002 remake of "Carrie," and played the shrewish Vicky in "Children of the Corn." All these roles were originally cast for actors that didn't look like me. But these are rare successes.
More often than not, when my agents ask if a character could be a black woman, they are told that the writers/producers had a different (read: default) vision.

Like Viola Davis' Emmy win, the recent #OscarsSoWhite controversy and Oscars boycott has drawn attention to the need for a change in the way Hollywood does business. A-list celebrities like Jada Pinkett-Smith and Spike Lee are calling for the television and film industry to open itself to other visions. It's the only way we'll get stories that reflect the reality of Hollywood's audiences.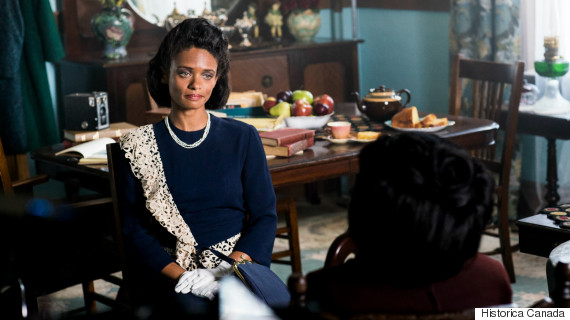 As I've grown in this industry over the past 18 years, I have seen the landscape change and now it feels like my involvement in the story of Viola Desmond is both serendipitous and synchronous.
Even before she became a symbol of Nova Scotia's civil rights movement, Viola Desmond was a remarkable woman. She was a savvy entrepreneur who created a line of beauty products for black women. She was a mentor to them too, opening a beauty school to provide training and opportunity. After the movie theatre incident, she continued her fight for justice despite threats to her livelihood for doing so.

I am honoured to give voice to a woman whose only crime, was the expectation of being treated not as black or as a woman, but as a human being. One who just wanted to see a movie.
Also on HuffPost:
The Women Of Black History Month
Her "underground railroad" was an intricate network of secret escape routes and safe houses that helped lead more than 70 slaves out of the South during the Civil War, and into free states where slavery was against the law. A former slave herself, Tubman went on to become a Union spy and a military scout, and was the first American woman ever to lead armed troops into battle, at one point liberating more than 700 slaves in South Carolina. These achievements would secure her historical prominence as a guardian angel during our nation's only internal war.

The first child of her family to be born into post-Civil War freedom -- and a mother and widow at the age of 20 -- Louisiana-born Sarah Breedlove moved to St. Louis in 1887, where she would develop a popular line of hair and beauty products for black women (inspired by her own bouts of hair loss) that would make her the first female self-made millionaire in America. Renaming herself -- and her company -- "Madame C.J. Walker," she parlayed her wealth and fame into philanthropy, supporting African-American causes, organizations and schools, and joining with the NAACP's successful push to make lynching a crime.

Arguably the most high-profile, female, civil rights figure in American history, Alabama secretary Rosa Parks would come to embody the righteous defiance of southern blacks on December 1, 1955, when she refused a Montgomery bus driver's demand that she relinquish her seat to a white passenger. The much-publicized act of disobedience triggered the year-long Montgomery bus boycott, which would ultimately lead the Supreme Court to declare the city's bus segregation laws unconstitutional. Common myth portrays Parks as a naïve victim of racial discrimination, when in fact she had been an activist in the civil rights movement for more than a decade -- and she would remain so for the rest of her life.

She'd been singing professionally for nearly half her life, winning the admiration of audiences throughout America and Europe. But in 1939, 41-year-old contralto Marian Anderson was refused permission to perform at an Easter concert before an integrated audience at Washington D.C.'s Constitution Hall by the Daughters of the American Revolution, which owned the venue. Protests erupted, and thousands of faithful DAR members abruptly resigned. Among those was first Lady Eleanor Roosevelt, who, along with the president, arranged an outdoor concert at which Anderson would perform on the steps of the Lincoln Memorial. The incident would launch a second career for Anderson as a spokesperson for civil rights, including assignments to the United Nations Human Rights Committee and the U.S. State Department.

Thirteen years after Jackie Robinson broke the color barrier in baseball, America was still aflame with racial discrimination; and so the victorious emergence of track-and-field athlete Wilma Rudolph at the 1960 Rome Olympics drew international headlines. Emerging from the games with three gold medals -- the first American women ever to do so in track and field in a single Olympics -- Rudolph also earned the title "the fastest woman in the world," a distinction that placed her among such revered fellow African-American athletes as Muhammad Ali and Jesse Owens.

She first sang at New York's Cotton Club as a teenage girl, and would go on to become one of America's premiere African-American superstars, but not without confronting racial and political hurdles along the away. The first black actor to be signed by a Hollywood studio to a long-term contract, the achingly beautiful Lena Horne was denied a role (one she'd already played) in MGM's 1951 screen version of the musical "Show Boat," because of the ban on interracial relationships by the Hollywood Production Code. (Ava Gardner, who was white, ultimately landed the role.) Horne was then blacklisted as a Communist sympathizer during the McCarthy era witch hunts, largely because of her association with racially progressive organizations. But that didn't stop her. She participated in the historic march on Washington in 1963, and would remain an outspoken champion of civil rights causes until her death at the age of 92.

The first black woman elected to the U.S. Congress -- and the first to run for the presidency on a major party ticket -- Brooklyn native Shirley Chisholm was as tireless in politics as she was savvy about the struggles she faced as both a woman and an African-American. "Of my two handicaps," she once famously said, "being female has put more obstacles in my path than being black." During her campaign for the presidency -- just eight years after her first electoral victory to the New York Legislature -- she survived three assassination attempts, and went on the win three state primaries, collecting 153 electoral votes. Although she eventually lost the nomination to South Dakota Senator George McGovern, she stayed in Congress for another decade, and remained an avid activist for racial and gender freedom the rest of her life.

Just 40 years old when her husband, civil rights hero Dr. Martin Luther King, was slain in Memphis, Coretta Scott King would spend the remaining 38 years of her life maintaining her husband's legacy and continuing his passionate crusade for racial justice. Only two months after his death, she delivered a "Solidarity Day" speech, calling for women everywhere to "unite and form a solid block of women power" to combat racism, poverty and war; then went on to found The Martin Luther King, Jr. Center for Nonviolent Social Change in Atlanta, Georgia. In later years, she widened the landscape of her activism to include, among other causes, women's rights, LGBT rights, the anti-apartheid movement in South Africa and the abolishment of capital punishment. She died in 2006 at the age of 78. More than 14,000 people attended her eight-hour funeral in Lithonia, Georgia.

By the time she was 33, actress-singer Diahann Carroll had already made her mark in Hollywood, appearing in such films as "Porgy and Bess" and "Carmen Jones." But her debut as the star of the television series "Julia" in September 1968 was an altogether different achievement. Centered around the life and struggles of a widowed single mother who worked as a nurse in a doctor's office, the show broke from television's stereotypical depiction of African-Americans, and the critical reception was mixed. Some claimed that the series' suburban setting turned a blind eye to the economic plight of urban blacks; while others called it a welcome relief from the unpleasant realities of modern racial strife. While the show only ran for three years, Carroll won praise for it (she was nominated for an Emmy and won a Golden Globe), and would go on to be credited as a groundbreaker for other shows in which the characters' race was secondary to the plotline -- including "Webster," "The Cosby Show" and "Family Matters."

It couldn't have been easy to be a young, black woman in the American South at the height of the civil rights battles, but Texas-born Barbara Jordan would go on to travel an historic career path that earned her an impressive series of firsts. She was the first elected black state senator of Texas since Reconstruction; the first black female to serve as president pro tem of the Texas State Senate (and, for one day in 1972, as acting Governor of Texas); and the first southern African-American woman elected to the U.S. House of Representatives. In 1976, her name was briefly floated as a possible vice-presidential candidate on the Jimmy Carter ticket, but instead she delivered a rousing keynote address (again, the first black woman to do so) at the Democratic Convention. "Tonight, here I am," she said. "And I feel that, notwithstanding the past, my presence here is one additional bit of evidence that the American Dream need not forever be deferred."

She is arguably America's preeminent woman of letters, a novelist whose stories pulse with vibrant ideas and indelible characters -- notably, her 1987 slavery saga, "Beloved," which earned her the Pulitzer Prize and American Book Award. Also an essayist, university professor, playwright and, in 2005, an opera librettist, she was the recipient of the 1993 Nobel Prize in Literature; and last year was awarded the Presidential Medal of Freedom. Born into a working-class family in Ohio, she ascended to national prominence in the 1970s with her novels "Sula" and "Song of Solomon," which established her as a dominant voice for both African-Americans and women. Throughout her career, however, she has eschewed categorization as a "feminist" writer: "I don't subscribe to patriarchy," she once said, "and I don't think it should be substituted with matriarchy. I think it's a question of equitable access, and opening doors."

When she stepped to the lectern to read her poem, "On the Pulse of the Morning," at the 1993 inauguration of President Bill Clinton, 68-year-old writer-poet Maya Angelou had come full circle in a career noted for its unsparing depiction of the black experience. Possessing more that thirty honorary doctoral degrees, Angelou is best known for her many autobiographical books and essays (notably her 1969 memoir, "I Know Why the Caged Bird Sings"), which describe a life defined by milestones, both uplifting and tragic: as a child-rape victim; as a pimp and prostitute; as an actress and director; as a passionate civil rights activist, as an international journalist, and as a beloved university professor. But it was those final words her inaugural poem that best illustrate the deep sense of optimism that had buoyed her throughout her long and often turbulent life: "Here, on the pulse of this new day, you may have the grace to look up and out and into your sister's eyes, and into your brother's face, your country, and say simply, very simply, with hope -- good morning."

When Alice Walker's groundbreaking novel, "The Color Purple," debuted in 1982, the publishing community was rocked back onto its heels by its explosive tale of a rural black woman in 1930s Georgia whose life was scarred by racial oppression and sexual violence. The novel earned Walker the National Book Award, the Pulitzer Prize and an instant following as a leading voice in black culture. Since then, she has used that stature powerfully in her writing and public activism, addressing such vital issues as sexism, racism, poverty, female circumcision, the environment and world peace. In 2008, she wrote an open letter then-President-elect Barack Obama. "Brother Obama," it began, "Seeing you take your rightful place, based solely on your wisdom, stamina, and character, is a balm for the weary warriors of hope, previously only sung about."

She may well be the most successful media mogul in the nation's history, presiding over a broadcast-publishing-entertainment empire that has not only earned her the title of "the world's only female black billionaire," but also, "the most influential woman in the world." Yet Oprah Winfrey is also credited with unprecedented philanthropy. Her Angel Network has raised more than $80 million for, among other causes, hurricane relief, veterans aid, charter school grants, college scholarships and local community programs. She has also been a tireless benefactor of aid to Africa, building the $40 million Oprah Winfrey Leadership Academy for Girls, and raising money and awareness for impoverished and AIDS-infected children. "I don't think you ever stop giving," Oprah once said. "It's an ongoing process. And it's not just about being able to write a check. It's being able to touch somebody's life."

As the country's first African-American First Lady, Michelle Obama has stepped into the role with enthusiasm and compassion, planting an organic White House garden, speaking out on such issues as childhood obesity, military families and equal pay, and winning praise for her fierce devotion to her children and family. Although, like her husband, she does not typically speak about her historic role in racial history, the Chicago-born lawyer has lent much of her life to civil rights causes, advocating on behalf of hiring minority professors while at Harvard Law School and participating in initiatives that addressed the educational and economic disparity in the black community. She is also a tireless champion of women. "I am an example," she once said, "of what is possible when girls from the very beginning of their lives are loved and nurtured by people around them. I was surrounded by extraordinary women in my life who taught me about quiet strength and dignity."

Their names were Addie Mae Collins, Denise McNair, Carole Robertson and Cynthia Wesley; and on the morning of September 15, 1963, their lives were taken as they rehearsed for a Sunday school program at the 16th Street Baptist Church in Birmingham, Alabama. Thugs from the local chapter of the Ku Klux Klan had planted dynamite outside the church's basement, and the girls -- three of them 14 years old, one of them 11 -- were killed instantly. Although they would never live to see the arrest and conviction of the perpetrators (which would, in fact, take decades), their deaths marked a turning point in the civil rights movement: Within ten months, President Lyndon Johnson would sign into law the Civil Rights Act of 1964. Forty years later, America has just witnessed the reelection of its first black president, an historic feat that would have seemed unthinkable in 1963. So it is in the name and memory of the four little girls from Birmingham that we honor Black History Month, 2013. May God continue to watch over their souls.
Follow Kandyse McClure on Twitter: www.twitter.com/kandysemcclure