Can You Trust the Health Check Logo on Your Food?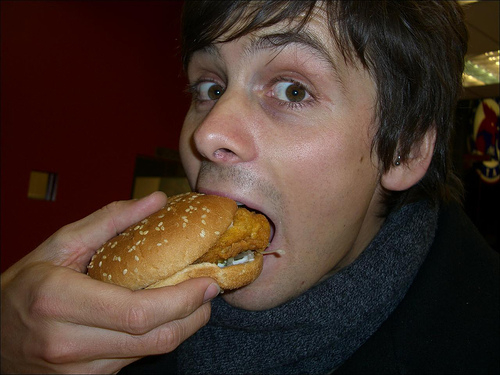 Photo by Richard Johnson
The Harvey's fast food chain has some burgers that are actually good for you according to the Heart and Stroke Foundation of Canada. The foundation's Health Check program puts reassuring-looking check marks on grocery and restaurant foods they consider to be healthy eating, and four Harvey's meals now have stamps of approval.
I admit I feel a little dazzled by all the protein in the Harvey's grilled chicken sandwich with salad, sporting its "multi-grain" bun and carrying a polite 7 grams of fat. But at 950 milligrams of salt in one sandwich combo, it doesn't look the part of healthy eating. The foundation's own recommendation is to have only 1,500 milligrams of salt a day but surprisingly the combo still gets a Health Check.­
Another Health Check surprise? How about Slush Puppie Plus? Alright, it is made from fruit juice, and if I had a craving for a good slushie headache I guess I would choose it over a competitor. But it hardly makes sense to call it a healthy food choice. No amount of vitamin C can keep the iced drink from being what it is -- a sugary treat.
I do think there is value in pointing out the best of the bad lot of fast food choices or the healthiest among the treats. I do like seeing a list of less bad options near the Harvey's register. The Harvey's Great Canadian Burger with Cheese hauls even more protein than the grilled chicken, but to get that protein you are facing down almost your daily limit of salt (1,270 milligrams) and over five times as much fat as the chicken sandwich (48 grams). Do I like it when people know the grilled chicken is better for you than the Great Canadian Heart Attack with Cheese? Yes I do.
That is what Health Check is meant for, it appears, to help those going to restaurants and fast food restaurants to make better menu choices. It can help those in the juice aisle find, at a glance, the juice cartons without even more sugar added.
BLOG CONTINUES AFTER SLIDESHOW
13 Of The Healthiest Superfoods
You don't have to rely on fall to get a taste of pumpkin. Pumpkin (even canned pumpkin) is full of fibre that's good for both your skin and body, says Joy Bauer, a health and nutrition expert for the TODAY Show. EAT IT: Add pumpkin slices to your yogurt or oatmeal mix with a drop of sugar or honey. You can even use pumpkins with tomatoes as taco or pasta sauces — you won't taste the difference!

"A lot of people may get nervous about arsenic in rice," Bauer says. Quinoa is an easy (and tasty) way to replace rice or pasta dishes, she says. It's full of protein — almost twice the amount of protein and fibre compared to brown rice, in fact. EAT IT: Try an easy quinoa oatmeal by mixing low fat milk or soy milk with berries, walnuts and bananas.

"Spinach does not have calcium for your body but it does have beta carotene (inactive form of vitamin A) and vitamin C," Bauer says. Spinach is also known as nature's multivitamin — it's full of iron, potassium and fibre. EAT IT: Don't like the taste of spinach? Mix it with your pasta sauce or fruit smoothies to mask the taste.

How many oranges would you have to eat to the get the same vitamin C content as one red bell pepper? Two. "Red peppers are sweet and can also help boost your immunity," Bauer says. EAT IT: Cut a pepper in half and fill it with hummus or bean dip. Yes, you can (and should) eat the bowl.

"The best part about chia seeds? Their impossible to dislike, they taste like nothing," Bauer says. Chia seeds, like flax seeds, are full of omega 3 fats, fibre and helps lower cholesterol. EAT IT: Take two teaspoons of chia seeds and mix it with your oatmeal or bread crumbs for chicken.

Raspberries in particular, have the highest amounts of fibre for berries, Bauer says. Berries boost brain health by helping our brains function better and make them sharper. EAT IT: Add your favourite berries on top of oatmeal or pancakes.

Pistachios in particular have about 30 calories per handful and make a great snack, Bauer says. Most nuts and seeds are low in carbs and good for your heart's health. Their also good for people who have blood sugar issues, just make sure you avoid salted or flavoured nuts and seeds, Bauer adds. EAT IT: Two words: naked popcorn. Just add kernels in a brown bag and pop it in the microwave.

Salmon has to be one of the top superfoods for any health benefit. Salmon is packed with omega 3 and even found in canned form (just make sure you read the ingredients and avoid preservatives, Bauer adds). EAT IT: Mash up salmon and avocado for a great spread.

Turmeric should be added to everyone's medicine cabinet, Bauer says. "Turmeric has the powerful ability to suppress inflammation and boost your body with anti-oxidants," she says. EAT IT: You can't go wrong with a turmeric infused curry. Try turmeric in chickpea and cauliflower curry or even over a chicken salad.

There's a reason why lentils are the king of legumes. Lentils can be your source or protein and starch in one, Bauer says. It's also more environmentally friendly — it takes less gas to produce lentils compared to meat. EAT IT: Lentils taste great cooked in salads, curries or try a soup.

Edamame has about 150 calories in two cups. Soybeans are a high quality carb that are also filled with plant-based omega 3 fats, Bauer says. "Edamame is also good for your brain, energy levels and mood." EAT IT: Steam the beans in the microwave, add lemon juice and you got yourself a tasty snack.

Adding two table spoons of balsamic vinegar to any salad is virtually calorie free, Bauer says. EAT IT: Replace all those salad dressings with balsamic vinegar.

Contrary to popular belief, bananas are not fattening, Bauer says. A medium-sized banana has about 105 calories, she says. Bananas are loaded with potassium and can even help with constipation. EAT IT: Freeze your bananas and serve with a a scoop of low-fat ice cream or blend sliced frozen bananas with a bit of almond milk — it's just like ice cream.
But unfortunately, the stamp ends up meaning more than that. In real life it says: if you want to prevent heart attacks and strokes eat these foods. Which foods? It says go to Harvey's and have a grilled chicken sandwich, and hey, why not stop for a Slush Puppie Plus on the way. It is made from fruit juice, after all.
The label though, never says go to the store and buy vegetables. You won't see a Health Check on a bunch of carrots or a bag of spinach. When you search their product list for Health Check'd vegetables there are zero. None. Fresh vegetables, the best of all food choices, get zero Health Checks. Even if you search for fresh fruit, only four show up, and two of those are Chiquita bananas.
Ottawa obesity expert and nutrition watchdog, Yoni Freedhoff, calls the Heart and Stroke Foundation's nutrition labelling program "disgraceful and nutritionally unethical."
"Health Check doesn't help," he writes, "its nutritional criteria are so weak and the program so poorly executed that rather than help consumers, it hinders healthy choices."
Two not-so-itsy-bitsy omissions in the Health Check evaluation are calories and salt. No calorie limit means that a product can pack all the calorie-rich carbs it wants and still get a Health Check. Salt limits do exist but they are jarringly high. An 8 oz glass of tomato juice can have almost one-third of their daily recommended salt intake and still be Health Check'd. One-third of the day's salt in one glass of juice!
A core problem with the program is that companies and restaurants have to pay Heart and Stroke a fee to get a Health Check so the foundation can't choose what foods get assessed for a logo. Skewing the product balance, this leaves them directing consumers to the canned, the processed, the packaged and the prepared, the opposite of what nutritionistas want for people. Grapes, for instance, don't have a check, but low-fibre, super-sweet grape juice does -- grape juice with as much as 10 teaspoons of sugar a glass.
Dr. Freedhoff partly arches his back at what he considers Health Check's promotion of restaurant eating. "Responsible health organizations," he writes, "should be encouraging people to eat out less frequently." Treat yourself sometimes, sure, but let's not make-believe going to Harvey's is a healthy eating choice.
In fact, research suggests that branding a fast food restaurant as having healthy food might create a "halo effect" which does less to improve people's eating and more to encourage overeating. Consumers, the study argues, underestimate how many calories they are taking in as a result of branding as healthy and are more likely to add high-calorie side dishes and beverages. Health Checking fast food restaurants might not help consumers, it implies, only the fast food restaurants who get good branding and public relations.
Health Check is in need of a makeover. The program needs to promote fresh fruit not fruit juice; it needs to encourage eating at home not at restaurants; it needs to use nutritional criteria that exclude the too salty and the too sweet. Or it needs to cease and desist.
Kapil Khatter is a family physician who writes about health and corporate accountability, here and at illgotgains.com.
Follow Kapil Khatter on Twitter: www.twitter.com/IllGotGains