6 Ways Christians Are Marking Earth Day 2017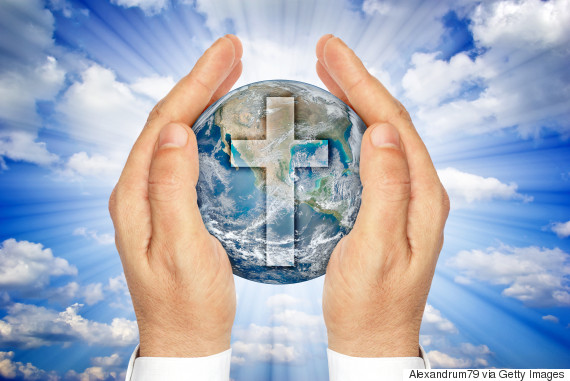 It's been one year since world leaders gathered at UN headquarters in New York to sign the Paris Agreement on climate change. Four months ago, Canada released its own climate change plan. Less than a week ago, Christians around the world celebrated Easter. And now we've come to Earth Day.
One of these things is not like the others.
There has often been some distance between celebrations of faith and environmental action -- between Easter and Earth Day. This year, however, these two springtime celebrations lined up pretty closely. Not only are they just days apart but their messages of sacrifice and renewal have also come together for people of faith around the world.

As more and more Christian faith communities are coming to understand care for creation as central to their spiritual mission, ecological and climate justice are featuring prominently in the ways they live out their faith and celebrate seasons like Lent and Easter.
Christians around the world know that a great deal more action is required to address the global environmental crisis.
Lent marks a time of preparation, of making space for revival and better things to come. It commemorates Jesus' 40 days of fasting in the wilderness ahead of his crucifixion and resurrection. Throughout church history, faith communities have modelled their Lenten journeys on Jesus' example.
Increasingly, this period of sacrifice is focused on caring for creation.
It's true that a lot of international progress has been made over the last year and a half. Governments have acknowledged the dangers of climate change. Political leaders have proudly and confidently proclaimed their commitment to climate agreements and frameworks. Yet Christians around the world know that a great deal more action is required to address the global environmental crisis.
Here are six initiatives that highlight some of the ways in which Christian communities have emphasized ecological and climate justice in the lead up to Earth Day 2017.

"[People of faith] continue to stand against every form of exploitation of nature and against all attempts to turn nature into a mere commodity."
So you see, the efforts of Canadian and international governments to address environmental decline are not all that far removed from Christians' Easter preparation, at home and around the world.
Happy Easter. Happy Earth Day.
Follow HuffPost Canada Blogs on Facebook
Also on HuffPost:
According to the EPA, "Leaving your car at home twice a week can cut greenhouse gas emissions by 1,600 pounds per year." Today, try walking to the grocery store or working from home instead of traveling to the office.

Try using public transportation.

Don't fill up in the heat of the day, when you are more likely to spill and have fuel evaporate into the atmosphere. Also, never top off your tank, which lets extra fuel drip onto the ground!

Is your fridge on the fritz? Looking for a new washing machine? Keep an eye out for the EPA's Energy Star sticker, which will save both energy and money in the long run.

Take that old, broken computer out of the basement and bring it to your local electronics recycling center. Click here to find out more about e-cycling.

Don't pre-wash dishes, time yourself in the shower, and make sure all your faucets are completely off once you are done using them.

Instead of throwing away that empty egg carton or shopping bag, give it a second life. Here are some great ways to reuse home items.

Keep some reusable ones on hand, so you don't have to grab the plastic bags at the store. Check out this chic selection of shopping bags.

When you are at the store, try to stay away from products containing harmful chemicals and dyes.

Make sure to dispose of waste properly, so that pet poo doesn't flow into storm drains and pollute the water!

Has Earth Day been a success, or have we failed to take this opportunity to really make a difference?
Follow Karri Munn-Venn on Twitter: www.twitter.com/karrimunnvenn