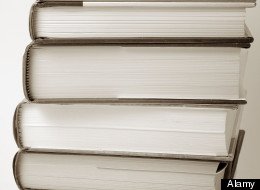 This is Freedom to Read Week in Canada, a celebration of our Charter-guaranteed right to intellectual freedom. Across the nation in libraries, schools and theatres we come together to read from books that have been banned around the world, and examine our own reactions to controversial material.
We are blessed: Our government does not tell us what to read. Or are we? In some ways our freedom to know, to understand, is under greater threat now than ever before. Read on.
Since native-born Canadians have no memory of blatant state censorship, maybe we should let newcomers tell us how it works.
In Pakistan: Says Saima Hussain, former Bbooks Editor at Dawn newspaper in Karachi, "Books written by Salman Rushdie are not available for sale in Pakistan. That's been the case since Satanic Verses. If you're lucky, and the seller is brave enough, you can find one in a secondhand bookstore."
In Saudi Arabia: Yyoung Saudi-Canadian writer Tanaz Bathena remembers a ban on: "Not Without My Daughter by Betty Mahmoody. All of Salman Rushdie's books. The Princess series by Jean P. Sassoon. Seniors from my school would smuggle in the books through India anyway and show them to us on the school bus."
In Turkey: Simten Osten, who arrived in Toronto eighteen months ago, remembers, "I had Turkish copy of Karl Marx's Das Kapital which was banned. My son had a Turkish copy of Mein Kampf which is still banned. During the coup era in Istanbul, my friend had to chew and swallow an A4 size [piece of] paper which was full of banned quotations just before she was caught by the police. Obviously not tasty, but it helped her get away." In Istanbul [there is] a huge two-story building with tens of bookshops selling secondhand banned books. Perhaps due to Turkey's pending entrance to the EEC, hundreds of banned books were taken off the restricted list at the beginning of this year. However, some classics were put on the list, such as Vasconcelos' My Sweet Orange Tree."
Why the switching up? It depends on what the government is afraid of at that moment. Says Filiz Dogan, also from Turkey, "When I was a university student communism was considered the biggest threat for the system. So, poet and novelist Nazim Hikmet was banned." Hikmet spent much of his life in prison, and his case was celebrated around the world. "These bans worked as promotion. I read Nazim Hikmet's books after learning they were banned. Right now, the politicians in power are fundamentalist, and the Turkish media is under greater pressure than it has ever been."
In Russia: Svetlana Gorzhaltsan's mother worked in a bookstore. "The more the authorities prohibited anything, the higher the demand was; so there was always a way to read the book." Solzhenitsyn's novels about Stalin's repressions, The Gulag Archipelago, The First Circle and Cancer Ward were published for the first time in Russia only in 1988. But before that, people knew and read these books. Doctor Zhivago by Boris Pasternak was published in Milan in 1957 and was 'allowed' in the Soviet Union only in 1988." Russia backed up its censorship by controlling publishing. As Svetlana points out, "any novelist or any poet who left the country automatically became an outcast, and official publishers wouldn't print his books." Still, the books leaked in. "The atmosphere of secrecy only increased interest." Svetlana believes that today in Russia people can publish, buy or order any book at all.

In China: Says Cordelia Tang, lately arrived from Nanjing: "None of [reformer] Liu Xiaobo's books is available in China, including Criticism of the Choice: Dialogues with Li Zehou, which is acclaimed in academic circles." Jie Li, a reference librarian at the University of Toronto explains, in China authorities ban "anything on topics sensitive to the nerve of the country, for instance books related to the June four Tiananmen Square protest, and books about 'another side' of leaders like Mao, Zhao Ziyang. These are not national issues, but more political strategy."
Which brings us to Canada. Here, Three Wishes: Palestinian and Israeli Children Speak by Deborah Ellis (2004) was restricted in five school boards in Ontario after protests by the Canadian Jewish Congress that the children in the book portrayed Israeli soldiers as brutal and expressed ethnic hatred. The Wars by Timothy Findley (1977) was challenged due to a depiction of homosexual rape of a soldier by soldiers, but was successfully defended. Cara Zweibel of the Canadian Civil Liberties Association tells us that recently Communism With The Mask Off, by Dr. Joseph Goebbels, has been prohibited at the border, along with a number of DVD's with titles like "Best of the Bullwhip and Singletail" and "Captive Princes" -- judged obscene.
So should we be worried? The practice of banning books seems quaint. Books not longer exist simply as objects: They are pirated and they are online, sent around the world in seconds with a single click. Books are a format. Information is what an insecure state seeks to control. It is, indeed, a matter of political strategy. And yes, we should be concerned.
Our intellectual freedom is infringed when the government will not give access to the documents revealing how leftish Premier and founder of universal health care Tommy Douglas was spied upon. It is infringed with the passage of a bill like Bill C-205 in 1997 which would seize the copyright of anyone convicted of or even accused of an indictable offense and give it to the Crown. The House of Commons passed that one unanimously without a whimper. It was only after PEN Canada lobbied the Senate Justice Committee that the Bill was defeated. But if Bill C-205 had remained in place we would not have read Roger Caron's Governor General's Award winning Go Boy! or any book written by a prisoner, perhaps a wrongly convicted one -- because the book could not have been written.
And what about all those research scientists who are not allowed to speak to the press? The Parks Canada employees who received a memo asserting that they cannot criticize their employee, i.e. the government? In today's Canada we have less knowledge of what is actually going on in our state than ever before. Freedom to read has to be preceded by freedom to write.
Freedom to Read Week runs until March 2 with events across Canada. Find out more at freedomtoread.ca
16 Books Challenged For LGBT Content
This 2005 children's book, written by Peter Parnell and Justin Richardson and illustrated by Henry Cole, tells the story of two penguins raising a baby penguin in New York's Central Park Zoo. Sounds innocent enough... except for the fact that both penguins were male. Conservative opponents, such as the Focus on the Family Action group, said the book was inaccurate and promoted a political agenda to little kids. The American Library Association reports that "And Tango Makes Three" was the most challenged book of 2006 to 2010, except for 2009 when it was the second most challenged. Photo courtesy of Simon & Schuster

Stephen Chbosky's 1999 coming of age novel details introverted Charlie's first year of high school. Among controversial issues, such as drug use and suicide, the book's coverage of homosexuality landed it third on the American Library Association's list of the top ten most frequently challenged books of 2009. Check out the trailer for this fall's film adaptation of the book.

Augusten Burroughs' 2002 memoir traces his adolescence, living in the dysfunctional household of his mother's psychiatrist. A central point to the memoir is the sexual relationship between thirteen year-old Augusten and thirty-three year-old Neil Bookman. This homosexual content, along with profanity, drug use, and "moral shortcomings," led it to be banned in some high schools. Photo courtesy of macmillan.

This 1991 children's book, written by Michael Willhoite, is about a young boy whose divorced father now lives with his gay partner. It was one of the first children's books to portray a same-sex relationship in a positive light and shows a normal pairing between the two men and their boy. Consequently, the book has become one of the most challenged books in recent years, with the American Library Association listing it at number 2 in their list of the 100 most challenged books from 1990-1999. Photo courtesy of Alyson Books.

Lesléa Newman's 1989 children's book was one of the first lesbian-themed children's books to be published. Heather's family, which includes two mothers, is discussed simply and positively. The American Library Association ranked "Heather Has Two Mommies" as the 11th most frequently challenged book in the United States in the 1990s. Photo courtesy of Alyson Books.

E. M. Forster's tale of homosexual love in early 20th century England, follows Maurice Hall from youth to adulthood and details his struggles, and eventual acceptance, of his gay tendencies and his relationship with another man. The book was published in 1971 after Forster's death. The author resisted publication because of public and legal attitudes to homosexuality -- a note found on the manuscript read: "Publishable, but worth it?" So, in this case, the author himself was the one challenging the book, only because he knew how the book would be received in early 20th century England. Photo courtesy of Hodder & Stoughton.

When Walt Whitman published this poetry collection, in 1855, he was fired from his job at the Department of the Interior, it was burned by fellow poets and it was referred to as a "mass of stupid filth." Subsequent editions of the collection were banned by some distributors for obscenity. Along with criticism of the collection's obscenity came some of the first public accusations of Whitman's involvement in gay acts. Photo via Bantham Classics.

This 1982 novel by Nancy Garden follows the romantic relationship between two 17-year-old New York City girls, Annie and Liza. Although it was a widely praised piece of young adult fiction, it also brought critics, particularly in Kansas. Because of the gay themes, copies of the book were burned and superintendent Ron Wimmer of the Olathe School District ordered the book removed from the high school library to avoid controversy. Garden later commented, about the burning: "Burned! I didn't think people burned books any more. Only Nazis burn books..." Photo courtesy of Farrar, Straus, and Giroux.

When Allen Ginsberg's "Howl" was published in 1956, the iconic Beat poem was considered "obscene literature," and U.S. Customs officials seized 520 copies of the poem. "Howl" contained references to illicit drugs and sexual practices, both heterosexual and homosexual. At the obscenity trial, literary experts testified on the poem's behalf. Supported by the ACLU, the California State Superior Court Judge Clayton Horn decided that the poem was of "redeeming social importance," and it went on to become one of the most popular pieces of Beat literature. Photo courtesy of City Lights.

This children's novel about four elementary school girls was pulled from Scholastic Book Fairs in 2009. Scholastic asked author Lauren Myracle to edit out some inappropriate language -- "geez," "crap," "sucks," -- and turn one character's lesbian parents straight. Although Myracle was fine with changing the language, she saw nothing offensive about a child having gay parents and wouldn't replace them with a heterosexual couple, so Scholastic didn't accept the book for fear of getting hate mail from parents. Myracle commented, "Over 200,000 kids in America are raised by same-sex parents, just like Milla. It's not an issue to clean up or hide away... In my opinion, it's not an 'issue' at all. The issue, as I see it, is that kids benefit hugely from seeing themselves reflected positively in the books they read. It's an extremely empowering and validating experience." Photo courtesy of Abrams Books.

In this children's book, Chloe, a young guinea pig, is afraid that she will lose her uncle's friendship after he marries another man. With its normalization of gay marriage targeted toward young children, "Uncle Bobby's Wedding" was on the American Library Accociation's 2008 most challenged list. Read how one librarian responded to the challenge here. Photo courtesy of Penguin.

This children's book about going through puberty and growing up covers controversial topics like HIV/AIDS, birth control, abortion, and homosexuality. Because of its frank treatment of these and other topics, with accompanying illustrations, the book has become the twelfth most challenged book from 2000-2009, according to the American Library Association. One woman checked out every copy at a local library and refused to return them so that others couldn't see the material, writing "Since I have been sufficiently horrified of the illustrations and the sexually graphic, amoral abnormal contents, I will not be returning the books." Photo courtesy of Candlewick Press.

Edited by Amy Sonnie, this anthology was created by and for radical queer youth, committed specifically to youth of color, young women, transgender and bisexual youth, (dis)abled youth and working class youth. The resource for queer students was widely controversial and was even targeted by members of Glenn Beck's 9/12 movement and on the American Library Association's list of most challenged books in 2010. Photo courtesy of Alyson Books.

Alice Walker's 1982 novel about the lives of black women in the 1930s American South is one the American Library Association's frequently challenged classics, for reasons including "the homosexuality, rape, and incest portrayed in the book." Photo courtesy of Houghton Mifflin Harcourt.

This 1959 novel by beat writer William S. Burroughs, which was included in Time magazine's "100 Best English-language Novels from 1923 to 2005," was banned in Boston in 1962. Among many claims of obscenity covered in the Boston 1965 trial to defend the ban, was its frank discussion of gay acts. Luckily, "Naked Lunch" proponents such as Norman Mailer and Allen Ginsberg defended the book's cultural value in court and the ban was overturned in 1966. Photo courtesy of Grove Atlantic

Though 1994's "Am I Blue?" -- a collection of stories about being LGBT from authors like Francesca Lia Block, Bruce Coville, Nancy Garden and James Cross Giblin -- was honored with awards from the ALA and the New York Public Library, it was also challenged for its content.