A Longing More Than Met
Thumbing through an old journal, my eyes landed on a paragraph written after my daughter, then 13, emphatically announced that she did not like to read.
I felt the same raw emotion as when I first wrote the entry, though years had passed. From my earliest moments as a new mother, I'd longed for my daughter to experience the same enjoyment from reading and falling into a good book that I'd felt in my youth. I pictured us walking in tandem in our mutual appreciation for stories, unpacking plots and characters for each other as we bonded in conversation. Like opening up a secret tunnel, reading would be my path into her life just as it would be her path to healthy adulthood.
But somehow, for all my best efforts, I apparently wasn't raising a daughter who loved to read. Yet what she had said on that day long ago in fact didn't match her actions. Perhaps, in her floundering place somewhere between child and young adult, she had issued that statement as a challenge.
Wanna fight, mom?
Whatever the case, I was deeply grateful she felt safe enough to speak her mind.
Secure, she could tell me she didn't like to read, crushing my hopes. Secure, she could hurl her dart at me, and though it found its mark, I knew that her declaration didn't completely square with reality because from a young age, she did love stories as I did, and when she learned to write, she started writing stories of her own. At age eight, my daughter had completed her first novel, The Magic Flip-Flops, starring Eugene. It fills 86 pages of a notebook and on the inside cover she scribbled in pencil, "For Mom."
Before she declared her dislike for reading, she had already introduced me to The Miraculous Journey of Edward Tulane by Kate DiCamillo. Edward, a stuffed rabbit, is tossed and turned by life and longs to permanently belong. So does Delphine, the protagonist in one of my daughter's stories. The French girl whose family emigrates to London for work feels misunderstood, a misfit.
I've often told my daughter to write from her own experience and in Delphine's story, she does. As a tween expat in London, my daughter felt like a true outsider. She struggled to fit in with a weekly girls' group. She was the youngest, an American, and was homeschooled. She didn't like makeup, shopping or boys, and shallow giggly conversation bored her. At the time, she didn't even know who Justin Bieber was -- and the girls didn't let her forget it. Like her character Delphine, she felt desperately out of place and oddly more at ease with adults. Teary-eyed, she longed for genuine camaraderie with her peers.
Though my daughter had insisted she didn't like to read, her bookcase told a different story. She admired the brave Susan of The Lion, The Witch and The Wardrobe and later Katniss of The Hunger Games, both adept with bow and arrow. In her own life, my now 17-year-old daughter will need bravery and courage as she charts a path far away from home for college in the U.K. The sheer number of unknowns threaten to overrun my mother's heart if I'm not careful. However, the characters she chooses to put on pedestals from the stories she loves console me, emboldening my deeply held belief that she will be okay.
She's thrilled by the complexity of real people doing real life. It's more honest than the way teen culture looks, she tells me. By this time, I'm accustomed to her honesty about people around her. Would she have this level of clarity without books and literature? I also wonder if we would share this unique transparency in our mother-daughter relationship without stories and writing. Just as she's learned about herself and who she wants to be from literature, we've developed our own literary conversation around books and writing, not shared with anyone else. It's like our secret language.
When she says Jane Eyre is her definition of a good woman I track with her because I know the story well, too.
"She's serious about holding tight to her self-respect." Waving her hands, my daughter is pacing the living room.
We've just finished watching the movie again and she's on a roll, monologuing, praising Jane while also ranting against teenagers who disrespect themselves to win the short-term respect of the crowd. With a throbbing heart, I listen in silence to this independent, thoughtful young woman. I'm overflowing with gratefulness, struck by how indebted I am to these books that encourage my daughter more effectively than I can.
From the ragged copy and rough text of The Magic Flip-Flops told in her eight-year-old voice to the dozens of notebooks of subsequent stories lining her bookshelf, I see now that there has been something magical going on for a long time.
Like Eugene wishing for flip-flops and getting magic flip-flops, my past longing for my daughter to love reading has been more than met.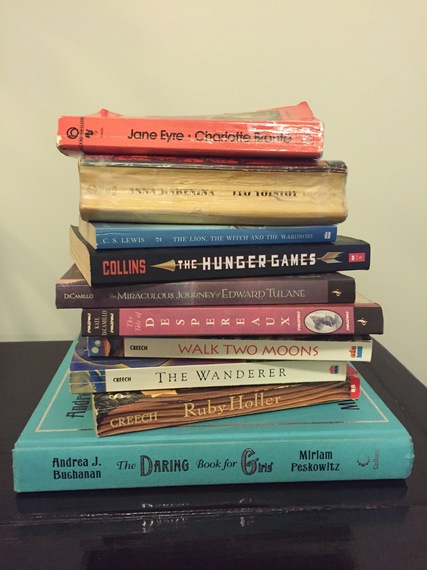 Credit: Kathryn Streeter
Adapted from "My Daughter-Who-Doesn't-Like-To-Read" published by Literary Mama.
Follow HuffPost Canada Blogs on Facebook
ALSO ON HUFFPOST:
Cravings by Chrissy Teigen If you and the pizza delivery guy are still on a first name basis, now is the time to pick up a new cookbook. Commit to trying just one new recipe a week. The new release from Chrissy Teigan is full of accessible, delicious meals that you'll be excited to make. Get it here.

The Feelgood Plan by Dalton Wong and Kate Faithfull-Williams Are you paying for a gym membership you aren't using? Or maybe you're watching the snow melt and hankering to get out running again. This book by celebrity trainer Dalton Wong includes a realistic 12-week program that can kick-start your fitness goals. Get it here.

Doodle Zen by Dawn Devries Sokol If you think of meditation and instantly feel bored, that doesn't mean you can't benefit from the practice. It may just be the image most of us hold of meditating — sitting quietly with our eyes closed and legs crossed— isn't the right path for mindfulness for you. Something more active, like colouring or doodling, may be a better way to help you focus. Get it here.

The Illegal by Lawrence Hill It's a lot easier to carve out some time to enjoy great writing when the book is as compelling as this one. The latest by the author of The Book of Negroes is on the Canada Reads shortlist, which is an instant sign of quality, but you can also take our word for it. Get it here.

Deliciously Ella by Ella Woodward You don't have to completely give up dairy, wheat and meat to have a healthy diet. That said, adding some plant-based recipes to your regular rotation is a great way to eat more fruits and vegetables, up your fibre totals, and cut your intake of cholesterol and unhealthy fats. This new cookbook, based on the blog of the same name, is full of fresh and healthy recipes that can easily find a home in your kitchen. Get it here.

Animal Kingdom Deluxe Edition by Millie Marotta OK, so colouring isn't quite the same as drawing or painting or scrapbooking, but it's great for those of us who'd like a creative outlet. When the drawings are as beautiful as Marotta's, and the book is as luxe as this one, you'll feel like a true artiste. Get it here.

Birdie by Tracey Lindberg Canada certainly has some impressive and well-known female authors: Margaret Atwood, Alice Munro, Ann-Marie MacDonald. But the country has so many wonderful authors from coast to coast to coast, and there's no better time than now to discover your new favourite. Our money's on Cree author Lindberg, whose dark and funny debut novel is on the Canada Reads shortlist this year. Get it here.

Best in Travel 2016 by Lonely Planet Did you resolve to explore a new corner of the earth this year, but haven't made any progress or bought any tickets? It's not too late! Peruse this collection of great destinations for this year from travel experts Lonely Planet, and pick a spot that calls to you. There's still plenty of year left to save up and hunt for great deals, especially if you can travel in the slower fall and winter seasons. Get it here.

Spark Joy by Marie Kondo Kondo's KonMarie decluttering method has become an international sensation. If you want to dive in, this book is the way to do it thanks to illustrated guides, a FAQ section, and advice broken down by category. You may soon find yourself feeling very passionately about folding socks. Get it here.

Money Talks by Gail Vaz-Oxlade Vaz-Oxlade is Canada's most recognizable personal finance expert, and her new book tackles a very common problem: dealing with money issues that involve family. After all, many marriages break up over financial differences. And as boomer parents age, a lot of Canadians are going to face tough financial decisions involving elder care and estates. Getting your own finances in order involves dealing with these matters, and this book can help you start to tackle them. Get it here.

Presence by Amy Cuddy It's one thing to not get a job when you know you did your best in the interview, but it's another thing to feel like you could have done better. Feeling like a fraud can bring the best of us down, regardless of our actual abilities. But this recent release focuses on readjusting our impression of ourselves and building up our personal power — something any of us can benefit from, at work and elsewhere. Get it here.

Step Aside, Pops! by Kate Beaton Beaton has quickly become one of Canada's leading funny people, and her New York Times bestseller Step Aside, Pops! is a big part of the reason why. You'll easily read her latest book in one sitting, but keeping it around to enjoy a comic or two a day is a great way to ensure you get at least a few belly laughs in every day. Get it here.

The 52 Lists Project by Moorea Seal Developing a journal writing habit can be incredibly valuable — but staring at the blank first page of a new notebook can be as intimidating as it can be inspiring. Seal's book goes week by week, season by season, giving you prompts that will get the creative juices flowing. Sometimes a bit of guidance is what you need to really let loose. Get it here.
Follow Kathryn Streeter on Twitter: www.twitter.com/streeterkathryn