MORE Online Fashion and Beauty Sites that Actually Ship to Canada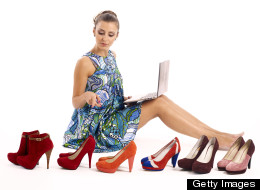 As a Canadian, there's an unfortunate reality that we are forced to accept: sometimes, we get the short end of the stick.
We are used to being excluded from contests, not being able to see our favourite touring artist, enjoying a fraction of the Netflix movies that our American neighbours have access to, crossing borders to get our favourite food or brands, and feeling disappointed when we find out that a website won't ship to our glorious country.
But times are changing, and major brands, companies, and stores are considering their Canadian customers.
Since part one of this two part article launched, three major labels have introduced Canadian-friendly websites, meaning more choices for Canadians when it comes to online shopping. Catch up by reading part one, and bookmark some of the latest and greatest websites that ship to Canada.
Shopbop -- A favourite among designer label fans, Shopbop offers a comprehensive collection of quality items all in on place. Shop their 70 per cent off section for some of the best deals on designer labels, and take advantage of their free international express shipping. Pay duty upfront or upon delivery, depending which shipping option you choose.
Gilt Groupe -- This flash sale website offers instant access to designer labels at up to 60 per cent off. A similar concept to Beyond the Rack, Guilt charges a flat shipping rate of $20. Membership is free, but act quickly if you find something that catches your eye; quantities are limited and sales only last a few days.
Zara -- One of the more recent Canadian-friendly websites, Zara Canada launched in March 2013. Ship your order to any Canadian Zara store for pick-up free of charge, to any Canadian address for just $5, or express for just $10. Change your mind once it arrives at our door? Return the unworn item to a Canadian Zara store within one month for an easy refund.
eLUXE -- One of the few luxury fashion websites based in Canada, eLUXE describes themselves as a marriage between magazine and merchandise. Their Ask a Stylist section offers custom advice and styling tips, and all products are shipped from within Canada, which means no surprise duty charges or taxes.
LOFT -- In early 2013, the accessible, trendy, and youthful sister-label to Ann Taylor started shipping to over 100 countries, including Canada. The brand offers everything from work staples to weekend wear, and includes duties in the final purchase price.
The Outnet -- Brought to you by the team behind Net-A-Porter, The Outnet sells discounted designer womenswear and accessories. Product can be limited, but discounts are deep, which means you may want to stock up and take advantage of their $24.95 flat rate shipping cost.
Revolve Clothing -- Since its launch in 2003, Revolve Clothing has expanded its product line to include over 500 men's and women's designer shoes, apparel, and accessories. Shipping is free for orders over $100, and duties/taxes are due upon arrival.
Amazon Beauty -- Amazon may not be the first website that comes to mind when you need to stock up on beauty products, but their two new online stores will change this. Together, Amazon Beauty and Amazon Health & Personal Care carry 80,000 products, including makeup, perfume, hair care, and skin care. All products ship from within Canada, so you'll never have to worry about paying duty or extra taxes.
Haute Look -- Acquired by Nordstrom in March 2011, HauteLook's sales start each day at 8 a.m. Pacific time. Shop some of the best names in fashion, beauty, and home décor at up to 75 per cent off with no surprises. All costs (shipping, GST, PST, and duties) will be displayed when you check out, and what you see is what you pay.
eShakti -- Take the guesswork out of online shopping with eShakti. Shop their women's apparel in standard sizes, or for an extra $7.50, enter your custom measurements and get your item tailed to your body. Be your own designer, and customize your order by adjusting the sleeve length, adding pockets, or changing the neckline. Shipping rates depend on the order value, and new product is added regularly.
Disclosure: Editorial selections are made without direct promotional consideration from featured websites, although credits may be received through affiliate commissions.
Top 10 Online Shopping Sites
ASOS.com is the UK's largest online-only style and beauty retail store, carrying over 50,000 branded and own label product lines across womenswear, menswear and accessories. ASOS.com allows visitors to narrow their search by trends and collection, as well as provides an online marketplace where you can buy and sell pre-owned vintage. In addition to ASOS.com's vast social media presence (twitter, Facebook, Pinterest etc), the recently introduced "Fashion Finder" provides an opportunity for consumers to create and personalize outfits, look books and fashion videos.

Founded in 2006, NastyGal.com launched as an eBay store selling an assortment of highly curated vintage pieces. The international style source now offers new and vintage pieces that are handpicked by the NastyGal.com team. Setting themselves apart from the competition, NASTYGAL.com offers public "want lists" – a shopaholics answer to a wedding registry – that allows friends and family to freely search your most wanted pieces for birthdays, holidays, or just because they love you.

MrPorter.com – male cousin to Net-a-Porter.com – launched in 2011 and has since been doing a bang-up job of cracking the notoriously stagnant men's online market. While the retailer offers every major designer from Alexander McQueen to Ray Ban, it's MrPorter.com's online community that sets it apart from imitators. With features like STYLEPEDIA, an online style council offering tips from style icons such as N.E.R.D's Pharrell Williams, and an iPhone app for on-the-go advice, men no longer have an excuse to look like Van Wilder.

Zappos.com provides members with amazing deals on designer apparel and footwear. Regardless of your budget, Zappos.com promises not only the best prices, but the best service. Zappos.com provides a LIVE HELP service that acts as an instant messenger to their 24/7 on-call support team. If you're having an issue with products, prices or have other inquiries, Zappos.com has humanized their online platform to ensure that you receive answers to your questions immediately.

Bringing consumers closer to the stars than ever before, Singer22.com provides guests with the option to search by Celebrity Picks and purchase styles worn by A-listers such as Olivia Palermo and Victoria Beckham. If you're concerned that those Maurie & Eve Tori Buckle Pants won't look the same on you as they do on Kim Kardashian, not to worry. Singer22.com also provides images of Singer22.com models and regular folk (in the Community section) rocking their gear.

Otteny.com is a luxury shopping experience for women with a distinct taste for understated luxury and contemporary design. For $35, Otteny.com's personal shopping team will assemble the perfect look for any occasion – without having to leave your living room. Additionally, with one of the most comprehensive Pinterest accounts on the web, consumers can keep up to date daily with additions to the online store.

Known as the Netflix of fashion, RenttheRunway.com is a New York City based service that allows online shoppers to borrow high-end pieces by brands such as Proenza Schouler and Alice+Olivia and return after use for approximately 10% of the retail price. It's simple: become a member (FREE!), select your style and size (up to six months in advance) and return following your agreed upon reservation time.

ModCloth.com features more than 700 independent designers and their stock offers products that go beyond fashion and venture into the world of interior design. ModCloth.com's "Be the Buyer" platform allows customers to be virtual members of ModCloth.com's buying team and vote items from emerging designers into production via their 'Pick It' and 'Skip It' options. Results are posted via ModCloth.com's active social community and voters are notified if their selections have made it into ModCloth.com's stockroom.

Coming to you from Silicon Valley, California, Fitiquette.com is an online fashion boutique powered by a virtual fitting room. Members create a personalized virtual representation and use this replica to try on different styles and sizes of items offered on the platform. Members see a 3D representation of their model and the clothes they try on, from all 360 degrees. While Fitiquette.com is a relatively new online retailer, the site already boasts an impressive list of brands with a large increase expected in 2012.

Shoptiques.com is an innovative online retailer that allows customers to shop over 200 boutiques for one flat shipping rate. Shoptiques.com organizes its boutiques by neighbourhood, allowing consumers to "shop like a local". It ships to places around the world, including the U.S., Australia, Canada and France. This one-stop shopping platform is not only a time-saver, but provides independent retailers with an opportunity to join an online community that services the entire world.
Follow Kendra Hagerman on Twitter: www.twitter.com/kendrafoundit