What is the Link Between Bullying, Cyberbullying and Suicide?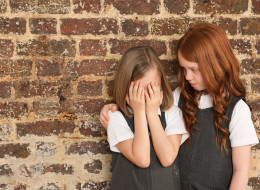 Bullying, cyberbullying, and suicide have become hot topics in recent years, dominating headlines and driving trends on popular social networks.
In 2014, PREVNet, Canada's authority on bullying, released a statistic indicating that 78 per cent of Canadians believe that not enough is being done to stop bullying in their communities.
While media coverage can help raise awareness about important issues that affect young people of all ages, it can also leave us with more questions than answers.
In recent years, some parents might have found themselves wondering:
"What is the link between bullying, cyberbullying, and suicide?"
"Is bullying worse than when I was a kid?"
"What can I do to keep my kid safe?"
For many parents, it's easy to slide into worry-mode, especially when we are talking about such difficult topics as bullying, cyberbullying, and suicide, which can cause strong reactions in adults.
But it's important for parents to be mindful of how they are reacting to stories they are hearing in the media or within the community.
It's also important to remember that reporters and other members of the media, including producers, bloggers, and editors, are not in a position to assess anyone's mental health, or make a diagnosis.
A reporter's job is to tell a story, which is often delivered under tight deadlines, limited word counts, and competing priorities. While the facts they present may be true, reporters can also present them in a way that puts emotional impact, audience interest, or entertainment first.
When news reports focus on bullying as a single, direct cause of suicide, it can create a false impression that suicide is a natural response to bullying.
While it is important for adults to take youth issues seriously, it is also important to pay attention to sources, and to ask the right questions: is a news story raising awareness or exploiting an issue?
Media coverage can do a lot to bring sensitive topics into the public eye, helping to generate discussion and understanding of them in the process.
But not all news stories are created equal. Some may also be positioned to grab attention, increase web traffic, and compete for viewers or listeners, which is why it is important to rely on trusted resources to gain a deeper understanding of issues affecting young people today.
Connections between suicide, bullying and cyberbullying have often been discussed in the news in recent years, but they can be presented in an oversimplified way.
Suicide is complex, and not all media reporting provides an accurate perspective of the factors that can contribute to a young person's suicide.
Not all young people who are bullied will experience suicidal thoughts, nor will they attempt to take their own life.
Earlier this year, the Centers for Disease Control and Prevention (CDC) published The Relationship Between Bullying and Suicide: What We Know and What it Means for Schools.
"We know that bullying behavior and suicide-related behaviour are closely related," the CDC writes. "This means youth who report any involvement with bullying behavior are more likely to report high levels of suicide-related behavior than youth who do not report any involvement with bullying behavior."
The publication continues: "We don't know if bullying directly causes suicide-related behavior. We know that most youth who are involved in bullying do not engage in suicide-related behavior... Bullying, along with other risk factors, increases the chance that a young person will engage in suicide-related behaviors."
Not all media reporting provides an accurate perspective of the factors that could contribute to a young person's suicide. Making a simplistic link between bullying and suicide can also have dangerous potential to create copycat behaviour among young people.
What makes one person more able to cope in any given situation than another? That's a question that has to be taken into account when suicide is linked to bullying or cyberbullying.
It's also important to remember that while bullying is pervasive among young people, many kids find ways to cope with it on their own. Nearly nine per cent of counselling sessions at Kids Help Phone relate to bullying, but mental health remains the top issue at 29 per cent.
We know that many young people likely have their own support networks and do not need to reach out to us. The young people who are reaching out are the ones who do need additional support.
And in some cases, the kids who reach out are the ones who are bullying others, and want to learn how to stop.
There are incorrect or inaccurate statistics and information out there about the links between suicide, bullying, and cyberbullying. We need to talk about these things, but we also need to make sure we are talking about them correctly.
News stories can affect change, but not through incorrect, incomplete or inaccurate statistics and information.
ALSO ON HUFFPOST:
How To Talk About Bullying
Bullying can be an incredibly isolating experience, and many victims feel that they are alone–that something about them, specifically, has brought this on. Explain to your child that bullying is something that can happen to anyone: boys, girls, preschoolers, high schoolers, kids at large schools and kids at small schools. This means there is a large group of people impacted by bullying, and if we all work together, we can certainly make a difference.

A common reaction to bullying is encouraging the victim to ignore the bully. "They just want a reaction," people say, and if you deny them the reaction, they'll go away. That's not always the case. Sometimes, when the bully realizes they are being ignored, they can feel a sense of power over their victim that can actually make the situation worse.

Asking your child basic questions about their day and their experience at school can help you catch a problem sooner. Ask how a specific class was, or who they sat with at lunch. Ask who is trying out for the team, or who is going to local fair that weekend. These harmless questions tell your child that you care, but they can also help you detect changes in your child's situation that may indicate a bullying problem.

While helping your child prepare a speech or enrolling them in self-defense courses might seem like an empowering solution, you're sending the message to your child that this problem is theirs, and that they have to handle it alone. Instead, discuss what some solutions might be and involve your child in the decision making process.

The National Crime Prevention Council reports that 20 to 43 percent of middle and high school school students have reported being victims of cyber bullying. Encourage your child to protect themselves by following these two guidelines: 1. Never say or do anything online that you wouldn't say or do in person. 2. Never share any information that you wouldn't tell a stranger.

While we'd like to think we know everything about our children and their friends, don't express disbelief if they say someone has done something that shocks you. Your child needs to know that they can trust you. Asking them to provide evidence or saying that someone "would never do that" can come across as you taking the side of someone other than your child. Instead, be as supportive as possible and listen to their side.

A recent study of children ages 9 to 12, showed that 56 percent said that they usually either say or do something to try to stop bullying or tell someone who can help (Brown, Birch, & Kancherla, 2005). Make sure your child knows who he or she can talk to if they have something they want to share, whether that is you, a school counselor, a teacher or a coach.

Explain the importance of keeping online passwords private, even from close friends. Your child may be thinking that sharing a password with a close friend is harmless and convenient, but explain that anyone with their password could impersonate them online and embarrass them. If they insist that the friend would never do that, remind them that the friend could share their password, either intentionally or unintentionally, and someone else would have that same power.

While your first reaction may be to protect your child by calling the parent of the bully or confront the child yourself, this is not always a good solution. Not only is this this rarely effective, it may even prove fodder for additional bullying. Your child wants to feel empowered and involved in the solution, so discuss options with him or her and work together to decide on a plan of action.

Your child may be embarrassed or afraid to talk about what is happening to them. This is normal. Rather than pressuring your child into speaking before they are ready, just make it clear that you are willing to listen and be a source of support for them. Once they feel comfortable, they will know that they can open up to you and seek your advice. Better yet, if you've had this conversation preemptively, before a problem arises, your child will know right away that you can be their partner in finding a solution.

Green Giant's Raise A Giant site includes a page that lets you read letters other parents have written to empower their children. You can write your own letter and explore their other resources, including videos and sharable infographics. PACER's National Bullying Prevention Center site also has a page with resources like informational handouts, fact sheets, educational toolkits, and the "We Will Generation." You can also browse the video page to see if some of their video resources would be helpful for you or for your child. Green Giant's Raise A Giant site includes a page that lets you write a letter to empower your child, but you can also read the letters other parents have written to inspire your talks with your child.
Follow Kids Help Phone on Twitter: www.twitter.com/KidsHelpPhone