Aboriginal Day Live Draws Canadian Cultures Closer Together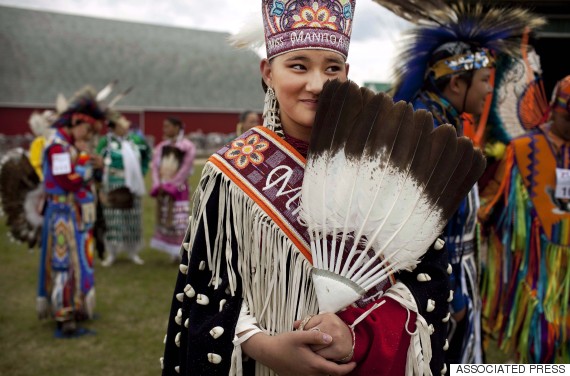 A young woman wears traditional clothing at an event celebrating National Aboriginal Day 2011 in Winnipeg. (Photo: AP Photo/Kevin Frayer)
On June 25 I had the honour of hosting the celebration of the 10th anniversary of Aboriginal Day Live. It took place in Winnipeg's meeting place at the Forks National Historic Site of Canada, and what a celebration it was!
Aboriginal Day Live, an annual celebration of Canada's National Aboriginal Day and the summer solstice, has been delighting audiences since 2007. The event features some of the most accomplished Aboriginal musicians, including award-winning and up-and-coming artists; it showcases talent from all genres, regions and nations; and ensures the recognition and inclusion of all First Nations, Inuit and Métis peoples.

As a First Nations actor and entertainer, it is always a very surreal night to co-host such an meaningful event -- and as someone born and raised in Winnipeg, being chosen to represent Winnipeggers on a national stage like this is a memory I will forever cherish. It means so much to me because the show is so positive and represents role models and musicians who share their culture and talent proudly with the country.
Every time I get the incredible opportunity to be part of events like this, it always makes me feel more and more proud to be First Nations. It also makes me realize just how important shows like these are.
I think we are getting tired of hearing the same negative story and want to see the different colours of First Nations people.
I think the mainstream media is quick to showcase the harsh realities and devastation of First Nations people, and it makes people view them in a very specific way. But, like all of us, we have a variety of colours and shades to our character, and it's not always black and white.
I think the majority of our country is curious about First Nations people and wants to learn more about them. I think it's a different day and age, and we are evolving to be more accepting and eager to learn about all cultures.
I think we are getting tired of hearing the same negative story and want to see the different colours of First Nations people. I think it is an exciting time we live in, for I see a light breaking through at the end of the tunnel. I see more and more people coming together to lift up the spirits of First Nations people, and this innate instinct to care for one another is very beautiful to see. Having events that celebrate the positive successes of First Nations people is not only gratifying to watch, but to host such an event lifts the spirit beyond words.
I also love that events like this are also so inclusive and always state that they are open for people from all walks of life to come and be a part of the festivities, which is another aspect of the event that I am proud of. This inclusive mindset shows that even after all these years, First Nations people still choose to welcome everyone around them with open arms -- even after being pushed aside and having to always fight to have their voices heard. They will choose to make others feel welcome by including them in their celebration.
It's a proud day, and it's a day that allows other cultures to learn a little bit more about First Nations peoples. It's events like these that brings us one step closer as cultures and, more importantly, as human beings.
To check out more on Aboriginal Day Live, head over to its website.
Follow HuffPost Canada Blogs on Facebook
MORE ON HUFFPOST:
11 Facts About Canada's First Nations
The word Canada comes from the Iroquois word kanata meaning village, settlement or land.

There are currently over 60 First Nations languages in Canada grouped into 12 distinct language families, according to Statistics Canada.

Before European Settlers came to Canada, it was not uncommon for Aboriginal women to hold equal power to men, and even had to ability to take the power away from the chief, reports UBC. Women's suffrage in Canada was not granted until 1918.

The North American headdress was earned, each feather representing an act of bravery.

There are over 600 different tribes in Canada each with their own culture and belief system.

The High King of France commissioned Giovanni da Verrazzano to reach Asia by sailing around North America in 1523. He described the coastline as densely populated and full of bonfire smoke, saying it could be smelt from hundreds of miles away at sea. Some academics place the American Aboriginal population at 50 million while some argue it to have been 100 million. Today's First Nations population of Canada falls around 1.4 million.

During the early days of colonization, Britain saw Aboriginal people as essential to protecting their colonies and considered them powerful allies who helped battle the French during the Seven Year War and fought off American invasion during the War of 1812.

First Nations people played a major role during the fur trade between the 17th and 19th centuries, which attracted merchants from around the world.

Archaeology tells us that aboriginal people have lived in the Maritimes provinces of Canada for at least 11,000 years.

After the decline of the fur trade and the end of the War of 1812, more settlers came to Canada, creating a large enough population to protect their own borders. First Nations were seen as impeding on economic development and were sent to live on isolated reserves, while more land was set aside to accommodate new settlers.

Aboriginal people have the youngest demographic in Canada, with a median age of 28, while the median age for non-aboriginal Canadians is 41.
Follow Kyle Nobess on Twitter: www.twitter.com/kylenobess