Christy Clark Stunning Example Of Blind Ambition, Bad Politics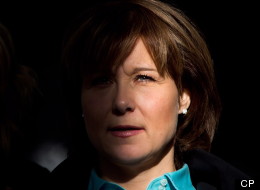 In the days since emails were leaked to the NDP that revealed highly offensive strategies of ethnic voter manipulation by the B.C. Liberals, I've been waiting for a truly sincere and remorseful apology from the premier.
Her second attempt finally arrived on Sunday, following an emergency cabinet meeting. After hours of discussion behind closed doors, Liberal ministers filed out one by one to meet the press, most still professing strong support for their tainted leader Christy Clark.
The premier herself finally emerged, and with quite a defiant demeanor, apologized again. But as in her written statement of last week, she did not apologize for the document itself, for the blatant manipulation of ethnic communities, nor did she address the misuse of public resources.
She simply said she was sorry for the language used in the emails ... and went right on to talk about how shes going to lead the Liberals to a win in the next election.
She did not apologize to the public for the document, but did so Monday in the legislature when pressed by the Opposition.
Clearly, it was business as usual for Clark, digging herself out of yet another hole with no shame whatsoever. The only problem is, there is no way for her to legitimately distance herself from this one. If she says she didn't know what her closest staff (who also happens to be personal friends) were up to, it's akin to admitting incompetence. If she says she did, she admits her involvement. Either way, the premier is in it up to her hips in this one.
Perhaps you might understand why the image of Lance Armstrong keeps appearing in my head when I see the premier?
There is something very disturbing about the story that has now become known as "ethnicgate." Disturbing because it reveals something so disrespectful not only about the way Clark's government uses ethnic voters, but also the way they flagrantly disregard rules, regulations and democracy.
Really, do you think the use of personal emails to avoid Freedom of Information requests on government business is actually something new to Clark's government ? One would hardly think so. We know they delete emails as soon as they can. Remember the secrecy behind the dismissal of her former chief of staff, Ken Boessenkool? No paper trail to be found, the entire investigation into allegations of inappropriate behavior with a staffer seemingly conducted verbally.
In any corporation, the way Clark handled that investigation would have been grounds for her dismissal. But no big deal, that's just the way things are done with this group.
Former Surrey B.C. Liberal riding executive James Plett summed it up best when he revealed his reasons for quitting his position in a blog post last week:
"What makes it so repugnant is that the government misused taxpayer dollars to put together a document explaining how the government could misuse taxpayer dollars further and to offer apologies for absolutely horrible things all for a bump in the polls."
"Ethnicgate" does not bode well for Christy's future. Her rosy glow has long since faded as more candid shots of her show the narrowed lips and eyes of a politician who will do and say anything to get to where she wants to be
Using public resources for partisan purposes? Secretive emails? What's next? It's quite clear that this isn't about creating good government, it's about position and power.
The question is, with a premier so completely blinded by ambition and so equally devoid of self-reflection, how far will she go to keep both in her grasp?
B.C. Liberals Ethnic Vote Timeline
Leaked B.C. Liberal documents revealing a wide-ranging plan with links to senior officials in Premier Christy Clark's office to win ethnic votes in the upcoming May election are released by the B.C. NDP. Clark is seen here on a visit to India in 2011.

"No one has any dispute about the rich multicultural heritage in B.C. and the obligation of government to celebrate that and to build upon various communities in every corner of the province," said NDP House Leader John Horgan. "What we object to, and I think every British Columbian would object to, is their tax dollars being used to prop up the B.C. Liberal election machinery."

"I want to sincerely apologize to British Columbians," said a statement from Premier Christy Clark. "The document did not recognize there are lines that cannot be crossed in conducting this outreach and it is unacceptable."

The B.C. Liberal government promises a review into a plan to woo ethnic voters.

Kim Haakstad, the B.C. premier's deputy chief of staff, resigns. She sent a strategy document to several of the premier's staff that outlined a plan to woo ethnic voters.

"This proposed outreach plan was insulting to the intended targeted communities and was, when I found out about it, insulting to me and to all other MLAs who believe in doing things properly, fairly and within the rules and laws of the legislature," Liberal MLA Dave Hayer. "In all my 12 years as an MLA I have always reached out to all communities, regardless of ethnic background, because that is the right thing to do. I believe in doing the right thing, regardless of whether it will, or will not, 'win the vote' of any particular group."

"For the record, been given an early summary in 24 hrs, the terms of reference are out, a number of interviews needed. Plan progressing," said a tweet by deputy premier Rich Coleman. He added: "I am satisfied with the first steps to review what occurred here and fully support @christyclarkbc."

Bill Chu, chair of the Canadian Reconciliation Society, called the premier's apology "not acceptable." "In the leaked document, you can see the wording in it, how they want to manipulate our community — not just our community, but the entire multicultural community," Chu said. "It's full of disrespect."

Christy Clark calls an emergency meeting of her cabinet held on a rare weekend.

A calm, confident Christy Clark brushes aside questions about her leadership after a three-hour emergency cabinet meeting. "This group is absolutely united and we have a lot of work to do on behalf of the people of British Columbia" she said. "We're going to get on to that work."

"Christy Clark is our premier. She's going to be our leader," said Bill Bennett, minister of sport and culture after an emergency cabinet meeting. But he added: "We've made some mistakes. This last one was a doozy."

Liberal party member Virkram Bajwa said the leaked document has "made the ethnic vote a joke," and demanded the premier's resignation on behalf of a group of Indo-Canadian Liberal members. "In order for us to gain and come back to the government, she has to resign and somebody new has to come and lead the party into elections," he said.

"We shared some inner feelings," said Ben Stewart, minister of citizen services and open government after an emergency cabinet meeting. "There's certainly disappointment at so many people close to government involved in these activities."

"This was the first chance we had to talk about last week (with the premier)," said Health Minister Margaret MacDiarmid. "Everybody's very concerned about it, disturbed by it and wanted to move forward. We talked about that."

"We're all here to stick together and do our jobs," said Jobs Minister Pat Bell. "I'm as committed as I've ever been to Christy."

John Yap, the minister responsible for multiculturalism, steps aside during the review into the ethnic votes strategy. He said he's taking responsibility for the report's contents — but also said he had never seen the document, which was written several months before Yap joined cabinet.

Former B.C. premier Ujjal Dosanjh, seen in this 2005 photo, says the ethnic vote-winning debate that has hammered British Columbia's Liberals and forced them to issue numerous apologies is nauseating, sanctimonious and holier-than-thou.

A report by deputy minister John Dyble into the ethnic outreach plan finds the B.C. Liberal government misused public money and breached standards of conduct.

Brian Bonney, a former Liberal government communications official, spent half his time working on the ethnic outreach plan for the Liberal party while being paid as a government employee, concluded a report. "This ... amounts to a serious breach of the standards of conduct," said the report by deputy minister John Dyble.

After John Dyble's report is released, Premier Christy Clark tells media that the B.C. Liberal Party has written a $70,000 cheque to the government to repay some of the work ex-communications official Brian Bonney did on government time.

Charges were approved under B.C.'s Election Act against Brian Bonney,a former Liberal government communications specialist, and Mark Robertson, a Liberal Party field operations worker, as well as a corporation over the April 2012 byelection in the provincial riding of Port Moody-Coquitlam. A government review of the quick wins scandal found Bonney, who left government to work in the private sector, was at the heart of the plan to attract ethnic voters to the Liberals.
Follow Laila Yuile on Twitter: www.twitter.com/lailayuile