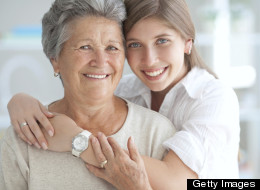 Cyma Shapiro is a 55-year-old mother of an eight and 10-year-old, as well as step-mother to a 28 and 30-year-old.
1. What are some common characteristics of midlife moms?
First and foremost would be the incredible amount of dedication, perseverance, conviction, willpower,determination and intention that we've used just to become mothers -- in many ways against all odds. Very few of us simply became pregnant or easily adopted a child. And nearly all of us employed huge amounts of money, time and energy to get here.
Secondly, we're often coming into this new journey during times of enormous personal (hormonal) changes. That factor alone separates us from our younger 'sisters.' Some of us are not only 'Baby Boomers,' but we're also the 'Sandwich Generation' -- that is, nearly all of us have aging parents, or our parents are no longer with us -- which is a loss of both emotional support and familial strength for ourselves and for our children.
Lastly, many of us also have two generations of children. While our middle-aged counterparts are often celebrating the fruits of an empty nest or a possible 'reinvention' in midlife, for most midlife mothers, our children are our reinvention!
2. Tell us about your art gallery show, "NURTURE: Stories of New Midlife Mothers."
The first show of its kind and now traveling North America,"NURTURE" is intended to dispel myths, create a dialogue regarding this burgeoning group, redefine women in middle age and provide role models for women choosing motherhood over 40.
The show is comprised of both dramatic black and white photos of 25 out of 58 women from across the country and their families, combined with the pared-down narrative text (hundreds of hours of discussions). My journey from support group to show is long and winding!
My original desire was just to create a community of mothers over 40. Nearly five years ago, I formed a support group in my area for new mothers over 40, but quickly realized that none of the women felt simpatico with each other. Searching for answers to both my own sense of isolation and confusion over our mothering life-choices in midlife, I decided to network across the country interviewing women who had also chosen new midlife motherhood.
The end result, originally intended as a book, became the show. The women subjects range in age from 41 to 63, represent every possible family unit and have come to motherhood in seven differing ways: IVF, natural childbirth, surrogacy, adoption, fostering, guardianship and blending step-families. Some of the women subjects are 'pioneers' - that is, the first women in our country to employ surrogates, IVF, etc.
Although my intention was to convey their truthful, poignant, and often painful stories of love and loss, the end result, en masse, is actually a testament to the power of love, the creation of family and the desire to just be a mother.
3. What made you decide to start your blog?
As a journalist, my inclination was to add my own writings and the writings of others to this body of work. Our Midlife Mother mission is to present a voice, face and forum for women over 40. However, it became clear that I needed to separate all the entities. Now, the website www.MidlifeMothers.org represents the show. www.MotheringintheMiddle.com is the website for all things midlife mother. In our two short years of existence, we've garnered dozens of established, well-known midlife mothers; writers in midlife; and those whose work intersects with midlife women.
I am always seeking the truthfulness of their stories and to capture their desire to live fulfilling lives. My aim is to present as many voices as possible. In truth, midlife mothers range from 37 to 65 years old and have come to midlife mothering in so many differing ways, ages, stages and family models.
4. What are your top three tips and advice for women who are about to become midlife moms?
While the end result may be worth the journey, nearly no one choosing midlife motherhood would say it is easy. And nearly none of us would have believed that we would become mothers in midlife! Know, too, that as time moves forward and more women make life choices at later ages, the road will become easier.
As a group, midlife mothers have much more wisdom, patience and life experience to draw from -- all of this is a bonus when raising children. Many midlife mothers are also traveling their mothering path alone. Just know that we are all out here; the all-important support, understanding, and comfort can be found.
5. Anything else you would like to add?
Do not let age stop you from achieving whatever your heart desires.
Motherly Advice From Our Favorite TV Moms
"That's when you know your family loves you, when they feel free to scream at you."

"If you can't count on family, who the hell can you count on?"

"I was already 26 -- an old maid! So I settled for a wonderful man, and I have never regretted it."

"I think what you really need to do today is wallow ... Get back in your pajamas, go to bed, eat nothing but gallons of ice cream and tons of pizza. Don't take a shower or shave your legs or put on any kind of makeup at all. And just sit in the dark and watch a really sad movie and have a good long cry and just wallow. You need to wallow."

"The way I see it, if you can raise three kids who can knock out and hogtie a perfect stranger, you must be doing something right."

"No one wants to kiss a girl in black."

"Sometimes I feel like my job is to make sure you guys don't fall on your faces."

"Remember, when you're pregnant, one bottle of wine a day. That's it."

"One day you may or may not become Daniel's wife, but I will always be his mother."

"My mother always used to say: 'The older you get, the better you get, unless you're a banana.'"

"Don't be a victim, you know? Just do something. You don't need an invitation to your own life."

"Ya know, I wanted us to live in a place with real family values, but values don't come from where you live or who your friends are. They come from inside, from your own beliefs."

"Honey, I know how it happens. You get comfortable and you give up a little bit, and then it just gets out of control. There are things you can do about this, there are pills you can take."
Follow Lianne Castelino on Twitter: www.twitter.com/liannecastelino