A Cheat Sheet For Parents Of Soon-To-Be High-School Grads
These are particularly heady times if you have a child embarking on graduation in the next few weeks or months -- be that from high school or from university.
Heady, for the child definitely, and undoubtedly their parents as well.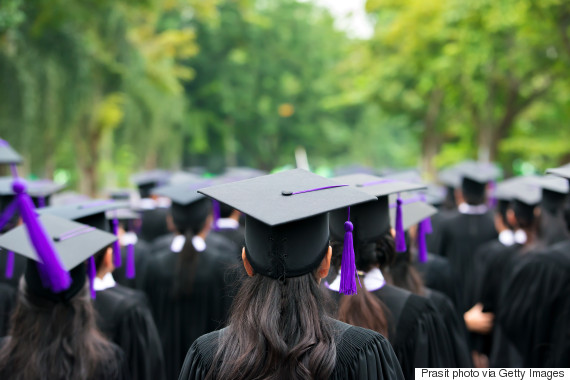 (Photo: Prasit Photo via Getty Images)
Questions abound.
Should I stay or should I go (in-town or away to college or university)?
What am I passionate about?
Where do my talents and passions align -- can I get a degree in that and ultimately a job that pays me for it?
Will my marks be high enough?
Which school should I choose?
Why have I not heard back from that program?
Can anybody hear me?
For the parent...
Is my child going to make it?
What are the jobs of the future?
Are they making the right choice?]
Can we afford this?
Etc.
Indeed, a sea of questions, many of which peer into the unknown.
Prepare yourself for the mountain of information that you will encounter.
Having been through this process once, I can safely say it does NOT get any easier. Each child is different. End of story.
Here's what I've observed and learned over the course of having one child and now the second apply for postsecondary education:
1. Start delving into the research process in Grade 10 and continue in Grade 11, with greater urgency. You will not regret it.
2. Narrow down your program/institution options to around three of four. Anything more than that is unwieldy, unnecessary and intimidating.
3. Prepare yourself for the mountain of information that you will encounter. University and college websites are an absolute maze of information, so you'll need to be shrewd in how you evaluate one program from another, based on the criteria you deem most important.
4. Let your child lead that research conducted in Step 1. You can and likely should be a bystander, there to support him/her with food for thought or to act as devil's advocate, if called upon. You should not be the one leading the research. Stop yourself.
5. Don't discount schools that are not among the more mainstream ones -- you know, the ones with massive marketing budgets that can flood prospective students with information both online, in person and in the mail. Schools with smaller marketing budgets aren't necessarily schools with weaker programs -- far from that, in fact.
6. Make an appointment with your child to see their high-school guidance counsellor in Grade 11 and again in Grade 12. If your guidance counsellor is weak, find one outside the school that comes recommended and meet them. Their insight and objective opinion will prove invaluable.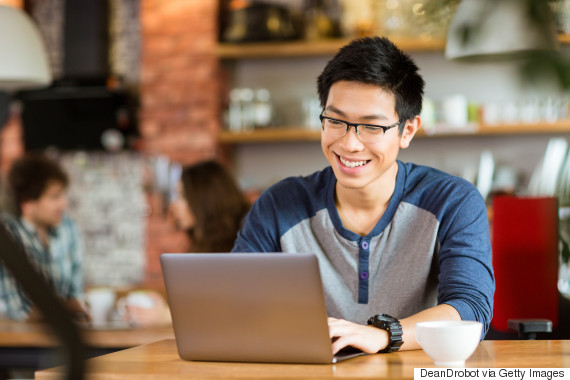 (Photo: Deandrobot via Getty Images)
7. Ensure your child is participating in extra-curricular activities in high school, well prior to Grade 11. The marks count, certainly, but so to do all activities, sports teams, clubs, etc. that your child may be participating in. As does volunteering and participating in service initiatives.
8. Going to school in the U.S., may actually not be as expensive as you think. Many schools have a part of their budget dedicated to support Canadian students, which often goes unclaimed and unused.
9. Create a university/college file. It will fill up in seconds, like you won't believe.
10. Immediately refrain from helicopter parenting, if that has been your parenting approach. Purposely sending your kid away to school will not necessarily force him or her to grow up and mature. If anything, it may just create an anxiety, that both you and your child have never experienced.
11. If you're child is confused by the options, get them to write down the pros and cons of each school and program on a piece of paper and evaluate it. Visuals have the ability to clarify.
12. Keep the lines of communication open on this subject matter. Your child will likely go quiet at some point in their final high-school year as they cope with workload, decision-making and contemplating jobs of the future. Be supportive, without stalking them. It's a fine balance.
If it were only as simple as when those of us, of a certain age, were graduating from high school. Three options mailed in on one piece of paper. A maximum of three letters mailed back. Yes or no. Decision complete.
Believe if or not, selecting the perfect prom dress and tuxedo colour will be easier, after all.
Follow HuffPost Canada Blogs on Facebook
Also on HuffPost:
Dos and Don'ts on Freshman Year
We all know it's tempting to lock lips with the cute guy/girl down hall from your freshman dorm, but be warned, you may end up regretting that hookup down the road. Don't look at your freshman dorm building like it's a brothel, because if things go south in a hurry, it's going to be awkward all the year.

If you're a freshman in college, you don't want to look like one on the weekends. That means don't go to a Delta Chi frat party with your entire dorm floor, especially if you don't want to get teased, "FRESHMEN!!" Blend in, and go in staggered small groups.

There's nothing more annoying than not graduating on time because you had to switch majors too late. Normally you have time to feel out your major for the first couple years, but it's never too early to re-evaluate yourself and make sure you explore all your options. Try new things constantly to find your calling.

Typically during freshman year, you find yourself hanging out with your dorm friends mostly, which isn't bad, but it's always good to make friends outside your dorm and student organizations are a great way to do that.

Your college isn't an island or an ivory tower. Explore your college's outer limits and the city surrounding it. You'll be surprised what you'll find.

It sucks not being 21, we know. But it's even more lame when you get busted by the bar bouncer or even worse, the cops when they raid the college bar.

Embrace your school spirit. Even if you're not into sports, there's no better way to be one with your college community than going to the games.

It never hurts to get to know your professors. They can end up being great mentors, and they'll always love talking to their students.

Six times out of 10, you're not going to be best friends with your college roommate. Sometimes, you'll end up getting roomed with a serious closet-case. Just in case you get really unlucky, map out all of the places around campus you can run away to went you need to get away to collect your thoughts.

Say goodbye to mom's cooking and say hello to the meal plan. Better get used to greasy foods, carbs and junk food for a whole year, and the dreaded freshman 15, where the average freshman gains 15 pounds. It happens to the best of us, but it doesn't have to be that way. Avoid using the meal plan everyday and try to find a market with some real food every now and then.
Follow Lianne Castelino on Twitter: www.twitter.com/liannecastelino