How it Felt to Be Bullied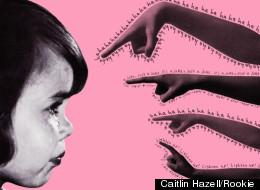 Teen years are and were hard for all of us. That's when we find the beginnings of who we'll be, and depending on our surroundings, choose to let it flourish or hide it away so as to make ourselves less of a target. People are all insecure, especially at the onset of discovering the world. And as such, we hate when we see a glimmer of confidence in someone, we tear it down as quickly as we notice it so we feel less different.
I was home-schooled until the age of 14 before entering the public school system. I was 14 when I first really felt insecure. I worked hard, I believed I could be anything I wanted until I was 14. I remember feeling sick when I walked into the halls of my new school. I was made fun of for trying hard, I was made fun of for being too happy. I made some friends here and there, stood around with the misfits, the awkward misunderstoods. But looking back I knew we all were.
As my family continued to move around I took each new school as an opportunity, a chance to be more of the person I wanted to be. With the loving encouragement of my family I was able to grow into myself pretty well, blocking out the banter of those I forced myself to understand didn't matter.
But that didn't change my popularity, I was always sitting against lockers doing homework, searching for a seat, or eventually just leaving any chance that I could. As a result I was generally ignored, cherished by a small group, and always hated by a few.
There were the ones who decided I was too positive -- they hated how much I smiled. They would pretend to run into me in the halls, shout names at me from their cars if we passed in the streets. Threatened me, pushed me around -- they even keyed my car for pulling up to the "wrong party." I even remember being hated by someone who just decided someone needed to hate me (who recently messaged me on Facebook to apologize...). People hated me for absolutely no reason. And that stands even to this day, it still stings every time.
Bullying comes in so many forms. Whether or not it may be physical, it's painful. Whether or not it may be for any reason at all, it still cuts deep. I receive too many letters from young fans before and after my shows filled with anguished scribbles about depression and sadness. I see girls who have shredded their own skin and have forgotten (or never learned) their own value.
I wish I could grab each one by the shoulders and shake them up and say: "Don't you know it has nothing to do with you? Do you even know how great you can be?" I'm only one person and sometimes I feel helpless, but I sure as hell understand being in a dark place, struggling with yourself. We all know the place, you just need someone to remind you about the other side, the good one. The loving one, the beautiful one, the REAL one. The one where you can be anything you want. The one that gets eclipsed by sadness sometimes.
All darkness passes, and all haters stumble. My dad always used to tell me to keep my eyes up, I urge you to do the same. There will always be people that hate you, but hate is only as powerful as you allow it to be. Talk to someone, pour it out, love yourself, find the things that make you believe and make you passionate, dive into them. Nothing and no one else matters. Maybe someday your haters will find that out too.
School Bullying Incidents
Chilling video of 10-year-old Cequan Haskins being viciously bullied on a school bus in May 2011 was released publicly by the boy's mother at a press conference in Appomattox County, Va. Video of physical and verbal abuse goes on for 40 minutes and includes racial and sexual slurs, as well as Cequan screaming as two 15-year-old boys allegedly hold a hot cigarette lighter to his skin.

To ward off school bullies who began taunting her in the first grade for her ears, Nadia Ilse begged her mother at the age of 10 for an otoplasty -- an operation to pin her ears back. At the age of 14, Nadia was granted her wish by the Little Baby Face Foundation, a charity that provides free corrective surgery to children born with facial deformities.

Isabella Lounder, a 7-year-old student with special needs, was afraid to return for her first day of school in the fall of 2012. Mother Nicole Lounder says Isabella, who has dwarfism, was ignored by school officials, wetting her pants numerous times after failed attempts to use toilets that were out of her reach. Students would also pick her up, hurting her arms, and she was once locked out of the school.

A student from Franklin Township Middle School East in Indiana was arrested after a cell phone video of a vicious school bus fight was posted to Facebook in August 2012. The fight broke out when one student had taken a seat on the bus that another wanted.

A Washington state student was terrorized in a bullying attack by peers -- and at some points, by the teacher. The incidents occurred in February at a Gig Harbor middle school. Cell phone footage shows more than a dozen students dragging the then-eighth-grade boy around the classroom, carrying him by his arms and legs, burying him under chairs, writing on his feet and stuffing his socks in his mouth. The antics last about 15 minutes while teacher John Rosi watches, and later joins in.

Katie Uffens left Westview High School earlier in 2012 and enrolled in a home-school charter program after she was told about the existence of a group called the "KKK" — short for the "Kill Katie Klub." But the 16-year-old San Diego cheerleader who was repeatedly bullied by her peers says the taunting continued even after she dropped out.

Oklahoma high school junior Dalton Fleenor reportedly told another student -- while away from campus -- "What he did was a p---- thing to do," referring to a fellow classmate. The next day at school, the classmate in question punched Fleenor twice in the back of the head. Both students faced suspension, as Newcastle High School treated the incident as a case of bullying.

Whitney Kropp, a Michigan 16-year-old sophomore, was the victim of an apparent prank by classmates. Kropp was named to the homecoming court of the 800-student school in the fall of 2012, but said she felt betrayed after some students suggested her selection was a joke. She said she had been picked on in the past, but it intensified afterward.

Preston Deener, a sophomore at Brunswick High School in Maryland, was the victim of a bullying attack in October 2012 just as he was preparing for an on-camera interview with a local television station about his experience being bullied.

Karen Huff Klein, a bus monitor for the Greece School District in Greece, N.Y., received an outpouring of support after a ten-minute video of her enduring vicious bullying while watching over students on a bus ride home was uploaded to YouTube.

Stormy Rich, an 18-year-old Florida student, says she was punished in May 2012 after reporting bullying of a special needs student on a school bus, and standing up to those bullies when the school didn't take action.

Rachel Ehmke, a 13-year-old seventh grader in Mantorville, Minn., died April 29, 2012 after hanging herself at her home. The months leading up to the tragedy were a whirlwind of peer abuse instances, her parents say.

In April 2012, Stuart Chaifetz sent his 10-year-old son Akian to New Jersey's Horace Mann Elementary School wearing a hidden audio recorder, uncovering verbal and emotional abuse from his son's classroom aide and teacher.

Joel Morales, a 12-year-old student in East Harlem, New York City, hanged himself in May 2012 after bullies at school taunted him for his size, intelligence and the death of his father.

Darnell "Dynasty" Young, a 17-year-old gay student at Arsenal Tech High School in Indianapolis, Ind., faced expulsion in May 2012 after he fired a stun gun at bullies he claims were about to beat him up.

A 14-year-old student from Longfellow Middle School in Enid, Okla., was left seriously injured and had to undergo surgery after an incident of bullying went too far.

Cory Pingeton, an 18-year-old student at Franklin High School in Franklin, Mass., required medical attention in April 2012 after an unnamed suspect viciously attacked him in the school's hallway. After fleeing the campus following the attack, the suspected assailant now faced criminal charges.

15-year-old Julio Artuz in November 2011 spoke out about his special needs teacher bullying him, filming an encounter with the teacher at Bankbridge Regional School in New Jersey.

A 10-year-old Ohio boy in April 2012 brought a BB gun to school to fend off bullies.

New Jersey student Sawyer Rosenstein received a $4.2 million settlement from the Ramsey school district years after a bully's punch paralyzed him for life.

In March 2012, two female students from Mooresville High School in North Carolina were suspended after another student used her cellphone to film the girls viciously bullying a male student on a school bus.

15-year-old Lennon Baldwin, a freshman at Morristown High School in New Jersey, committed suicide in April 2012, and police are investigating whether bullying was to blame.

David Pecoraro, a math teacher at Beach Channel High School in New York, was reassigned to an administrative office after video of him swatting at and spitting on a student surfaced online in February 2012.

Kaleb Kula, a sixth grader with autism, was brutally beaten to the ground at his Maryland school bus stop in January 2012 while his peers stood by to watch -- and catch the act on camera.

Warren Lewis, a Houston teenager accused of shooting a classmate in the leg at school, said in January 2012 that he was defending himself from a group of boys who had been bullying him.

A lawsuit brought by the parents of Phoebe Prince, a 15-year-old Irish immigrant in Massachusetts who committed suicide after relentless bullying, was settled for $225,000 in December 2011. Correction: A previous version of this slide incorrectly stated the date of settlement.

Kentucky mother Joy Furman claims her 9-year-old daughter has been bullied for two years at school, and seeks a restraining order against a fourth-grade boy she accused of tormenting her daughter, kicking her in the chest and chasing her with scissors.

In November 2011, 10-year-old Ashlynn Connor hanged herself in her closet by a scarf, just a few weeks after she told her mother she was being bullied at Ridge Farm Elementary School in Illinois and her mother denied the girl's request to be home schooled.

Kelly Chafins and Christy Wilt of Miami Trace Middle School in Ohio were caught on tape in the fall of 2011 verbally abusing a 14-year-old special needs student. Chaffins resigned and Wilt was scheduled to undergo a probation period as well as eight hours of mandatory training in "how to recognize child abuse and stop bullying."

In October 2011, 15-year-old Patty Fabian was left with black eyes and a broken nose after a peer at Garland High School in Texas viciously assaulted her. Video of the assault was posted on YouTube while Fabian was rushed to the hospital.

In the fall of 2011, Rebecca Arellano was crowned Patrick Henry High School's first lesbian homecoming king. The next day, her girlfriend Haileigh Adams was crowned queen. Despite widespread support from the school and the couple's friends and family, the couple subsequently received waves of hateful phone calls and emails.

In the fall of 2011, 13-year-old Nicolette Taylor from Long Island decided to get plastic surgery after enduring online harassment and name-calling multiple times a week because of the shape of her nose.

Taunted since grade school for hanging out with girls, 14-year-old Jamey Rodemeyer told his parents things were finally getting better since high school started. Meanwhile, on a blog his parents didn't know about, he posted increasingly desperate notes ruminating on suicide, bullying, homophobia and pop singer Lady Gaga. A few days later, he hanged himself outside his home in suburban Buffalo, quickly gaining a fame like that described in one of his idol's songs.

15-year-old Justin Aaberg committed suicide in July 2010 after what his mother Tammy Aaberg says was relentless anti-gay bullying at his Minnesota school. Tammy Aaberg has since gathered signatures for a petition and marched to the office of her congresswoman, Republican Rep. Michele Bachmann, to call on Bachmann to publicly address gay bullying.

When video of 15-year-old Zachary being beaten over and over again by a classmate went viral in October 2011, the school told the gay teen that he need to "tone [himself] down." The school's handling of the attack outraged Zach's mother Becky Collins, who couldn't understand why officials would say her son needed to change, instead of the bullies.
Follow Lights on Twitter: www.twitter.com/lights