These 4 Rules For Living Will Also Make You A Better Parent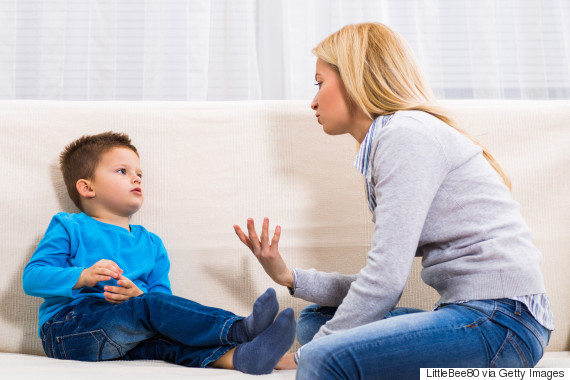 Negotiation and agreements are part of that extensive parenting manual of life. Parenting books line the shelves of bookstores but common sense is where it all begins.
Late last year, Warren Beatty made this rather astute observation about his parenting style: "we have these four, what I like to call small Eastern European countries that we negotiate with, and we send ambassadors, and we negotiate ... they're the best thing that's ever happened to me."
Beatty displayed a keen understanding of the nuances related to successful child-rearing.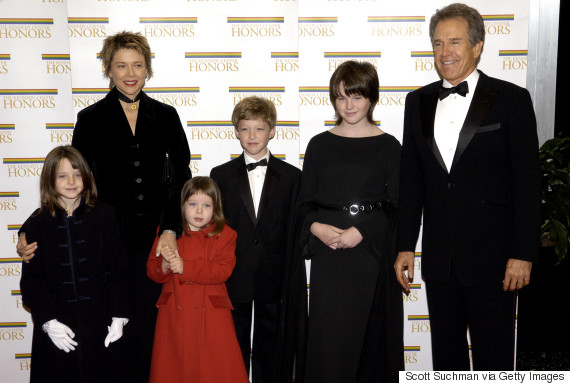 Warren Beatty arrives with wife Annette Bening and children Isabel, Ella Corinne, Benejamin and Kathly. (Getty)
With that in mind, it is perhaps timely to revisit a best seller The Four Agreements, written some twenty years ago by Don Miguel Ruiz and described as "a practical guide to personal freedom."
The book provides four simple rules for living based on ancient Toltec wisdom. Its simplicity offers a practical guide to parenting as well.
The first of these agreements asks us to "be exact with your words."
Words are very powerful. Sticks and stones can break your bones but words can break your spirit. Don't say things like "I hate you" when you really mean "I hate it when you yell at me."
Be precise with words. Words expressed in anger are so often not about the recipient of your anger but your own fears. And parenting can be a fearful state at times.
In the past year we have seen the damaging power of inexact words played out in the media.
Lying is inexact, and uses omission of facts, and twisted words to suit an agenda. Being exact forces us to ensure that our words do not convey misinformation and cause harm. Say what you mean is another simple way to describe this agreement. It would follow that being exact with your words should denote honesty.
Be precise with words. Words expressed in anger are so often not about the recipient of your anger but your own fears. And parenting can be a fearful state at times.
Adolescents can learn about lying with items found everywhere in the daily news. Arguments are bandied about that politician's words "should not be taken literally" which in turn begs the question, if we can't take a person's words literally, how are we supposed to take them? If the person didn't mean what they said then why did they say it or what exactly did they mean?
Confusion abounds in the media. Recent history is filled with the negative power of inexact words. We still have much to learn about this agreement.
Don't take things personally is the second agreement.
You can't control another person's behaviour. When someone says or does something to you, it is often about them. To understand this agreement, recall the many times in life we have thrown words at someone in anger. Something else was bothering us but the closest target, often a family member, got the darts. Life isn't about perfection and we say things we regret and wish for a second chance.
When we can emotionally distance ourselves from negativity we build our warrior shield for life.
Children need a warrior shield today more than ever. Often called resiliency, it is a necessary entity for dealing with the challenges our children face every day.
"Never assume, always ask" is a favourite motto and is the third agreement.
As Ruiz notes, "the problem with assumptions is that we believe they are the truth." Don't assume you know what a person is feeling, thinking or wants. To be sure, always ask. It demonstrates consideration for the other person. In that same vein, things are frequently never what they seem. As an example, anger that bubbles over an incident is often more about the person and the loss of control and less about the incident.
Children need a warrior shield today more than ever. Often called resiliency, it is a necessary entity for dealing with the challenges our children face every day.
Children and adolescents so often assume they know what someone else is thinking about them, then jump to conclusions and explode. Consider the many times your child has been upset about what they think is being said about them. Learning to control our assumptions is a powerful life lesson.
Finally children and parents need to remember to keep trying, never give up in the quest, and keep these simple rules for life close to their hearts.
You are going to say things you regret. Your children are going to say and do things that probably don't accurately reflect their true feelings. You are going to assume. They are going to assume. You are going to take things personally. They are going to take things personally. Don't let that stop you from trying to be what these agreements will help you to be -- and your children will learn and benefit.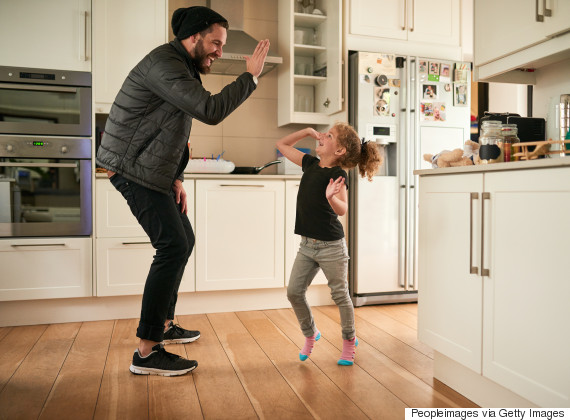 Remember that what becomes socially acceptable or normal alters according to our level of desensitization. These four agreements are very simple, very clear and precise life lessons. They are neither glamorous nor catchy, just lessons for leading a fulfilling life.
Remind your children to be fearless, always do their best and always keep trying. The world needs people like that more than ever.
Follow HuffPost Canada Blogs on Facebook
Also on HuffPost:
Classic and Modern Parenting Books
"How to Talk So Kids Will Listen" has been teaching parents how to avoid arguments with their kids and choose alternatives to punishment since 1980. Authors and parenting gurus Adele Faber and Elaine Mazlish use practical exercises, logical rules and real-life situations to illustrate the importance of love, patience and your child's self-esteem when communicating with them.

"The Soul of Discipline" builds on this loving framework with more real-life examples and practical tools, but it also goes much deeper by explaining when, why and how to tighten the reins and then loosen them throughout your child's development.

In decades past, books dedicated to the father's side of parenting were either non-existent or upsettingly non-progressive. One of the most lauded guides on the topic ever written is "The Expectant Father," to the point where it has been updated through three subsequent editions and enjoys brisk sales to this day.

But time has been kind to fathers looking for advice and guidance, and it's hard to find a more charming or honest example than "C'mon Papa: Dispatches from a Dad in the Dark." This parenting memoir from Canadian Ryan Knighton offers some actual inspiration, poignancy and non-ironic laughs around what its like to raise an infant as a blind man. The valuable and always important takeaway — don't sweat the small stuff.

These two books are two sides of an argument trying to answer one common parenting question, "How do I get my baby to sleep through the night?" On one side is Dr. Richard Ferber who "Ferberized" millions of babies with his method of letting them cry it out for a sustained period of time before receiving any affection from worried parents bursting at the seams.

The flip-side sees Elizabeth Pantley offer another way for those parents who just can't watch their babies cry out. With feedback from hundreds of test families, she offers step-by-step instructions for sleeping that jives with many different family styles. This comes along with charts for tracking progress and an enhanced backgrounder on what your baby is doing while they sleep.

William and Martha Sears use their experiences as parents and parenting juggernauts, known for their book on attachment parenting, to build this best-selling encyclopedic bible on a baby's development from birth to age two. It emphasizes the importance of the father's involvement just as much as the relationship between mother and baby while covering every developmental stage.

Then there's "The Wonder Weeks," a book that covers about the same period of time, but tells you how turn each developmental stage to your baby's advantage and tells you the real reasons behind crying, sleeping and eating problems. It's like "The Baby Book" enhanced for the world we live in today.

If you're a parent of a picky eater, you know how much of a chore it is to get them to eat at all, much less eat right. "How to Get Your Kid to Eat...But Not Too Much" was the original manual for many parents when it came to getting their kids to eat. Author Ellyn Satter cracked the code with what she calls her "Golden Rule" of parenting: "Parents are responsible for what is presented to eat and the manner in which it is presented. Children are responsible for how much or even whether they eat." Through this, she answers questions like how do you deal with a kid who likes to snack, suddenly declares themselves a vegetarian or doesn't eat what you make, but will eat the same dish at a friend's house?

Using the same focus on behaviour and habits, rather than solely nutrition, "It's Not About The Broccoli" builds on what Satter emphasized back in the day, but puts it in simpler terms.
Follow Linda Simpson on Twitter: www.twitter.com/LinSimpson66