What Eating Local Reminded Me About Healthy Eating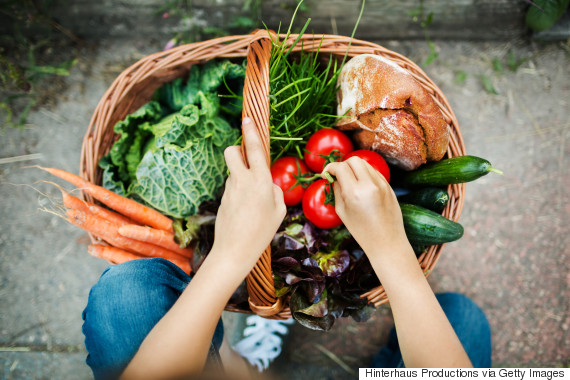 (Photo: HINTERHAUS PRODUCTIONS VIA GETTY IMAGES)
This week's article is a little different than usual, but I am really excited to be sharing my experience at last week's Food Trends and Tasting Panel at the EAT! Vancouver Festival.
As the name might suggest, the event was all about food trends. But it was a bit of a different take -- not just what buzz words are going to make products sell this year, or what the next superfood may be. Although they did talk about what made for successful products and dishes last year, and what they're hoping to see coming up, there was a large focus on what makes and breaks trends and the impact (positive and negative) that they can have on our health.
There is one trend in particular that seems to have foodies everywhere drooling right now...
EATING LOCAL.
Now, I know that the word "trend" in itself tends to have a negative connotation. It is often associated with something that is fleeting, or maybe latched onto for the wrong reasons. So do we really want to see this as a trend? Sarah Stewart of Juniper Kitchen & Bar explains that trends are often a reaction to something that hasn't worked in the past...
Eating local can provide us with fresher, more nutrient-dense foods, which also means more flavour and better health!
We're all too familiar with the disaster that was the whole "fat free, low calorie" trend.
This led us to a fear of fats. Even when those fats were nourishing, delicious, what we now know to be health-promoting fats like avocados, olive oil, nuts and seeds. Our shelves started overflowing with endless options of overly processed, refined foods leading us further and further away from real food and our bodies even more confused and unhealthy than ever.
Sarah went on to explain that the current trend of eating whole, local and quality foods as a reaction to this disaster is one that she prefers to refer to as a movement rather than a trend. Hopefully this is the start of something really good.
So, is this "trend" of eating whole local foods one that will stick? The answer from panelists, producers and the audience alike, was a huge resounding, hopeful yes! Along with supporting our local economy and environment, eating local can provide us with fresher, more nutrient-dense foods, which also means more flavour and better health! Wins all around.
As far as other trends, Denise Breyley is hopeful that by continuing to work on labelling laws, transparency and education for consumers, we won't need to be so dependent on flashy health claims to tell us -- or trick us -- into what's healthy or not. With the combination of honest, transparent information available to us and more whole foods that don't even need a label in the first place, we would be able to make informed decisions about what we want to put into our bodies.
I have to say I am pretty jealous of Denise's job. She is the chief forager at Whole Foods Market. Not the rummage in the forest for mushrooms type of forager, although that would be pretty cool, too -- she gets to seek out (and test the products of) people doing interesting things with food. Denise is dedicated to sharing the stories of where our food comes from, how it gets onto our plates, and supporting the local producers that put so much love, care and attention into sharing their amazing, quality goods.
I left the evening feeling inspired about where our food system is headed and with a few good reminders.
Eat consciously.
Really listen to your body and eat what it truly needs. Make the time to truly enjoy food. Craving a fresh flaky croissant? Sit down at the café and enjoy the experience rather than stuffing half a box down in your car on the way to work.
Eat in moderation.
Enjoy and appreciate good quality food rather than eating something half satisfactory in mass quantities. I guarantee a small piece of good quality brie cheese will take you a lot further than half a pack of processed plasticky cheese.
Eat food, not nutrients or health claims.
Evaluate a product in its entirety, not just by the flashy words being used to market it or one ingredient that "is guaranteed to help you lose weight."
This experience certainly made me slow down a bit and put more thought into where it is I'm getting my food, who I'm supporting and what I'm putting into my body. Another good lesson in mindful eating and such a good reminder that food is so much more than just fuel. It is a way to get involved in and share our culture and traditions, and enjoy the love and nourishment that good wholesome foods provide.
Download your FREE copy of my Top 10 Smoothie Book!
For more recipes and kitchen inspiration, check out www.lindsayjang.com or find Lindsay on Instagram here or Facebook.
Follow HuffPost Canada Blogs on Facebook
Also on HuffPost:
HuffPost Readers' Local Food Dishes
sixburnersue:Crusty local bread from Orange Peel Bakery here on Martha's Vineyard topped with fresh eggs and bacon from Morning Glory Farm, cheddar cheese from Smith Farm, and fresh herbs from the garden. Topped with a drizzle of local Katama honey.

The Purloined Letter:Chicken thighs bought at an Amish farm cooked in local apple cider and cream from the same farm. Served with mustard greens from our backyard garden and pecan bread made with local wheat and baked at a local bakery (and carried home in our own bag).

Christiana Aretta:A simple dessert with few ingredients. Made with Toigo Orchard peaches, eggs & butter from South Mountain Creamery, & flour from the Dupont Circle farmer's market.

Christiana Aretta:Made with Toigo Orchard peaches, blueberries from a neighbor's yard, eggs & butter from South Mountain Creamery, and flour from the Dupont Circle farmer's market.

Christiana Aretta:Dried tomatoes are much easier to make than you think - choose your favorite varieties, dry them in the oven, store them in the fridge or in oil and enjoy them all winter. Made with tomatoes from the backyard.

Christiana Aretta:Made with plums from Toigo Orchards, butter & eggs from South Mountain Creamery, flour from the Dupont Circle farmer's market.

Christiana Aretta:Seen those giant greens leaves in the supermarket? Overwhelmed with kale in your backyard garden? Looking for a healthy way to justify your bacon craving? Saute some kale with bacon and garlic.

Ulla Kjarval:This might seem like an oxymoron. Restaurant-style short ribs? Aren't they a long affair? Braised all day by an attentive home cook? Yes, but there are a lot of hotshot chefs whose signature dish are insanely delicious short ribs. The secret is broiling them. My parent's are grass-fed beef farmers in upstate New York so my beef comes from our farm. We turn sun into meat. Our pastures feed our cattle and they us. This recipe is wonderful because it really celebrates grass-fed beef and the complex flavor in the fat. So good! Ingredients: 6 pounds of short ribs Kosher salt and pepper to season ribs 1 tablespoon of canola oil 4 cloves of garlic, minced 1 large onion, diced 4 carrots peeled and roughly chopped 4 stalks of celery, roughly chopped 3 cups of red wine(I used Cabernet sauvignon) 3 cups of water or broth (if adding water add extra salt to the ribs when seasoning) 2 bay leaves A handful of thyme. Preparation: In a large Dutch oven brown short ribs at a medium heat for about half an hour, remove ribs and set aside. Brown vegetables for another 30 minutes add wine bring to a boil. Put ribs into Dutch oven let marinate over night in fridge (I marinated them for only 6 hours). Preheat oven to 325 When ready to cook add three cups of water or broth to Dutch oven (or a bit more to cover all ribs) bring to a boil on the stove top. Place in oven at 325 degrees and cook for 2 to 3 hours. You can serve them without broiling them if you like them soft, I love to broil them because it makes the fat crispy and delicious. Broil for about 5 minutes on each side. Serve with pan juices; you might want to skim off fat.

eatlocal:This dish was made with locally raised, organic, grass-fed lamb; local organic salad mix; local zucchini & spinach for the Zucchini, Spinach & Feta Cakes with Spiced Tomato Chutney. The recipe can be found on my site: http://www.localsustainability.net/2009/10/lamb-chops-with-chai-spiced-strawberry-rhubarb-compote-recipe/

The Militant Marker:This is a Fried Green Tomato Salad topped with shrimp from Milk and Honey in Midtown Atlanta. This light meal is ridiculously delicious.

Katie Sullivan:These key lime cupcakes make use of the fruits from our backyard trees along with garden-grown basil. We're going to give these away at Fairchild Tropical Botanic Garden's Edible Garden Festival this weekend to celebrate the January 2010 launch of edible South Florida, a magazine celebrating the vibrant, local food culture of South Florida, and part of Edible Communities.

kimosmom:Fresh rosemary coupled with healthy additions like flaxseed meal and fresh pumpkin seeds.

ledameredith:carrots from my CSA share,homemade vinegar (tested to make sure it was strong enough for safe food preservation), herbs from the garden

wyldegirl:local and organic without cooking. . .

Sillynika:Everything local: free range, antibiotic free, chicken roasted with apples, butternut squash, and organic sweet potatoes and glazed with a honey curry sauce.
Follow Lindsay Pleskot on Twitter: www.twitter.com/LindsayPleskot