10 Foods For Healthy Glowing Skin
I originally wrote this article for Missbish.com, an awesome lifestyle blog based out of Hong Kong, featuring strong, female-driven content and inspirational women. They cover everything from fashion, fitness and food. I figured I should probably share it with all of you here in case you missed it!
Eating a diet packed with nourishing foods has endless benefits, increased mood and energy, decreased risk of chronic disease, and weight management to name a few. Lucky for us, the benefits don't stop there. The foods we eat can have a huge impact on helping us feel great from the inside out.
Make these 10 foods go-tos on your grocery list for a daily dose of skin protecting goodness. After all, our skin is our largest organ so show it the love it deserves!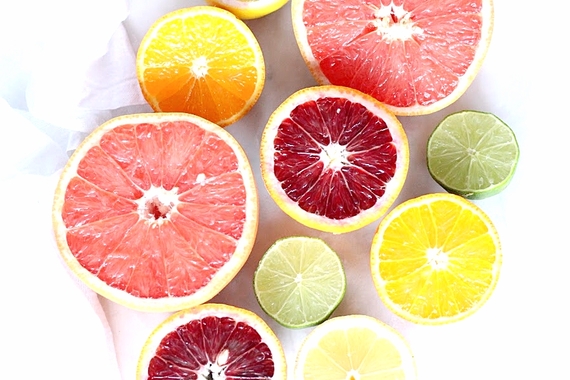 Green Tea
Green tea is a great source of flavonoids, a type of phytochemical that gives plants their bright color. These flavonoids, called catechins, appear to help block UV penetration, promoting DNA repair and helping to reduce inflammation. For an even more potent source of these beneficial compounds, try Matcha. Matcha is a form of green tea where the leaves are actually consumed vs. being steeped and then discarded before drinking.
Citrus
Citrus fruits like oranges, lemons and grapefruit are high in the well known antioxidant, vitamin C. Vitamin C plays a role in collagen production and protects the skin from the aging process.
Salmon
Salmon is best known for its high Omega-3 content. These fatty acids, appear to help protect against UV radiation and sunburn and may also help reduce wrinkling in sun exposed skin. Don't forget to lather up though, food does not replace the need for the gold standard, sunscreen! This Baked Salmon with Sundried Tomato Aioli is a favourite for my clients.
Brazil Nuts
These nuts are packed with selenium, a potent antioxidant that helps protect the skin from free radical damage caused by sun exposure. Selenium also helps maintain skin elasticity to prevent premature aging. When it comes to Brazil nuts, more isn't always better. Although they are nutrition power houses when taken in small doses, keep it to 1-2 nuts per day to ensure you're under the tolerable upper limit of 400 micrograms per day. Over indulging can lead to selenium build up in the tissues, which can become toxic.
Chickpeas, Beans and Lentils
Legumes are a good source of zinc. Zinc plays a role in preventing and repairing cell damage as well as building new cells. Zinc is often found in sunscreen and topical acne treatments. Try out this Lemon Pesto Rainbow Chickpea Pasta for a pasta dish with the benefits of a salad!
Avocados
Avos are a great source of healthy fats and vitamin E. Vitamin E is a fat soluble vitamin, so consuming it in the form of avocados will actually help you absorb more and reap the benefits. Consuming this delicious fruit provides anti-inflammatory and antioxidant effects to keep skin healthy and glowing.
Walnuts
Walnuts are a good plant source of skin protecting Omega-3s. Sprinkling these on your morning oatmeal or eating them on their own as a mid morning snack will help keep your daily dose of anti-inflammatory fats up.
Broccoli
This comes as a surprise to many, but broccoli is actually one of the best sources of vitamin C. It is also in the cruciferous vegetable family, well known for their anti-oxidant, cell protecting properties. Try this broccomole, a twist on your classic guac, for a powerhouse skin protecting combo.
Tomatoes
Tomatoes are rich in lycopene, another powerful anti-oxidant to help keep skin glowing. Bonus: it's also high in vitamin C to further support its title as a skin protecting food.
Water
OK, this isn't exactly a food but staying hydrated is key for healthy, smooth, supple skin. Add a squeeze of lemon or orange for extra flavour and a vitamin C boost.
For more recipes and kitchen inspiration, check out www.lindsayjang.com or find Lindsay on Instagram here or Facebook.
Follow HuffPost Canada Blogs on Facebook
ALSO ON HUFFPOST:
Solutions To Common Skin Problems
There's nothing like painful, bright-red razor burn to spoil your summer look. To avoid razor burn, shower or bathe with warm water to soften the skin before shaving. Try shaving at night to allow your skin time to heal afterward. Always use an emollient shaving gel and apply an unscented moisturizer for sensitive skin after shaving. Shave with the grain of the hair (not against) and never use a dull razor. Be sure to exfoliate regularly to prevent ingrown hairs. If you do get razor burn, apply aloe vera gel, witch hazel or apple cider vinegar, which help to sooth the skin and prevent infection. Unscented solid deodorant can also treat razor burn (even on your legs or bikini line)! You can also press a cool damp cloth or ice pack on affected areas to calm inflammation.

The best way to avoid a sunburn, is (of course), by applying sunscreen everyday with at least an SPF 30, and avoid long periods of sun exposure. If you do end up with a burn, take an anti-inflammatory (aspirin or ibuprofen) immediately to reduce pain and redness, and apply a generous amount of pure aloe vera gel to help sooth the skin. A cold milk compress or plain yogurt can also sooth, treat and protect burnt skin. And a vitamin C serum can help reverse UV damage. For tips on how to cover up a sunburn with makeup, see here.

The best way to prevent dark spots is to avoid their most common cause -- direct sun exposure (no suntanning or tanning beds). Wear a sunscreen with at least an SPF 30 at all times (even in the winter!). If you do develop dark spots, exfoliate the skin to speed up cell turnover. Over-the-counter acne products containing alpha-hydroxy acids, beta-hydroxy acid or retinoids also exfoliate skin, removing dead skin cells to rejuvenate the skin. Apply lemon juice or other citrus fruit juice, which are high in vitamin C, directly to spots to lighten the skin. Moisturizing with 100 per cent aloe vera gel also diminish dark spots.

If you are prone to oily skin, it's important to remember to apply toner after your morning cleanse. Choose a natural toner, such as witch hazel, which tightens pores and reduces oil. Willow bark is another great toner -- it's a natural source of salicylic acid, which helps fight oil and shine. After toning, moisturize with a lightweight, oil-free moisturizer, and keep blotting papers on hand to soak up any oil throughout the day.

Heat rash (or prickly heat) occurs when sweat glands become clogged due to excess sweating. The result is a raised red rash than can feel itchy or prickly. The best way to prevent heat rash is to avoid going out or exercising in hot humid weather. If that's not possible, wear loose clothing and avoid heavy creams that can further clog your sweat glands, and be sure to shower or bathe regularly to prevent a buildup. If you do get heat rash, find somewhere to cool off with air conditioning or a fan, or take a cold bath or shower. Calamine lotion can help sooth the prickly sensation.

Thigh chafing occurs when the skin on your inner thighs rubs together as you walk, leading to irritation or even a rash. And that sticky summer weather can make the problem worse. To prevent chafing, keep your skin dry and prevent friction by using baby powder. Many athletes also apply anti-chafing balms, such as BodyGlide, to their inner thighs. Find more tips for preventing thigh chafing here.

Excessive sweating can lead to worsened back and chest acne in the summer. Remember to shower immediately after a workout (or sweating in general). Try using a cleanser that contains salicylic acid, which will help control oil production and breakdown dead skin cells. Exfoliate regularly using a scrub or mechanical brush to avoid a pore-clogging buildup of dead skin cells and oil. Keep your hair off your back and shoulders as much as possible, as it can add to the oil on your back. You can find more natural ance-fighting solutions here.
Follow Lindsay Pleskot on Twitter: www.twitter.com/LindsayPleskot