Perfect For Holiday Brunch: Shakshuka (A.K.A. Eggs In Purgatory)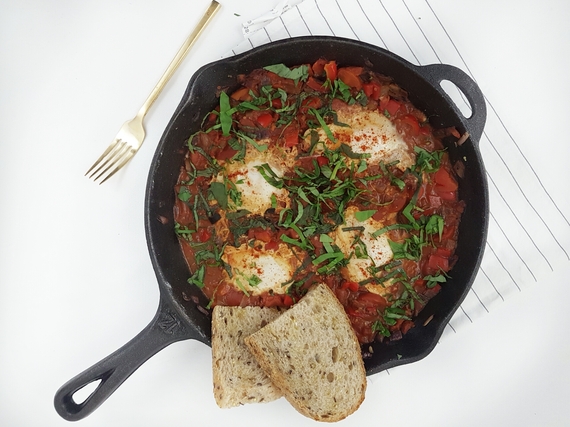 The countdown is on! Hopefully you're already enjoying days in pajamas and curling up by the fire, or maybe you're wrapping up before your holidays start. I love this time of year because it always means lots of time with family and a guaranteed good chunk of time with my sister Kristi, her hubby Sean and my ridiculously fun and cute niece, Mila. Usually they come to Canada for a white Christmas, but this year our whole family packed up to visit them there and help them celebrate their first Christmas in their new house!
One of my favourite holiday traditions growing up was lazy Christmas mornings. I can't say it was always like this, I definitely remember earlier years just counting down the seconds until we could go jump on our Mom and Dad and see if Santa had eaten out cookies and milk! I'm guessing that this year, with a two-and-a-half-year-old in the house, will be more along those lines which is why this recipes is perfect for Christmas morning brunch.
It seems fancy and decadent, but it is so easy to throw together! Once you get your veggies diced up, which you could even do the night before, it's pretty much throwing ingredients into your pan and then leaving the flavours to simmer away while you enjoy Christmas morning with your loved ones. Whether this is lazy mornings spent in PJs, drinking coffee and Baileys and listening to Christmas tunes, or chasing little ones around and seeing their excitement as they ponder the magic of Old St. Nick, having delicious food to add to the cheer doesn't have to mean slaving away in the kitchen all day!
With a big turkey dinner on the horizon, this will satisfy the need for a celebratory brekky without the heaviness so you are ready to go when that bird comes out of the oven!
I love serving this dish with a nice piece of warm, toasted sourdough bread. Perfect for soaking up all the extra sauce :)
Sending lots of love to you and yours and don't forget to take some time to relax and take it all in amidst the craziness.
Shakshuka (a.k.a. Eggs in Purgatory)
Serves 2-4
Ingredients

- 1 Tbsp olive oil
- 2-3 cloves of garlic, minced
- ½ tsp dried chilli flakes
- 1 red pepper, diced
- 1 x 796 ml can diced tomatoes
- ½ cup tomato sauce
- 4 eggs (Add more if desired)
- Coarse salt and freshly-cracked black pepper
- ¼ cup grated parmesan
- ½ cup fresh basil, thinly sliced
- 4 slices multigrain sourdough bread, toasted
- Optional Spices: I like this dish simple and spiced as is but a bit of smoked paprika or cumin are also delish if you want to spice it up a bit!
Directions
1. Heat the olive oil in cast iron skillet or large frying pan, allowing it to get hot, approx. 1 minute. Add garlic and chilli flakes stirring, for 1-2 minutes, until it becomes fragrant. Add the red pepper and sauté an additional 2-3 minutes.
2. Add the diced tomatoes and tomato sauce, stirring to combine and let it come to a boil. At this stage you can leave it simmering while you relax or if you are ready to eat, time to add the eggs!
3. Create little divots in the sauce to crack the eggs into. Add the eggs, sprinkle with parmesan cheese and partially cover the pan, allowing the eggs to steam and cook. Cook for approx. 5 minutes for runny yolks, or until desired yolk consistency is reached.
4. Remove from the heat and serve. Sprinkle with basil, a drizzle of olive oil and more parmesan cheese, salt or chili flakes if desired. Dunk your toasted sourdough in and you are set.
Enjoy!
P.S.- Have you heard?! I've just opened the doors to a new FREE Eat Well Live Well Facebook Community with daily tips, recipes, support and motivation. I'll be checking in regularly to answer your questions and create awesome content just for you! All you have to do is click on this link and hit the "Join" button. Can't wait to you inside!
For more recipes and kitchen inspiration, check out www.lindsaypleskot.com or find Lindsay on Instagram here or Facebook.
Follow HuffPost Canada Blogs on Facebook
Also on HuffPost:
Latkes are traditional for Hanukkah because the oil they're fried in represents the miracle of the oil that lasted in the temple for eight days instead of just one. Fortunately, they also taste great. Get the recipe at Blissfully Delicious.

The best thing about this brisket recipe is that it's made in the slow cooker, which means you can put it in early in the day and not worry about it until it's nearly time to eat. Get the recipe at Carpé Season.

This popular Hanukkah cookie is perfect for this time of year when made with seasonal cranberries and belly-warming nutmeg and cinnamon. Get the recipe at My Recipes.

Made with egg noodles and cream and cottage cheeses, this noodle casserole has a sweet taste thanks to brown sugar and vanilla, and fills the belly thanks to the protein-rich cheese and eggs. Get the recipe at Tori Avey.

These triangle-shaped treats are traditionally served during Purim, but there's no reason why they can't make an appearance during Hanukkah as well. You can have a bit of fun with the fillings: try jams, preserves, chocolate, Nutella, nuts... Get the recipe at Cupcake Project.

Salmon is often served with Hanukkah meals, and this recipe tastes great with the flavours of lemon and garlic and spinach greens on the side. Get the recipe at My Recipes.

These jelly-filled doughnuts are definitely something to look forward to at the end of a Hanukkah meal. Get the recipe at Bon Appetit.

Have leftover brisket? Put it to good use with these puffs, which make a great appetizer or party snack. (Get butter-free puff pastry if keeping kosher.) Get the recipe at Sunset.

This braided bread is traditionally made for the Jewish sabbath, but it also fits in perfectly at celebrations like Hanukkah. Bonus: the leftovers make great French toast. Get the recipe at The Kitchn.

Otherwise known as Jewish penicillin, matzo ball soup is a Jewish classic. It's never not delicious, but it's a particularly great starter on Hanukkah. Get the recipe at The View From Great Island.

This recipe for latkes is a twist on the traditional, using sweet potato and butternut squash instead of regular potatoes, but its seasonal ingredients will still fit into your Hanukkah meal perfectly. Get the recipe at My Life, Blogged.

Knishes are Eastern European snacks made with dough and a variety of fillings—in this case, delicious smoked salmon and potatoes. Get the recipe at My Recipes.

Christmas crackers are a tradition for many families, but crackers are a fun addition to the Hanukkah table as well. You can fill these DIY crackers with treats of your choosing. Learn how to create this at Minie Co.

This craft's dramatic effect belies its simple instructions: cut strips of tulle, tie around white lights. They add a great wintery touch to your decor that will fit in perfectly with the Festival of Lights. Learn how to create this at Hayseed Homemakin'.

Plastic gelt is inexpensive and a great way to add some shine to your Hanukkah decor. If you also celebrate Christmas, you can repurpose it as a tree garland in December. Learn how to create this at Design Megillah.

Leave it to Martha to come up with this rustic DIY menorah. It's perfect for your Hanukkah celebrations, but can also be a great centrepiece all through the winter months. Learn how to create this at Martha Stewart.

Why not use mirrors to make your Festival of Lights even more impressive? This dramatic decor could actually work all year round. Learn how to create this at Apartment Therapy.

You can customize these light orbs with strands in your favourite colours — we'd suggest white and blue for Hanukkah. If you want to repurpose them for Christmas, consider adding a red bow on top. Learn how to create this at Prudent Baby.

These simple and minimalist luminaries could be used to make an inexpensive DIY menorah, but they'd be beautiful on the table for any evening meal on a chilly night. Learn how to create them at DesignSponge.

This silver and gold wreath is a beautiful way to decorate for winter generally, but also fits right in with the traditional Hanukkah colour scheme (and makes great use of extra dreidels). Learn how to create this at Today's Parent.

It's surprisingly simple to make your own beeswax candles to use in your menorah. After you make the 44 you'll need for Hanukkah, put together a few more to add some warmth to your home when the weather gets cold. Learn how to create this at Martha Stewart.

These luminaries are perfect for Hanukkah, but there's no reason why they couldn't be part of a centrepiece on your table all through the winter — and then make their way to your patio for summer nights. Learn how to create this at Chai and Home.

Take a can of gold spray paint to some branches, and use them as a decorative touch that fits in perfectly with Hanukkah but is subtle enough to keep out all through the winter. Learn how to create these at Casasugar.

How stylish are these candles? They'd be perfect in a modern menorah, and in a million other places as well. Learn how to create this at P.S. I Made This.

These lighted snowflakes would look great hung in your window during Hanukkah, and then could stay up all winter long. Learn how to create these from Seaside Inspired.

You can put these candles out as soon as it snows (whether you're excited about it or not), but we think they'd be perfect along a Hanukkah-themed mantle. Learn how to create them at Apartment Therapy.

These lanterns are a great way to light up your pathway during the winter — but wouldn't they also make a very cool outdoor menorah during Hanukkah? Look how to create these at Willowday.

Here's an idea if you're having trouble finding Hanukkah-specific decorations in store. These gathered bulbs in blue and silver are a great way to repurpose a decoration that's traditionally for Christmas. If you celebrate that holiday as well, just leave them up! Learn how to create these at Modern Parents Messy Kids.

These decorations are fun to make with kids, and hang from your window to celebrate Hanukkah. If you put up a Christmas tree, they can then be used to decorate that as well. Learn how to create these at Spoonful.

These gorgeous metallic acorns make a simple but striking display in a clear glass bowl, and can be used in different ways throughout the holiday season and the winter months. Learn how to create these at 17 Apart.

This is designed to be an advent calendar for Christmas, but the colours fit in perfectly with Hanukkah decor. Hang it early and then find a way to enjoy it some more in December! Learn to create this at Sanaeishida.

This gorgeous wreath can be put on your door now, enjoyed all through Hanukkah, and then left up to greet visitors until spring. Learn how to create this at Felt So Cute.
Follow Lindsay Pleskot on Twitter: www.twitter.com/LindsayPleskot