5 Ways To Stay Sane While Planning Your Wedding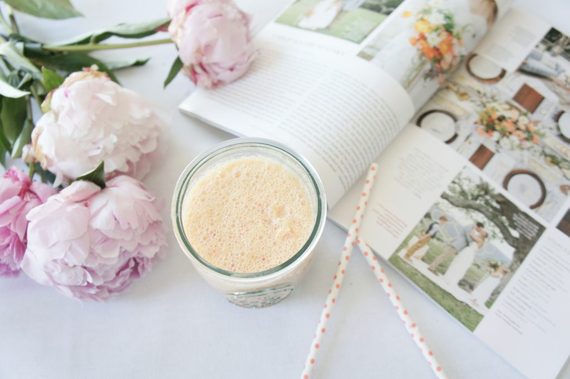 When I thought about wedding planning, I imagined myself curled up on the couch with girlfriends, sipping a glass of wine and flipping through bridal magazines. While there were definitely days like this, there is so much more to wedding planning than I could have imagined! Now don't get me wrong, it is a very special...but very BUSY time!
There have been a few key things that have kept me sane and able to enjoy this whole process without becoming a bridezilla (hopefully my bridesmaids agree...). When I look back on it, these are the same things that have been my go-tos in any particularly busy time of my life. So whether you're planning a wedding, chasing kids around, ramping up your career, or just all around busy doing a little bit of everything, I've got you covered!
1. Meal Prep
It is against every bone in my body to crash diet for my wedding day. I just won't do it. To make sure that I'm getting nourishing, balanced meals to fuel all of the running around and keep me healthy, weekly meal prep has been my saving grace. I've been using the grocery lists and meal plans from my program, The 3-2-1 Method. Having all of my prep done in ONE hour on the weekend means more time in the evenings for the fun stuff like picking out flowers and decor, and deciding on the perfect menu for all of our guests!
I know that meal prep can seem daunting but TRUST me, you will save hours in the kitchen and you'll also save money on your groceries by being organized and not wasting half of the ingredients in your fridge. For anyone who's ever planned a wedding, you know that every penny helps as you try to stick to your budget!
2. Meditation
When I started out as a newbie to meditation, I had a really hard time shutting my brain off. I didn't know if I'd ever be able to get into it. My mom had been doing some guided meditations and recommended them to me. They were really helpful in giving me something to focus on as I got used to letting my other thoughts and worries drift away. This is now part of my daily routine and as soon as I let it slip, I notice my sleep starts to suffer and I seem to let smaller things stress me out. Stress can impact our health in so many ways- digestion, emotional eating, proper hormone regulation, so whether it's meditation or another form of stress relief that works for you, make it part of your daily practice!
With a million and one things to do, eating on the go can feel like it's the only way to fit it all in! Meal times are definitely one of the highlights of my day, so I try to turn off the TV, put my phone away and sit down at the table! If I'm feeling like I need a little extra TLC, I'll put on some music, light myself a candle (these Vancouver Candle Co. are my favorite) and make it an enjoyable and relaxing experience. Not only does this help with digestion, it also allows you to feel more satisfied at the end of the meal and helps to prevent you from overeating.
Whatever challenge or big task life throws your way, know that it's OK to ask for help.
4. Regular Exercise
I am not some crazy fitness junkie, but I do know that I feel so much more energized and sane when I find time to fit in even a 20 to 30 minute workout. Online workouts have become my go-tos as I've been travelling a lot this year. I stumbled across Barre3 at the beginning of the year and it has been a game changer for me! There are so many different workouts, which keeps it interesting, and they are designed for a busy, on-the-go lifestyle so that you can take the workouts anywhere! I also love that they have 10, 30, 40 and 60 minute workouts, so I can squeeze at least something in, even when I`m super pressed for time. This has been HUGE in keeping my workouts consistent!
5. Asking for help
I've never been great at this. I'm always worried that I'm going to be putting someone out or that I'll seem weak. Silly, I know. Throughout this process I've learned that asking for, and accepting help makes everything so much easier! This applies to any aspect of life. A lot of my clients who struggle with changing their eating habits express the same thing. They're embarrassed to ask for help and let people support them, but that's what friends and family are for! I've realized that people like to be a part of your journey and want to help...so let them!
I could not have imagined going through this process without my mom -- the most organized and get 'er done person I know -- and being able to share this experience with her is something I will never forget. If you are working at making changes to your eating habits, get your partner on board, share the cooking and prep, and let them know how they can support you when you're struggling. Whatever challenge or big task life throws your way, know that it's OK to ask for help.
Life is full and that can sometimes mean chaotic. Setting yourself up to minimize stress and save time where you can will allow you to be present and enjoy all of the amazing moments along the way.
Need help with weekly meal prep and planing? Check out my 3-2-1 Method Program for all the tools you need for successful meal prep.
For more recipes and kitchen inspiration, check out www.lindsayjang.com or find Lindsay on Instagram here or Facebook.
Follow HuffPost Canada Blogs on Facebook
ALSO ON HUFFPOST:
50 Ways to Personalize Your Wedding Ceremony
These adorable hearts will instantly brighten up your aisle. Getting married inside? Consider hanging them off the end of each row instead. Related: 40 Ways to Decorate Your Ceremony Aisle

Who says your guests have to sit in straight lines? This spiral set-up lets everyone get a close-up with the bride as she makes her way to the center.

Nothing says "welcome to the party" better than booze and burgers. Related: 50 Fun Menu Innovations for Your Reception

Bright colors make everything cheerier, so don't be afraid to go all out with bold décor.

Get your guests in the right mood and set a dreamy, romantic vibe before the festivities even begin by sprinkling white flower petals on the aisle.

Having a friend or close relative act as your officiant adds a sweet personal touch to the proceedings.

Animals make everything more fun — especially when you walk in with a donkey! If you're planning a rustic wedding, consider bringing along a gentle farm critter to delight your guests.

Say what you're thinking – this funny "Best Day Ever" sign gets straight to the point and makes for a perfect photo op. Related: 50 Clever Signs Your Wedding Guests Will Love

Some of your more distant relatives are probably a little hazy on the details of your love story, so fill them in with a cute infographic in your program.

Choose an alternative bouquet, such as this beautiful mix of paper flowers. You won't have to worry about it wilting, and it will be a timeless souvenir of your wedding day. Related: Say No to Flowers: 25 Alternatives to the Bridal Bouquet

Get creative with your wedding program. We love this couple's personalized newspaper featuring stories and photos about their love.

Understated is overrated. These vibrant flowers and drapes make for a breathtaking backdrop. Related: 20 Eye-Catching Ideas for Your Ceremony Backdrop

Promote your ring bearer to a security guard. Just be warned — he might steal the show! Related: 100 Times Kids Stole the Show at a Wedding

Don't have any little ones to be the flower girls? No problem! Just enlist your grandmothers to take on the job instead.

Display old photos of your families in vintage frames for a personal touch.

Set a romantic mood by incorporating your favorite love song lyrics into the décor. Related: 50 Quotes About Love and Marriage

A scenic setting — like this one in the mountains — will make your guests gasp in amazement. Related: 50 Unexpected Places to Tie the Knot

If sneakers are part of your daily uniform, there's no reason why you can't wear them on your wedding day, too. Colorful Chucks add personality and style to the event, and you can customize them with your new name or wedding date. Related: 30 Wedding-Worthy Flats

Keep your guests entertained before the festivities with lawn games. This personalized cornhole board can be a treasured keepsake later on, too. Related: 20+ Games to Play at Your Wedding

Ask your guests to leave a message for your time capsule, to be opened at least a year after your marriage. Now you have one more reason to look forward to your anniversary! Related: 50 Unique Wedding Guest Book Ideas

Let attendees kick back in comfort during the ceremony. Rent or borrow mismatched furniture for a homey vibe, inside or outside.

Tell the story of your love (so far) on your aisle runner with photos, dates, and fun facts about your relationship. This DIY activity is a great way to reminisce together before the big day (date night idea!).

Keep them busy while they wait with a crossword — wedding-themed, of course!

Letting your bridesmaids choose their own dresses gives each lady a chance to show off her unique personality. You can give them guidelines as to what color, length, fabric, or style you prefer — or you can go with a bold variety like this bride. Related: Mix & Match Done Right: 25 Ideas for Your Bridesmaids

Guests will love munching on a tasty snack before the ceremony starts. Bonus: the vintage popcorn machine adds a quaint feel. Related: 50 Ideas for a Vintage-Inspired Wedding

Pinwheels add the perfect amount of breeziness to your big day. Use them as décor, or simply leave them to entertain kids while they wait for the ceremony to begin.

If you're a bookworm, incorporate your passion into the décor. Choose your favorite love stories (Pride and Prejudice, anyone?) or books that are meaningful to you as a couple. Related: 10 Sweet Ideas for a Literary-Themed Wedding

Skip the bouquets and give your bridesmaids giant balloons for a more whimsical look.

Live music during the ceremony will help create festive vibes. Ask the band to play acoustic versions of your favorite pop songs for a nontraditional twist.

Immediately following the ceremony, let attendees take a swing at a pinata full of treats. Bonus points if it's wedding-themed, like this one!

Leave out a bowl of Legos or blocks so kids (and adults) can construct something cool during any downtime. Related: Lego-Themed Wedding Ideas

Set up giant versions of your favorite games, such as Connect Four or Jenga, for guests to enjoy before or after the ceremony.

Want to really relish your moment in the spotlight? Make the grandest possible entrance with candles, subdued lighting, and a sensational train.

Give the DJ a break and sing your favorite love song as you walk down the aisle. There won't be a dry eye in the place.

A sand ceremony is symbolic of blending your two families together. Each of you chooses a different sand — some people choose different colors, while others pick from a meaningful location. If you have children, this is the perfect time to include them as well. Related: 10 Meaningful Touches for Your Ceremony

Your wedding vows are serious business, but that doesn't mean you can't have fun with them. Write in a few jokes to lighten the mood. Related: 30+ Examples of Wedding Vows

Honor your heritage by working in cultural traditions, such as this tea-pouring ceremony. Related: Fun Cultural Traditions to Include in Your Wedding

You don't need to have artistic talent to make a beautiful unity painting. You and your partner each pick a color and carefully pour a small amount on a blank canvas, watching as they blend together.

Hand-fasting is an ancient Celtic ritual that's easily adapted for a modern wedding. Your officiant can help fasten your hands together with ribbon or a cord while you exchange your vows. Related: Irish Wedding Traditions

Select a lighthearted reading to make your guests laugh and cry at the same time. If you're stuck, try children's books or poem (like "Oh the Places You'll Go") for simple but heartfelt descriptions of love.

Get those freshly manicured hands dirty by potting a plant together. Then, watch it grow alongside your relationship.

A ring warming lets your guests be more involved in the ceremony and is a great way to incorporate different religions. Pass your wedding bands around so each person can privately make a wish or say a blessing over them.

If typical unity ceremonies aren't really your thing, create one that fits your personalities. This couple blended beer to create a extra special black and tan.

Celebrate your first kiss as a married couple with a surprise petal shower.

Hand out confetti for guests to toss during your exit. It's way more fun than rice and will look prettier in photos, too.

Let guests celebrate your union by tossing bright pom poms as soon as it's official (kids will particularly love this one!).

Opt for a peppy, nontraditional song for your recessional. It'll signal to your guests that it's time to get the party started.

If you're having a beach wedding, there's no excuse for not having beach balls. They're great for an exit toss. Related: 70+ Ideas for Beach Weddings

Or, opt for bubbles for your exit toss. They're fun and they're mess-free!
Follow Lindsay Pleskot on Twitter: www.twitter.com/LindsayPleskot