5 Things To Keep In Mind To Be Truly Happy In Your Work
How fortunate I am to run my own business (it's been over 20 years now), and spend much of my time working with clients who are doing truly good things, and living and working with passion. I love it. But, it's also challenging. It's very challenging. There are ups and downs, and most days are unpredictable as an entrepreneur.
I don't cry like I did in the early years from overwhelm or financial stresses, and I have much more perspective when there is an issue, with regard to dealing with people or situations, but I would say there is as much hard work as there is glory in any given day. This is not a complaint, it is just reality, and if you run your own business -- already a success or just on your way -- you likely relate.
After hearing so many "experts" go on about finding your passion, making huge incomes doing what you love best, the liberation that comes with being your own boss, and making money while basically on holiday anywhere in the world, I just wanted to share a few of my thoughts from my experience running my own business and from working with clients over the years.
We are living in an age of finding pleasure and enjoyment in our work, and while it's a wonderful concept, the pressure (or the misconception) that you need to be happy every moment of every day is leaving many feeling unfulfilled -- like we've missed our mark, or like we're not cut out for the work we want to do, or even that the struggle, which is essential to success, isn't worth it since it's not fun.
Scrolling through social media feeds of glowing, shiny, enthusiastic people showing off their successful lives are manufactured highlights.
I see this in almost every consult, and I find myself having to remind everyone (including myself) to focus on themselves, not the shiny-happy-million-dollar smiles and promises online from those we might admire in work or life.
Scrolling through social media feeds of glowing, shiny, enthusiastic people showing off their successful lives are manufactured highlights. Personally, I have never proudly posted my ranting or disappointments online, but maybe I ought to start doing that -- it might be much more helpful than lists of tips and encouraging words (like I've so typically included below).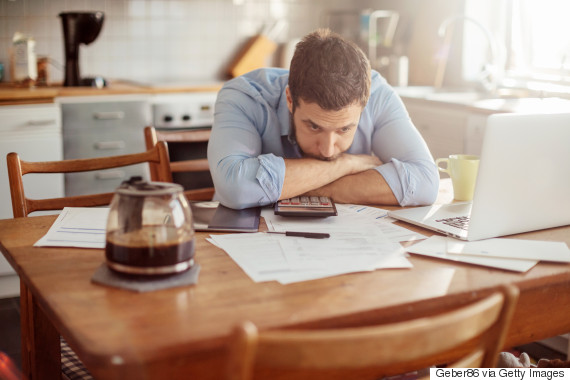 To be truly happy in your work (yes, even the work you have a passion for) there are a few things we all need to keep top of mind.
1. Whether you hold a job, or you are an entrepreneur, or just wake up to live a day happily, remember, that does not mean everything will be blissful.  When we break anything down into its micro tasks, there will be a lot we don't want to deal with. Step back and take in the big picture. Are you doing the work that makes you happy?  In the face of unrelenting work and endless to-do lists, pause and strategically and mindfully consider what you need to do, and want to do, and are willing to do in order to enjoy the work and reach and surpass your goals.
2. If we aren't invested, or inspired to invest in our work constantly, we won't get as much out of it as we can. Invest. Always. Constantly. When we deposit the right stuff, and embrace and enjoy the process, we have the benefit of appreciating the returns, and ultimately feeling fulfilled.
3. Everything comes with responsibility and hard work, and the outcome will not always be #epic. That's great. How many times do we need to be reminded that failure leads to learning and success? Without a struggle there's no triumph.
Living our passion will include things we don't like doing, things we're not good at, things that scare us, things that bore us, things that make us roll our eyes, things that are challenging and cause us to struggle and fight, and beyond -- but these are the things that help us grow when we are willing to embrace it all, while focusing on our own big picture.
Doing great things requires jumping over hurdles, rolling up your sleeves and crawling through the mud.
4. We cannot ignore what's good for our growth just because it's dressed up as un-enjoyable task. While there are things I do for my business that I do not want to do (hello invoicing!), there is so much to love about my work as a whole so those tasks just become part of what I need to do in order to succeed at my happy work. What are the obligations that you need to embrace in order to really own your day and work?
Finding our bliss doesn't mean escaping the world of obligation for sunshine and rainbows. Life and work come with obligation. Our callings include obligation. Our dream jobs include obligation. Blissful work arrives when we learn to embrace obligation. Obligation should propel us to do our best work and find success. Remember, we live in the real world, and not on a magical unicorn colony (no matter what people paint their lives and work as on social media or in conversation).
5. Enjoying your work means being grateful too. There's nothing that will drive a day better than giving, being mindful and sharing our gratitude.
If you're looking for easy, you'll never find extraordinary. Doing great things requires jumping over hurdles, rolling up your sleeves and crawling through the mud. Although it's not easy, it's definitely worth it, and you can be blissfully happy with your work -- it's all about perspective.
Follow HuffPost Canada Blogs on Facebook
Also on HuffPost:
10 Secrets Of A Happy Workplace
John Havens, founder of the non-profit organization, The H(app)athon Project suggests using technology to track our health, stress and happiness levels could be the the key. He sites Cardio, which enables you to measure your heart rate using an iPhone camera> He even suggests tapping into Affectiva, an app used by ad agencies to read people's emotions through their facial expressions. In the same vein, Action For Happiness promotes the Check Your Mood site on its website.

If the drudgery of office life is getting you down, you could do worse than get back to nature. According to research carried out by City & Guilds revealed gardeners and florists as the UK's happiest workers. Although the results suggest this has less to do with flowers and foliage and more to do with freedom and free reign. As many as 80% said it was because they were able to manage their own workload and have autonomy over their daily tasks.

Google may have been voted America's 'Best Place To Work' four years running but for a while there was a serious happiness deficit among its female employees. When its People Operations team (that's HR to you and me) investigated further they found that women who had recently given birth were leaving at twice Google's average departure rate. In response Google boosted its industry-standard maternity leave plan from 12 weeks paid time off (just seven outside California) to five months of full pay and full benefits. After the new plan was implemented the attrition rate for new mothers halved, dropping down to the average rate for the rest of the firm.

You know that feeling when you're so engrossed in what you're doing you're completely oblivous to what's going on around you? Well, according to psychologists, this state is the epitome of true work happiness. According the the Hungarian psychology professor, Mihaly Csikszentmihalyi, and doctoral student at Harvard, Matt Killingsworth, the quality of our mental focus in the moment is the key to happiness while mind-wandering is its nemesis. Csikszentmihalyi found that we are happiest when we enter the 'flow state' - an ecstatic experience of total concentration that requires our complete attention due to its difficulty.

A programme called TinyPulse allows bosses to gather employee feedback via weekly anonymous surveys and provides a channel through which workers can raise issues and communicate with their bosses.

New research published by the Employee Ownership Association and sponsored by the John Lewis Partnership shows that staff working in employee owned companies (organisations in which all staff have company shares) are happier, healthier and more secure than workers without a stake in their company. 

Craig A Jackson, Professor of Occupational Health Psychology at Birmingham City University investigates the idea of whether clinical hypnosis could be used in the workplace to improve health and stress of employees. He proffers some fairly weighty arguments in favour of the notion but would you really feel comfortable allowing your boss to do a Deren Brown on you?

The Navy nuclear-powered Navy submarine, the USS Santa Fe had a reputation of having the worst performance, the lowest morale and the lowest retention of all the Navy's nuclear submarines.  There were often delays for launches, and repairs could be repeated multiple times.  When a new captain was brought in, one of the first changes he made was to insist that crew members didn't simply follow orders without thinking for themselves. If they thought something was wrong, they were to speak up and not simply following instructions blindly. As a result of his changes, the crew was able to pass an inspection by senior officers no problem.

Used by some companies to assist with recruitment, the Myers-Briggs Type Indicator assessment is a psychometric questionnaire designed to measure psychological preferences in how people perceive the world and make decisions. "Whatever the circumstances of your life, the understanding of type can make your perceptions clearer, your judgements sounder, and your life closer to your heart's desire," said founder, Isabel Briggs Myers.

Jess Lee, the 30-year-old CEO of style e-commerce site, Polyvore, believes simplicity is at the heart of work happiness. In January she implemented a company-wide "simplification month". "To get the company down to its simplest possible state, I asked everyone to make a list of all the work they do, identify what was most impactful, and then cut, optimize or simplify everything else," she says. "In that one month, the product engineering team deleted some of the product features that were less used, we changed some of the ad programs, we simplified some of the communication processes inside the company, we refactored a lot of code and we streamlined our user support processes. "I think we got the company down to a simpler state and people had a clearer mind because their to-do lists were cleaner and simpler."
Follow Lisa Borden on Twitter: www.twitter.com/lisaborden