Barely Disguised Racism Has No Place In Vancouver Real Estate Discussion
I've been at times frustrated and at times disappointed at the tone of most media coverage about the rising cost of real estate in Vancouver. So much of what is being published is written with barely disguised racism. I wonder how people of Asian descent feel when they read the online discussions about the "Asian Invasion"?
Have we learned nothing from history? Is this 1907 all over again? Should we expect angry mobs soon?
Perhaps a philosophical perspective would be to see the rising price of real estate as a kind of karmic justice, a century after Canada's imposition of the Chinese Head Tax.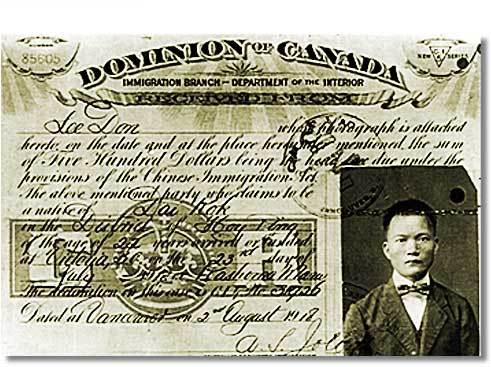 Today, China has over 2,378,000 millionaires and 213 billionaires. The population of B.C. is 4.67 million.
Imagine half of the population of B.C. being millionaires. What do you suppose those millionaires would do with their wealth? Would buying real estate in one of the most beautiful cities in the world not be a logical step to take?
Because of the kind of ideology that dominates our economy these days, people with lots of money are more powerful and have more choices than do people who are poor. There is nothing fair about that, but that's not the fault of the people who have played the economic game according the rules of how to capitalize on investment.
And yes, you can make the case that some rich people have not always played the game legally. In fact, if you look into the history of some of the richest families in Canada, you will see that there are many unsavoury practices that they indulged in on their way to becoming millionaires.
Money has been laundered in Canada since the birth of our country. The only difference between now and then is that back then it was people of European descent doing it.
Rather than speak of Chinese investors, I wish people would talk about millionaires who are from China. It may seem like that's a small difference -- but it's actually a huge one.
"Millionaires who are from China" focuses on wealth whereas "Chinese investors" focuses on ethnicity. And that's a problematic focus given the history of racism in Canada.
Did you know that until quite recently, only white people could live in the tony British Properties in West Vancouver?
The more logical target for outrage is the economic ideology that makes it possible for wealth to determine as much as it does in our society. It's no secret that if a rich person and a poor person were guilty of the same crime, the latter is more likely to go to jail.
We measure the value of a person on whether or not they have the ability to shop for pleasure, not need. We consider people who are poor, lazy, and those who are rich, hard-working. We are enraptured with the lives of Kim Kardashian and Paris Hilton but completely ignore the plight of the working poor who, despite working two or three jobs, still struggle to feed, clothe and shelter their families.
Yes, shelter is expensive in Vancouver. And yes, many of the people who are rich and are able to afford a home in Vancouver are from Asia. But neither of those facts has got anything at all to do with ethnicity, and everything to do with economic ideology.
We can't have our cake and eat it too. Either we ensure that social justice is a priority in our society, or we allow wealth to determine who gets to live a good life or not.
Why isn't the prevalence of homelessness in Vancouver a reason for outrage as much as the rising cost of real estate is? Where is the outrage about B.C. having the highest rate of childhood poverty in Canada ?
We have an economic ideology that provides investors everywhere with the means to determine what is of value in our society. We should not be surprised with the choices they make, whether in the stock market or in real estate.
And that's got nothing to do with whether those investors are Chinese or not. It's just the rules of the game.
Also on HuffPost:

Most Expensive Houses in Canada, July 2015
Architect Howard Airey designed this home, which is located in Vancouver's affluent West Point Grey area. It boasts panoramic mountain views, which are facilitated by massive windows. There are six bedrooms in total, with three suites on the upper floor, including a master suite with a stone fireplace, a view deck, a den and a gym.

A great opportunity for someone who wants to build their own home. This Glanbrook property is 127 acres in size, and is near universities, colleges and the Hamilton International Airport.

Shim-Sutcliffe Architects designed this home, which is known as the Integral House, with unique curves that have necessitated custom made furniture, just so it could be situated there. It has panoramic views of a ravine, but one of its most striking features is a beautiful entertainment space that is perfect for concerts and cocktails.

This property may seem familiar; it's been featured on our lists before. It boasts a stone mansion and three guests houses, with a gorgeous view on to Lake Memphremagog. The interior looks like the kind of place where 19th century aristocrats would gather to hear chamber music.

Once owned by the family of Henry Ford, this estate outside Calgary is 242 acres in size. It has stunning features such as a covered bridge, a barn for horses, riding areas, and a number of big lakes. A master retreat on the property has a six-piece bath with a steam shower and a soaker tub.

Winnipeg's most expensive property for sale once belonged to the late Israel Asper, the founder of media giant CanWest Global Communications Corp. And plenty of work has been done since he lived there. The home has six bedrooms, four bathrooms and two pools, including an outdoor one that has a skylight.

This Lake Utopia home offers panoramic views of the water in 27,000 square feet of living space. But that's just the start of the amenities to be found here. There's also an indoor tennis court with stadium lighting, a court for beach volleyball, baseball field and a waterpark that has a waterslide, two pools and a wading pool. Did we mention there's a go-kart track and driving range too? Why would you ever leave?

You're on the island — YOUR island. Nova Scotia's Kaulbach Island has 57 acres of wooded area, which only adds to the charm of its 11,040-square-foot home. The home itself has a beach house, a farmhouse and a wharf all its own. Best of all is its isolation — the home can only be accessed by boat.

You're not in Cape Cod. You're on P.E.I., in a home designed to look like it belongs in the Kennedy compound. Stone used to build the home was taken directly from Pennsylvania's Valley Forge Mountain. And it sits on 11 acres that overlook the Atlantic Ocean. If you've ever wanted to live like a Kennedy in Canada, this is your opportunity.

Gaze upon the South Saskatchewan River from this beautiful estate, which features 10-foot-high ceilings and a living room with a gas fireplace and engineered hardwood floors. A big eating area within the home also has a double sided fireplace which separates the main floor from a private family room. The master suite has a soaker tub, steam shower and separate laundry. Outside the home, the property features connecting ponds.

A red cedar home sits on this property, which has 1,800 feet of ocean frontage. There's a sheltered cove, your very own boat launch and beach rocks sitting against the water that fill the area with the sound of crashing waves. In addition to the home, there's a boathouse with a massive garage door.
Follow Lizanne Foster on Twitter: www.twitter.com/MovingParadigms