What I Want Parents to Know About Lockdown Drills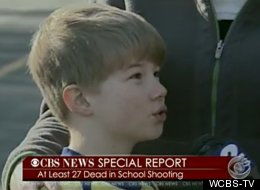 We sit, huddled tightly together in the cramped space of a corner. The blinds are darkly drawn, the door is shut. Locked. Little bodies press in close together to the wall. I place my body as a barrier along the tips of their tiny feet, all the while smiling into anxious children's eyes and modelling breathing. Slow and steady. Making calm settle like magic dust over busy five-year old bodies. One little gal wants to wiggle. I remind her with my eyes that this is a time to be still. Quiet, silent. We settle into a calm rhythm, until this repose becomes second nature for the remainder of our standard training.
After what seems like forever, there is a heavy knock on the door. A loud strike on hollow wood. The one who stridently knocks is posing as another. We wait in silence for the knocker to pass on by. For we know the drill. It is becoming routine in their young minds that this is what you do at school. You sometimes practice hiding. We sit again in silence until the allotted time to move has been given official approval to us from the administration. Our drill will soon be over, but for today. One hopes beyond hope that practice will never become reality.
Parents, we wish you to know that we teachers step into your very big shoes when our day begins. But we do not step back out when the work day is over. For we are called to love, not merely to teach. We wipe tear-stained cheeks, we place band-aids on boo-boos. We give and receive hugs. We hold little ones on our laps for shared stories, while others lean in close on either side to wait for happy endings. Where the good guys have a chance at winning. And where life is viewed as being lived happily ever after most of the time. We read of places where there is peace, hope and possibility. We create castles in the clouds.
We teachers smooth hair into ponytail holders. We bring food, clothing and books for those who need a little helping hand. We praise, we model, we facilitate. We heat up cold pizza in the microwave for that little gal who just cannot eat it cold. We stay after school on Fridays looking for lost mittens. We make calls home to praise, to inform, to comfort, to uplift. We sometimes have to love tough, but that is love tested and perfected. When we discipline, we want the best for your child. We want to see your children soar to heights only imagined.
I believe I represent the majority when I say that we teachers want to do you proud, parents. We want you to know that your children are in good hands, and we will risk our lives to ensure their safety. We will not go down gently. We will die trying.
We believe that children bring their best to school each and every day. For one can only offer what is their best for that moment. Life is lived moment by moment. And that sacred offering is enough to make miracles happen. Five loaves fed five thousand. One child's best is enough to make all the difference for that day, and a teacher's ability to see the best can influence a thousand little decisions along the way.
We receive the word. Our drill is over. A surge of energy passes from child to child as we slip back into normal routine and reverie. The rhythm and flow of school life once again weaves its way in and through the remains of the day. And the circle of school life goes round and round again.
And the circle is unbroken.
The president of the Connecticut Funeral Director's Association said the funeral and burial process for Newtown victims, which began Monday with the separate burials of Noah Pozner and Jack Pinto, who both were six-years-old, is unlike anything he has seen before.
"I've unfortunately seen lots of kids who have died," said Pasquale Forino, 46, who runs Neilan Funeral Home in New London, Conn. "But this truly shakes your foundation to the core, and in a small town like Newtown, they need lots of help to handle this week of burials."
Forino and a group of morticians who have volunteered have driven to Newtown every day since Friday to help tend to families who are grieving and prepare arriving bodies for viewings and burials. The main funeral home in the town, Honan Funeral Home, is handling the process for 11 victims. Of those, Forino said he has worked on three -- all kids.
"It's not about me, it's about the families and victims. But it still affects us," he said. "We do what we can do to take care of the families. We'll deal with our own emotional needs later."
--HuffPost's Jaweed Kaleem
Follow Lori Gard on Twitter: www.twitter.com/lori_gard