Take Courage, Friends Of Fort McMurray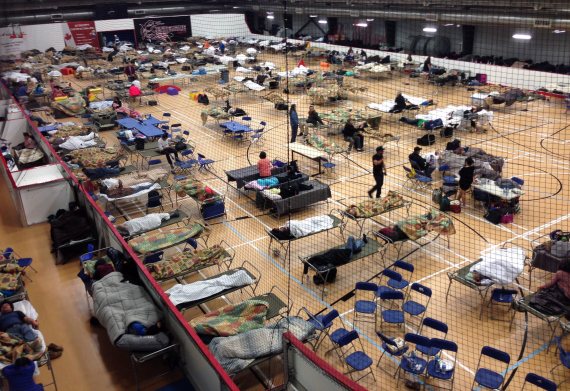 Evacuees from a wildfire in Fort McMurray, Alta., are seen at an evacuation centre in Anzac on May 4, 2016. (Photo: The Canadian Press)
While Fort McMurray burns out of control, with a vicious ferocity unknown to these parts, of which I am from: we the watching public -- friends, family and acquaintances -- anxiously, frantically, nervously stand by. Helpless to do anything from clear across the country.
Tonight, I logged onto Facebook from P.E.I. to find at the top of my news feed a harrowing account written by a fellow teacher-friend. A record of her last day at school before being evacuated from the city, it was disturbing and inspiring at one and the same time.
This friend and others like her will be noticeably absent from our graduating cohort, all of whom will be receiving a MEd degree this Saturday at the University of Prince Edward Island. There will not be one of us in attendance, as fellow students and friends, failing to call to mind both her and several others we have now known as colleagues and classmates for the past three years.
Throughout the years we were together, we have challenged one another to think deeply, learnt from one another in varied ways, as well as lived out our diverse lives in the process, sharing with one another both our moments of victory and our pauses for reflection on the brevity of life. None of us would ever have been able to predict the course that our lives would follow. Many have experienced the joy of a baby's birth while in the midst of studies, while others have lost significant loved ones -- grieving deeply in the process. Through it all, we have supported one another, if not physically, certainly in spirit.
And here we are again: watching as life unfolds. Swiftly taking away all that we have come to accept as a given. Replacing the structure and stability of life as we have known it with something far different, far worse: fear and uncertainty and sorrow.
As I read my colleague's heart-breaking account of her last day at school, I was reminded again that life is a difficult journey that we all must travel. Reminded, too, of the journey that I personally have taken over these past three years, both as a teacher and as an individual.
Starting out that journey with a question in my mind: what do students remember most about their teachers? What is deemed the most important quality of good teachers and educators? What really counts? What matters? And finishing the last moments of this trip of a lifetime, these moments before I walk across a stage with certificate in hand, with a strong belief and understanding of where the answer to that question can be found.
In reading my friend's harrowing status update about what she had been doing the moments before she and countless others had to flee the city, I was also once again convicted that the heart of our understanding of teaching as a calling is this: that we care for our students. My friend was doing just that, caring for her students. Caring for their fear, caring for their uncertainty, caring for their desperation, caring for their plight as individuals. She spent her final moments in the classroom and school that day with them, caring. And caring deeply.
What a testament to teaching at its best.
But is this not what everything comes down to in life? Care? That we care -- and care enough to reach out to those in need? That we stop to take a moment to make the eye contact necessary to affirm and support? That we reach out in tangible ways? That we call or text or write the old-fashioned way so as to connect? That we meet face-to-face, when possible? That we listen and support? That we give tirelessly of ourselves?
Is it not all about care?
This Saturday when I walk across the stage, I will receive a diploma indicating that I have completed a course of study. That course of study was intended to make me a better teacher. And I think it has... but perhaps not for the reasons I first believed would be the stimulus for such.
How I have benefited over the past three years is in ways far more significant. It has been the introspection spurred on by the conversations, the challenging questions, the inspirational lives I have observed: these have enriched my understanding. And I have grown from hearing the stories of each and every one of my colleagues, particularly in the ways in which they have cared deeply for their students, their families and their communities in which they live and grow as individuals.
Even now, I am growing in awareness as I watch these very same colleagues battle nature and elements beyond their control. My perspective shifts as I observe their courage and fortitude from a distance.
And so I ask myself, and often: what matters as we live out our lives -- today and each day forward? What matters is that we care. That we take the time to care for others and their varied human needs and requirements. What matters is that we care. That we take the time to know ourselves and care for our own physical needs, our emotional needs, our spiritual needs, our physiological needs.
What matters is that we care.
Fellow friends, as we care deeply and mourn the great losses of our friends in far-flung parts of this great nation, as we grieve for Fort McMurray -- as we grieve for others: may we never forget that it is the care that binds our hearts together, knitted tightly and perhaps even eternally with cords of love and compassion. This is that which matters most.
Godspeed, friends and colleagues in Fort McMurray.
Take courage.
Follow HuffPost Canada Blogs on Facebook
MORE ON HUFFPOST:
Fort McMurray Wildfire (May 2016)
Police man a roadblock as smoke billows in the background from a wildfire near Fort McMurray, Alta. Displaced residents had a chance to see their burned city for the first time in a convoy that moved evacuees south to reunite with family and friends.

New images of what the neighbourhoods look like now after the wildfire swept through are simply haunting.

Officials said shifting winds were giving the embattled northern Alberta city a break, but they added the fire that forced 80,000 people from their homes remained out of control and was likely to burn for weeks.

The remains of a vehicle sit in a Fort McMurray neighbourhood destroyed by wildfire.

Evacuees from the Fort McMurray wildfires register at the evacuation centre in Lac La Biche, Alta. on May 5, 2016. Premier Rachel Notley said returning home "will not be a matter of days."

Volunteers load water for Fort McMurray evacuees. Labatt Breweries is donating 200,000 cans of water to help firefighters and victims in the area.

More than 1,200 firefighters, 110 helicopters, 295 pieces of heavy equipment and 27 air tankers are battling wildfires, the province announced on Friday.

A truck drives away from the Fort McMurray area. The ever-changing, volatile situation frayes the nerves of residents and officials alike as a massive wildfire continues to bear down on northern Alberta.

Alberta Premier Rachel Notley announced the government will provide cash to help wildfire evacuees with immediate needs.

Evacuees from the Fort McMurray wildfires rest at the evacuation centre in Lac La Biche, Alta. on May 5, 2016.

In some neighbnourhoods, charred foundations of homes and vehicles are all that remain.

The charred remains of a bus sit on the side of a road in Fort McMurray on May 5, 2016. More than 80,000 people have left Fort McMurray, in the heart of Canada's oil sands as a wildfire that has devastated the area exploded in size.

Evacuees leave oilsands camps in a massive convoy of 1,500 vehicles in the early morning of May 6, 2016 after being stranded north due to the wildfire in Fort McMurray, Alta.

A Mountie surveys the damage on a Fort McMurray street. Over 1,600 structures in the area have been destroyed by the wildfire.

In just one day, generous Albertans donated over 600 plastic kennels to help transport pets out of the Fort McMurray wildfire evacuation zone. "Thank you to everyone who helped us meet this goal in such a short amount of time," wrote the Calgary Humane Society in a release. "We are truly grateful." Sadly, many Fort McMurray owners were forced to leave their beloved pets behind.

25,000 feet above Fort McMurray on May 3, 2016.

A swing set stands, with the swings burned away in Fort McMurray.

Firefighters take their first break after fighting the Fort McMurray blaze for over 30 hours.

Fort McMurray is obscured under a massive cloud of smoke and ash on May 3, 2016. About 88,000 people are estimated to have been forced out of the Fort McMurray area due to the wildfire.

A family of evacuees from the Fort McMurray wildfires arrive at an evacuation centre in Edmonton.

A police officer wears a mask while controlling a roadblock near a wildfire in Fort McMurray on May 5, 2016.

A wildfire moves towards the town of Anzac from Fort McMurray on May 4, 2016. Alberta declared a state of emergency as crews frantically held back wind-whipped wildfires.

Alberta Wildrose Leader Brian Jean talks with police near the wildfire in Fort McMurray. Jean learned Tuesday he had lost his home in the blaze.

Video captured on a vehicle's dash cameras show the terrifying escape route evacuees faced as an out-of-control wildfire swept through Fort McMurray, Alta.

Michel Chamberland, who recorded the horrifying dash cam footage of his escape from Fort McMurray, is pictured in Edmonton.

An Alberta sheriff sits in a roadblock on Highway 63 as a massive plume of smoke rises over Fort McMurray.

Evacuees watch the wildfire near Fort McMurray on May 4, 2016. The fire has affected many people from the Maritimes who work in northern Alberta.

A bus waits to transfer Fort McMurray evacuees from Anzac to Edmonton.

Cots litter the gym floor at an evacuee reception centre set up and operated by the regional municipality of Wood Buffalo in Anzac, Alta., on May 4, 2016. A wildfire has put the entire region of around 88,000 people under a mandatory evacuation order.

Dan Crane and Elisha Car take refuge in a work truck after being evacuated from Fort McMurray on May 4, 2016. The Alberta government is matching donations to the Red Cross for those affected by the wildfire.

A picture provided by Twitter user @TechDeckSafety shows the wildfire seen from an airplane leaving Fort McMurray on May 4, 2016. Click here for more photos.

A helicopter battles a wildfire in Fort McMurray on May 4, 2016. The wildfire has already torched 1,600 structures in the evacuated oil hub of Fort McMurray and is poised to renew its attack in another day of scorching heat and strong winds.

Social workers at the Edmonton Food Bank fill a vehicle with supplies for Fort McMurray evacuees.

A picture provided by Twitter user @jeromegarot shows burnt trees after a wildfire raged through Fort McMurray on Highway 63 to Edmonton.

An evacuee puts gas in his car on his way out of Fort McMurray, Alberta, as a wildfire burns in the background on May 4, 2016.

A family of evacuees camp out on their van at a beach south of Fort McMurray on May 4, 2016.

Dale Kossey with his three dogs Elmo, Gizmo, and Lacey rests in the pet owners' area of the reception centre at an evacuee reception centre set up and operated by the regional municipality of Wood Buffalo in nearby Anzac, Alta. on May 4, 2016.

Traffic is at a standstill on Highway 63 as people continue to leave Fort McMurray on May 4, 2015.

A picture provided by Twitter user @jeromegarot show the wildfire raging through Fort McMurray on May 3, 2016.

Flames move towards the Sawridge Inn Hotel in Fort McMurray.

A family takes refuge in the back of their boat after evacuation at a rest stop near Fort McMurray on May 4, 2016.

The Fort McMurray hospital managed to safely move all 105 patients, along with patients' families and staff, to Edmonton.

Evacuees from Fort McMurray wait to hear when they will be let back in, at a rest stop near Fort McMurray on May 4, 2016.

Shell Canada shut down production at a nearby oilsands mining operation to allow employees to leave the region safely. The move also makes room for evacuees to stay at the work camp.

Flames burn alongside the highway near the Syncrude oil site on May 3.

A mandatory evacuation order was issued for the city of Fort McMurray, with a population of 70,000, on May 3, 2016, as a wildfire entered city limits.

Heavy smoke rises above Alberta's Highway 63, near Fort McMurray on May 3, 2016.

Amid the chaos of the Fort McMurray fire evacuation, a baby was born at the Noralta Lodge evacuation centre.

Traffic lines the highway as residents leave Fort McMurray on May 3, 2016.

A NASA satellite captured how unbelievably quickly a devastating wildfire spread through Fort McMurray.

Fort McMurray resident Chris Burrows told CBC News he has his neighbour and girlfriend to thank for saving his life. Burrows was asleep when he heard his neighbour at the door. "He said, 'Look out your back window.' [I] looked out the back of the patio, and within 200 metres I saw flames that were 100 metres high," Burrows told CBC.

Videos captured the apocalyptic scene as 80,000 residents fled from Fort McMurray after a massive wildfire entered the city.

A wall of fire rages outside of Fort McMurray, which prompted the evacuation of the entire city.

Evacuees from the wildfires in and around Fort McMurray hug at the evacuation centre at the Edmonton Expo Centre in Edmonton on May 4, 2016.

Wildrose Party leader and MLA for Fort McMurray-Conklin Brian Jean confirmed that his house was one of many burned as an out-of-control wildfire entered Fort McMurray.

Days after reopening from a blaze that destroyed the interior of its main location, an Alberta gelato shop pitched in to help those affected by the Fort McMurray wildfire.

The sky above Fort McMurray on May 3.

The view from the Fort McMurray airport on May 2, 2016.

Students from Fort McMurray Composite High School are released early as wildfire burns nearby on May 3, 2016.

An aerial photo of the fire.

On May 1, 2016, a large wildfire was spotted burning just outside of Fort McMurray. Within two days, the wildfire had more than doubled in size to over 2,600 hectares.

A Fort McMurray resident captured this video of the fire from their rooftop.

Air tankers responded to the fire to support the ground crew's effort.

The wildfire is seen from MacDonald Island Park near Fort McMurray, May 3, 2016.

Abandoned vehicles line Highway 63 south of Fort McMurray, Alberta. Evacuees fled with few possessions and often ran out of gas before they could make it to the next town hundreds of kilometres away. The fire has been blazing for seven days and covers more than 150,000 hectares - twice the size of Calgary.

Helicopters carry water bombs from a nearby lake to drop on the wildfire near Fort McMurray. The blaze has grown so big in scale that one firefighter likened the effort to spitting on a campfire.

Crews continue to control the blaze using water bombs near Highway 63, just south of Fort McMurray.
Follow Lori Gard on Twitter: www.twitter.com/lori_gard