We Need To See More Diverse Faces, Stories And Voices In Film
Growing up in a small town outside of Hamilton, Ontario, I am not exaggerating when I say that I was related to every other Chinese family living in my town. At home, I had many strong, resourceful and intelligent Asian women to look up to and shape my upbringing: my grandmothers at the top of that list, followed by my venerable mom, two sisters and 13 female cousins, some of who lived with us at some points of my childhood.
Outside of the home, this was a different story. During the 80s, there were few memorable Asian female characters in the mainstream media and certainly any Asian male characters on TV were always reduced to the geeky nerd with the thick accent who made a fool of himself. The protagonists from the movies I saw were the opposite of Asian. TV heroes were almost always tall and blond white boys.
Sometimes I would pretend that the creators of Archie Comics meant for Veronica to be Asian all along because of her black hair. As someone who grew up in a small town, this lack of diversity in the mainstream media would push me away from connecting with my own cultural heritage. I felt ashamed of the many stereotypes I was being associated with as the token Asian in my class. It would be many years later until I even had Asian friends to call my own.
Are we giving the next generation role models to look up to, to tell them that they can be anything they want to be no matter their race, gender, sexuality or place in society?
In 1994, I was just about to start high school and still grappling with my dual cultural and awkward social identity. This was the same year I watched Asian-Canadian director Mina Shum's Double Happiness. This was the first time I saw Sandra Oh in a movie and the first time I watched a movie featuring a female Asian character in a Canadian context. More importantly, I realized that there must be others who are dealing with the same cross cultural struggles as I was -- if Jade's parents don't understand why she wants to work in the arts and date a white boy, how do I expect my parents to do the same?
My favourite scene in the movie is when the family is eating a family-style Chinese dinner at the beginning and every time Jade's sister Pearl says "freakin", her father thinks she is dropping the f-bomb. It's hilarious and relatable and I could totally see that exact same conversation happening in my home. Without characters like Mina Shum's Jade and Pearl, I would have never seen faces on screen that looked like mine telling stories that could be my own. It was like having an inside joke that you realized the rest of the world also understood.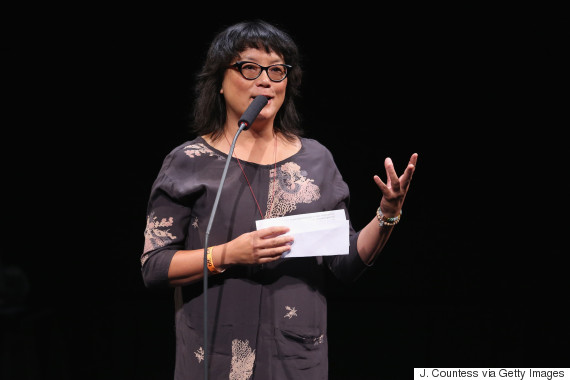 Mina Shum speaks on stage at the 2016 TIFF Awards Ceremony at TIFF Bell Lightbox on September 18, 2016.
Now almost 20 years later, it's tough to say whether we have truly progressed. Are there more diverse voices, faces and stories being told? Are we giving the next generation role models to look up to, to tell them that they can be anything they want to be no matter their race, gender, sexuality or place in society?
In 2015, the creators of American sitcom series Fresh Off the Boat were applauded for finally bringing an Asian American family to the mainstream. Most recently, here in Toronto, two major Canadian stations launched TV sitcoms casting Asians in the lead role.
It's about time for heroes in the media look like the rest of us.
Our nation's CBC adapted Ins Choi's critically acclaimed fringe show Kim's Convenience for TV and cast the venerable talents of Paul Hyung-sun Lee, Jean Yoon, Andrea Bang and Simu Liu. Less than two weeks later, another show called Second Jen starring Amanda Joy and Samantha Wan, premiered on City TV. In early 2016, Ali Wong's Baby Cobra stand-up become the most talked about Asian American female comedian in my own and many others' Facebook feeds. My Asian female friends related to her, my sister thought she was hilarious.
I am proud to be a part of an organization that will supports diversity in the media presenting works like Double Happiness and Kim's Convenience. The Toronto Reel Asian International Film Festival (Reel Asian) is Canada's longest-running pan-Asian film festival. Reel Asian started 20 years ago, at a time was Asian American cinema was finally getting recognition outside of the U.S. Now, the festival boasts almost 80 titles from 12 international regions, with almost 50 per cent works by Asian Canadians and an outstanding 45 per cent works by Asian female directors.
In a country where over 19 per cent of the population identify as a visible minority with that number expected to reach 30 per cent by 2031 (according to 2011 Statistics Canada Census data), we are hardly a minority anymore so why should the stories on the big screen not reflect the same cultural richness of Canada. It's about time for heroes in the media look like the rest of us.
Also on HuffPost:
Books by Asian-Canadian authors
Badami's novel, The Hero's Walk, is set in a small city in the Bay of Bengal. It tells the story of Sripathi Rao, a copywriter who, despite going through his own struggles, has to pick up the pieces after his granddaughter is orphaned by a tragic accident. His journey to Canada to find the relatives of her Canadian father is an integral part of the story, but larger themes of family and coming together through struggle are woven through the novel. This book won the 2001 Commonwealth Writer's prize, and was also a pick in this year's Canada Reads selections.

Giller Prize winner Vincent Lam's first novel, The Headmaster's Wager, tells the story of a gambling headmaster of a prestigious English school in Saigon. It's a narrative of family, vice, loneliness and love, set against the backdrop of the Vietnam War.

Told from the perspective of a 13-year-old girl, Lynne Kutsukake's debut novel is set in post-war Tokyo, and examines her repatriation to Japan after the release of her family from a Canadian internment camp. Also woven throughout the novel are tales of her classmate's missing sister and a young Japanese-American soldier. We also encounter the themes of friendship, love and resilience.

Kim Thúy's Ru was the winner of Canada Reads 2015, as well as the 2010 Governor General's award for fiction (French language). This novel is a poetic telling of a journey from Saigon to Malaysia and eventually Quebec, the pursuit of dreams and new opportunities in a new country, and the joys and sorrows of the life that comes afterwards.

A journalist who splits her time between Vancouver and Hong Kong, Doretta Lau brings us her debut collection of short stories, How Does A Single Blade Of Grass Thank The Sun?. The collection examines the stories of a range of whimsical and diverse Asian-American characters who are grappling with coming of age, race, culture and what it means to be Canadian. This is a seriously fantastic collection from a fresh and intriguing new voice.

A Fine Balance, by Indian-born author, Rohinton Mistry, is a Giller Prize winner and a Booker Prize shortlist pick. It's set in an unidentified city in India, through the 1970s and '80s, during a turmoil called, "The Emergency." It follows the stories of several characters of diverse backgrounds, thrust together in the tumultuous times of economic uncertainty. This is an epic story of friendship, the challenges of changing times, and the strength and beauty of humanity.

This beautifully illustrated graphic novel, Skim, follows Kimberly Keiko "Skim" Cameron, as she and her fellow students deal with the suicide of a classmate and friend. Love, self-discovery, grief, depression and suicide are all dealt with in a poignant young adult-focused graphic narrative.

Ann Choi's debut novel, Kay's Lucky Coin Variety, brings us to 1980s Toronto. It's told from the perspective of a young, rebellious Korean girl. The complexities of life, love, family, relationships and the intersection of differing cultures are addressed in this very special novel.

Kogawa's award-winning novel, Obasan, was based on her own experiences of the internment and persecution of Japanese Canadians during the Second World War. This is a historically accurate and important novel depicting the problems of racism and intolerance. It's also about the after-effects of a too-often ignored part of our country's history.

The Cat's Table is a beautifully written story from award-winning author, Michael Ondaatje. A writer reflects on a formative trip taken on a 1950s ocean liner from Colombo to London. As a young boy, he explored the ship, interacting with the eclectic group of adults around him, and developing a friendship with two other boys his age. For all three, it's a journey of adventure and discovery. In a rather non-traditional coming-of-age tale, Ondaatje imbues childlike wonder and adventure amidst poetic prose. Magical!
Follow Louanne Chan on Twitter: www.twitter.com/reelasian