Feminine Hygiene Innovations Should Never Sacrifice Safety
I haven't had to deal with so-called feminine hygiene products AKA blood catchers for about 20 years. I generally only take an interest when it comes to safety and environmental issues, like dioxins in tampons.
So when I was contacted by a journalist at CBC about Mensez Feminine lipstick I thought the product was a (bad) joke. This guy wants women to glue their labia shut so they can let out their blood when they pee out their urine. She sent me a few links to articles that methodically shredded this ridiculous (patented!) invention bit by unsavoury bit.

During the interview, she asked me for my first impressions. What immediately came to mind was infibulation the most dramatic form of Female Genital Cutting, where the exposed part of a woman's clitoris is removed, as well as her labia; and the remaining tissue is sewn together, leaving a small opening for urine and menses. One of the results is back-up flow which can cause infection, especially when there are clots of blood that cannot pass through the opening.
Labiaplasty also crossed my mind -- this cosmetic fiddling with women's anatomy which sometimes results in loss of sensation due to scar tissue. "Labiaplasty involves reducing or removing the labia minora -- or inner lips -- of the vulva."
The journalist also asked me about available products and potential problems with them. She wanted to know, for example, if girls were still frightened of using tampons. We talked about how some moms worried about their daughters' losing their virginity (tearing the hymen, that is, as opposed to having sex with a tampon) and toxic shock syndrome. We've known about dangers associated with tampons for nearly 40 years.
I told her that starting from the 1990s, we were bringing more environmentally friendly, reusable products into the classroom.
I started to wonder: aside from menstrual cups is there anything new in the world of blood catchers? I found several websites with information on alternative products. This one is particularly enlightening regarding "dirty" cotton.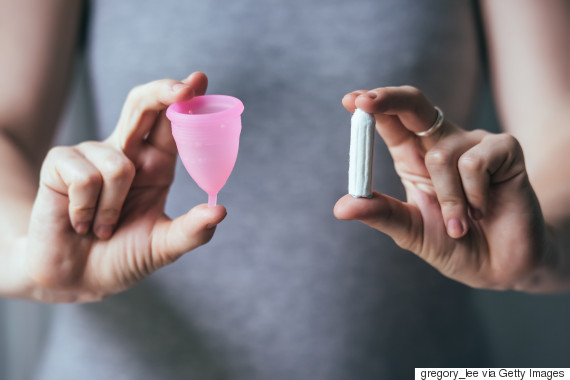 Rachel Krantz' personalized review of some natural products is a hoot. Reading her account reminded me of my friend's injunction not to wash your menstrual cup out in a public washroom ("It looked like I had killed a chicken").
In the "old country," my mother washed out bits of cloth. I guess it was progress when I first got my period in grade eight, (1961) and we learned how to attach a pad to a sanitary belt. I still remember the sensation of walking around listing from side to side because of the giant wad between my legs.
There are many areas around the world where menstrual hygiene is still a challenge. But when I read about campaigns that help girls and women deal with their periods, I sometimes worry about the pad and tampon companies profiting through NGOs' distribution their products.
So I was pleased to come across this refreshing innovation:
"To ensure girls get the protection they need, and don't have to miss school just because they have their periods, Femme International provides kits to girls in East Africa that equip them with all the supplies they need. Each kit contains a menstrual cup or reusable pads, a bowl for washing the reusable cup, a small towel, a bar of soap and a handheld mirror."

Here in Canada, it is a struggle for women in the North as well as poor and homeless women in the South. When we make decisions about our own blood catchers, let's also be conscious of the products that we give or send to our sisters. We all have the same needs for comfort and safety. And that means, no labia lipstick, unless they are deliberately looking for some vajazzling.
Follow HuffPost Canada Blogs on Facebook
Also on HuffPost:
11 Questions Women Have About Their Periods
According to Dr. Suzanne Wong of the Department of Obstetrics and Gynecology at St. Joseph's Health Centre in Toronto, and associate professor at the University of Toronto Department of Medicine, there a several reasons as to why you can get an extremely heavy period. "Periods can be heavy in women with a diagnosis of uterine fibroids or polyps or a thickened uterus called Adenomyosis," Wong tells The Huffington Post Canada. Heavy bleeding has also been associated with a genetic bleeding condition called "von willebrand's disease" in adolescence. Both scenarios should be examined by your doctor. Perimenopausal hormone shifts can also cause heavy bleeding in women between the ages of 41 and 51. Wong notes that periods during perimenopause may also be irregular before they cease all together.

Unlike extremely heavy periods, which can signal other health issues, light periods aren't as much of a concern. "The normal amount of bleeding is variable and ranges from light to heavy depending on the woman," Wong explains. As long as your periods are regularly occurring (every 23 to 35 days) there should be no concern. "If the amount of flow changes to become lighter it may represent a slight hormonal shift that is probably of no significance," Wong says.

If pregnancy is not a possibility, a late period can usually be explained by a hormonal change. Factors like changes in weight, emotional stress, eating disorders, high performance athletics or having polycystic ovarian disease can cause women to have a delayed or missed period. "If you miss one period, this means that you did not ovulate that month and there should be no concern if they return to a normal pattern," Wong notes. If you aren't already keeping track of your period, Wong recommends getting a calendar or an app to do so. That way, if your periods are late (occurring at intervals greater than 35 days) persistently over six months, you'll know and be able to show your doctor.

Just like late periods, early periods usually have a hormonal cause including stress, polycystic ovarian disease or thyroid hormone abnormality, says Wong. And abnormal spotting or bleeding can also be mistaken for an earlier period — if you are concerned, check with your doctor.

Brown coloured blood is common during the final days of your period. According to Wong, this is a result of the blood that has been settled in the uterus being expelled.

"Missing a solitary period is likely from a temporary hormonal imbalance, usually caused by stress," says Wong. But birth control methods like the pill, patch, ring and IUD can also cause very light or non-existent bleeding. If your periods become regular again after a missed period, then there should be no cause for alarm. However, if you regularly miss periods or have an irregular bleeding pattern, you could be experiencing hormonal issues caused by stress, abnormal thyroid levels, or polycystic disease. As a reminder, if your period is irregular you should consult your doctor.

Periods can last anywhere between two and seven days, but anything more than this is considered a prolonged period. "If you have periods lasting more than seven days on a regular basis, you should contact your doctor," says Wong. Prolonged periods are often associated with heavy periods, and can lead to iron deficiency anemia that will affect your overall health.

According to Wong, this is actually a normal side effect of starting a new birth control pill, especially on that is low dose and is referred to as "break through bleeding." If this is happening in the middle of the cycle, then it is likely hormonal and of no concern. But if it persists more than three months, Wong recommends seeing a doctor to adjust your medication and rule out other causes such as uterine/cervical polyps, and infection. It is also advised to get an updated pap smear and cervical cancer screening in this scenario.

Spotting can be a side effect of being on a birth control pill, or using a copper IUD, Wong explains. Spotting can be due to infections (STDs) and, or more concern, a sign of cervical cancer. Harmless causes of vaginal spotting between periods can also include polyps on the cervix or a condition called "cervical ectropion," which are sensitive cells that protrude on the exposed surface of the cervix and are prone to infection and abrasions, Wong explains. Your doctor should be able to detect both of these conditions during a pap smear.

"Clotting can be a sign that your periods are very heavy," says Wong. (Check out the heavy periods section for more information).

During your period, the lining of your uterus produces a natural chemical called prostaglandins, Wong says. Prostaglandins causes small contractions of the uterus to help shed the lining during your period which can cause cramping. It also affects the intestines and can increase movement of the bowel, which results in more frequent bowel movements and sometimes, diarrhea.
Follow Lyba Spring on Twitter: www.twitter.com/lybaspring