Parents Should Worry About Other Curriculums More Than Sex Ed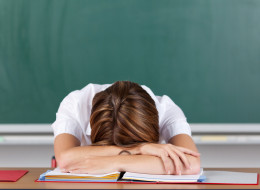 In Ontario, there is a massive parental uprising against the new sex education curriculum being imposed on all publicly-funded schools. Many parents feel so strongly about the revamped curriculum that they are keeping their children home from school, attending rallies, phoning radio talk shows, writing letters to the editor, and meeting with their members of parliament.
While I have some reservations about the fairness and wisdom of ramming the new sex education curriculum down the throats of unwilling parents, I am still scratching my head over the strength of this parental protest. Why are parents more upset about the somewhat-flawed new sex education curriculum than the known-to-be-very-flawed math and language arts curriculum already in place?
Nor do the problems with the Ontario curriculum end with math and language arts. What about its music curriculum that doesn't teach kids how to sight read or sing in tune? Why aren't students taught cursive writing? The social studies curriculum is all about research skills and historical processes -- instead of teaching students where things are on the map and when and why things happened. The physical education curriculum is inadequate, and children aren't being taught how to draw. Science instruction is heavily biased in favour of knee-jerk environmentalism and other trendy notions. Correct spelling and grammar are distant memories. And the list goes on.
Really, the problems with the new sex education curriculum are probably about #20 on my list of grumbles about the Ontario curriculum.
Having said this, I do acknowledge that the new sex education curriculum has its problems as well.
For one thing, it is being imposed on ALL parents, even though polling suggests that only about 42 per cent of respondents approve of it. Clearly, the Ontario government cannot justify its imposition on the grounds that it is the will of the majority. Instead, the government's high-handedness seems to reflect a culture, a way of thinking, whereby the province's leaders feel they are more enlightened than ordinary people and know what's best for them. This is a bit worrisome.
Another problem, one that will be presented by all but the most insipid of sex education curricula, is the difficulty of delivering age-appropriate instruction to a class of 25. Children's physical and mental development varies enormously. For example, some girls have their first period at the age of 10, while others don't start to menstruate until they're 15 or 16. A one-size-fits-all curriculum must therefore teach menstruation and intercourse and pregnancy to 9-year-olds -- just in time for some of the girls and ridiculously early for others.
Lastly, there is the question of exactly who will be delivering the new sex education curriculum. While most teachers are empathetic and sensitive and caring, among their ranks are inevitably a few jerks and even predators who are decidedly not the people you would willingly choose to broach sensitive subjects with your six-year-old. Unfortunately, these types of teachers tend to have a strong interest in teaching sex education programs themselves, and so they may deliberately seek out these opportunities -- meaning that over the course of 14 years, a child is likely to be learning about sex from at least one of them.
Although in many cases the Ontario parents who oppose the new sex education curriculum are being characterized as knuckle-draggers who don't want their kids to find out where babies come from, many of them have legitimate reasons for their disquiet and they should be listened to.
However, the protesting parents have even more legitimate reasons to oppose the reading and math instruction that is failing almost a third of Ontario students, according to the province's testing body. While a flawed sex education curriculum may damage some kids' psyches a little bit in the future, maybe result in somewhat less healthy sexuality -- who knows? -- there is no doubt that hundreds of thousands of Ontario kids' lives are being greatly diminished every year because they can't read or do math very well.
Now that Ontario parents have finally found their voice, they should use it to speak up about the sections of the Ontario curriculum that REALLY matter!
MORE ON HUFFPOST:
Ontario Sex Education By Grade
In Grade 1, students should be able to identify body parts, including genitalia like the penis, testicles, vagina, vulva, and use correct terminology.

By Grade 2, students will outline the basic stages of human development, including an infant, child, adolescent, adult, older adult, for example, and related bodily changes. They will also identify factors that are important for healthy growth.

In Grade 3, students will be able to describe how visible differences (like facial features, body size and shape, physical aids or different physical abilities. for example) and invisible differences (like learning abilities, personal or cultural values and beliefs, gender identity, sexual orientation, for example), make each person unique. Students will also learn ways of showing respect for differences in others.

In Grade 4, students will describe the physical changes that happen during puberty for males and females — the growth of body hair, breast development, changes in voice and body size, production of body odour, and skin changes, for example. They will also learn about the potential emotional and social impact of these changes.

In Grade 5, students will identify the parts of the reproductive system, and describe how the human body changes during puberty. They will expand their vocabulary with words like cervix, uterus, fallopian tubes, ovaries, endometrium, and clitoris, as well as scrotum, urethra, testicles, prostate gland, seminal vesicles, and vas deferens.

Students in the sixth grade will assess the effects of stereotypes — including homophobia and assumptions regarding gender roles and expectations, sexual orientation, gender expression, race, ethnicity or culture, mental health, and abilities, among others. They will also propose appropriate ways of responding to and changing some of these stereotypes.

In Grade 7, students will touch on consent and the importance of having a shared understanding with a partner about delaying sexual activity, for example. They will go over genital contact, vaginal or anal intercourse and oral sex (including choosing to abstain from these activities). They will also go over reasons for not engaging in sexual activity and the concept of how consent can be communicated in a relationship. Grade 7 students will also touch on the understanding of physical, emotional, social, and psychological factors that need to be considered when making decisions related to sexual health, including STIs, pregnancy, desire, pleasure, gender identity among others. Students will also delve into areas of cyber-bullying, harassment and behaviours like sexting.

In Grade 8, students learn about all six genders including male, female, two-spirited, transgender, transsexual and intersex. They also cover topics of sexual orientation (heterosexual, gay, lesbian, bisexual). When it comes to sex, students will learn about contraception and condom use for pregnancy, STI prevention, consent, and what it means to be in a healthy sexual relationship. For further development, Grade 8 students will also touch on the benefits or attractions of being in a relationship, along with drawbacks and risks like breaking up.

In Grade 9, students will be able to describe how to prevent unintended pregnancy or sexually transmitted infections (STIs), including HIV/AIDS. A further understanding of gender identities and issues around stigma, culture, religion, media, stereotypes, homophobia, self-image, and others.

Students should be able to describe factors that influence sexual decision making, including personal values, having limits, peer and family expectations, and myths and norms related to sexual activity or safe sex. Students will demonstrate an understanding of how to use decision-making and communication skills effectively to support choices related to sexual health. Discussions on misconceptions about sexuality in our culture, as well as what it means to be in a exclusive relationship.

Understanding a variety of mental illnesses and addictions including: eating disorders; major depression; anxiety disorders; psychotic disorders, and tobacco, alcohol, drug, gambling, gaming, or Internet addictions. Students in Grade 11 will cover proactive health measures like breast and testicular examinations, Pap tests, regular medical check-ups, stress management techniques, among others.

In addition to cyber-bulling, students in Grade 12 will also cover stalking, sexual assault, abuse within a family, extortion, and workplace harassment, for example. Further discussion on healthy relationships, developing healthy sexual relationships with others, and looking at relationships and stereotypes in the media.