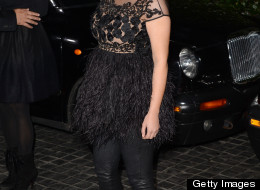 To be very honest, I hadn't planned on writing about all the nasty criticism Kim Kardashian's been getting about her pregnancy weight gain, because sadly, celebrity weight bashing is nothing new. I also figured that people would spew their nastiness and then move on to their next victim as soon as some other famous woman had the audacity to eat a whole slice of bread or leave the house without four pairs of Spanx strangling her body parts.
Unfortunately, the hits keep on coming. This morning I read that Donald Trump had decided to voice his opinions on Kim's pregnancy fashion choices, saying that he didn't think she should be wearing tight clothes because they were not appropriate for women over 120lbs. First of all, let me just say that it's so nice to see Donald speaking out this way since he's usually so shy about sharing his opinions and is always so very careful not to speak with authority on issues he knows nothing about.
Oh, if only that were true.
While I may not be the hugest Kim Kardashian fan and have yet to figure out exactly WHY she is famous and I realize that with her very public lifestyle and reality show, she invites the world into her life (the good, the bad, and the stuff nobody really needs to see), but I still find it despicable that people choose to insult her body when it's in the process of doing something pretty spectacular.
She is growing a HUMAN BEING in her body. A HUMAN BEING!
Hey Donald, you may have earned another million dollars today, but Kim did that AND created a nervous system. Beat that, big guy!
I honestly believe that we have forgotten the miracle that childbirth is. Show me a woman who has tried unsuccessfully to conceive, and I'll show you a woman who would joyfully trade her flat stomach and narrow hips for the stretch marks, expanded rear end and growing belly that can accompany a pregnant body.
Pregnancy is an experience that affects a woman's body, mind and soul from the minute she decides to conceive. Most women, famous or not, feel tremendous pressure to live up to the bizarre and completely unrealistic ideals of our image and skinny obsessed society and it's keeping us from living our lives as fully and completely as we should be. No matter how happy or successful we may think we are in our personal and professional lives, if we're not wearing the "right" pant size, we're supposed to feel like total failures.
For so many years, there were people who said that women didn't belong in the work place and needed to be at home making babies, but now even making babies isn't good enough if we can't do it without keeping our girlish figures in the process!
I find it really hard to believe that there is nothing more important going on in the world than how fat Kim's ass looks in her designer maternity wear. What I'm asking is this: is it really an issue that Kim is comfortable showing off her growing, changing body or is the real issue that we're uncomfortable looking it?
Celebrity Kids: Out And About
Charlize Theron and Jackson stroll to Pinkberry for a treat.

Sarah Jessica Parker out and about with her precious twins, Marion and Tabitha Broderick.

The Affleck girls are out for a stroll on a sunny day in L.A.

Matilda Ledger steps out with her mom, Michelle Williams.

Kingston and Zuma Rossdale go for a spin in New York City.

Skyler Berman is guaranteed a front-row seat, especially at his mama's show.

Jessica Alba grabs a treat with with daughter Honor.

Katie Holmes and her daughter, Suri Cruise, step out in New York City in August 2012.

Alexis Denisof and a pregnant Alyson Hannigan step out for a walk with their daughter, Satyana.

January Jones and baby Xander hang out by the pool in Topanga Canyon, Calif., in April 2012. (FameFlynet)

Jennifer Lopez hits The Grove with twins Max and Emme.

Nicole Richie and Joel Madden took their kids out for some fun in the sun in Santa Monica, Calif.

A very pregnant Jennifer Garner supports her back as she looks on at daughter Violet.

Gavin Rossdale and Gwen Stefani take their littles out for a day of fishing.

Nicole Kidman steps out with baby Faith, 13 months.

Victoria Beckham was spotted with daughter, Harper, and one of her three sons, Cruz, at the MLS Cup Final in Carson, California.

Heidi Klum takes her kids to the Katy Perry concert at the Staples Center in Los Angeles, California.

Ben Affleck is on daddy duty as he spends the day out with daughters Violet and Seraphina.

Suri Cruise flashes her million dollar smile while out and about in New York City with Mom, Katie Holmes.

Kendra Wilkinson's cute little man, Hank Jr., had a fun day out with his famous mom and dad for a playdate in the park.

Hugh Jackman takes his daughter Ava for a dip while he and his family vacation in St. Tropez, France.

Sandra Bullock steps out with her little guy Louis for a day out in Los Angeles, Calif.

Reese Witherspoon enjoyed a stroll on the beach with her daughter Ava and some friends during a Fourth of July party in Malibu, California.

It was a family affair at the Fourth of July parade in the Pacific Palisades area of Los Angeles. Ben Affleck and wife Jennifer Garner took their adorable little ladies, Violet, 5, and her younger sister Seraphina, 2, to show their red, white and blue pride on July 4th.

Pink and husband Carey Hart enjoy enjoy a beautiful beach day in Malibu, CA with new baby Willow.

Jennifer Lopez takes her twins, Emme and Max to the Parc Monceau in Paris, France where they played on the carousel and swings.

Heidi Klum spends a fun filled day with daughters Leni and Lou at a park in the Tribeca section of New York City.

Halle Berry wears a blue dress over her bikini as she takes her daughter Nahla shopping for groceries at Bristol Farms.

Ellen Pompeo holds on tight to her daughter Stella during a drink break from their play date in New York City.

Bethenny Frankel strolls with her husband Jason Hoppy and their daughter Bryn through the West Village in New York City.

Rachel Zoe and her husband Rodger Berman show off their brand new son Skyler Morrison at the "InStyle's Dinner With A Designer" for Rachel Zoe at Soho House in West Hollywood, California.

Ashlee Simpson shows off her stylish side in a mini skirt and hat as she carries her son Bronx through Studio City in Los Angeles.

Courteney Cox takes her little lady, Coco and a friend, for an ice cream break in Malibu.

Alanis Morissette leaves her home in Los Angeles with her hubby Mario and their 4-month-old son Ever.

Gwen Stefani heads out to Primrose Hill giving her son Zuma a push in the stroller in London, England.

Sean Combs aka Diddy takes his twin daughters D'Lila Star and Jessie James to the Westfield Mall in Century City, Calif.

Jennifer Garner makes her way out actor Adam Sandler'­s home with Seraphina who holds on to a balloon and has a painted face.

Katie Holmes and Suri spent a little time in the hotel pool and it looks like Holmes was trying to teach her little lady how to swim.

Rebecca Gayheart goes for a ride with daughter Billie Beatrice, spending a fun filled mother daughter day at the park in Los Angeles.

Mark Wahlberg and wife Rhea Durham take little Michael Wahlberg out shopping in Los Angeles.

Gavin Rossdale chases after son Zuma on the beaches in Malibu. He and Gwen Stefani spent their Memorial Day with their boys having some fun in the sun.

Rebecca Gayheart shops with darling daughter, Billie Beatrice in Los Angeles.

Halle Berry takes an after school walk with daughter Nahla Aubrey in Los Angeles. The little overall clad artist colored her mom a picture and carried a pink cartoon backpack!

Little Zuma Rossdale showed his American spirit as he dressed up in a Captain America costume while on a Ralphs run with his nanny in Los Angeles.

Violet Affleck is ready for the 4th of July as she sports some red and white stripes during a playdate with mom, Jennifer Garner, and a friend.

Nicole Kidman was all smiles as she arrived in Sydney, Australia holding hands with daughter Sunday Rose and baby Faith in her arms.

Halle Berry is a proud mommy as her daughter Nahla makes her way across the monkey bars at a local park.

Jennifer Garner gives her youngest daughter Seraphina a lift while out shopping.

Angelina Jolie exits Grauman's Chinese Theatre after the "Kung Fu Panda 2" premiere, holding the hands of two of her six kids, Shiloh and Maddox.

John Travolta steps out with his little man, Benjamin.

Marcia Cross takes her twin girls, Eden and Savannah to the Santa Monica Pier where they had a blast riding the rides.

What a fashionable mommy/daughter team! Milla Jovovich daughter Ever are spotted at LAX on their way to Paris.

Rebecca Gayheart spent the day in the park with hubby Eric Dane and their daughter Billie in Hollywood.

Tiffani Amber Thiessen takes chubby cheeked baby girl, Harper Renn for a walk in New York.

Usher grabs the hand of his little mini me, son Raymond V, as the pair leave a vegetarian restaurant.

Ellen Pompeo pushes her sweet little girl Stella on the swings, when the mommy-daughter duo stopped at a local playground in New York City.
Follow Marci Warhaft-Nadler on Twitter: www.twitter.com/fit_vs_fiction