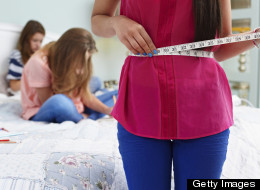 Recently I was asked if I ever worried that I was putting my children at risk for developing eating disorders by being so open and honest about my own. I thought about it for about a half a second and then answered, "Hell no." The truth is, that when I was living in my disorder, my kids were both quite young and I tried my best to hide what I was going through because I was ashamed. I also didn't want them to worry about me. When I finally found the strength to recover and the program to help me get there, my boys were around eight and five years old and I lied about it. I made up an excuse about where I was going a few hours every week and the guilt I felt was overwhelming. My goal at that time was that they would never know how sick I really was.
But that changed.
The truth is that they always knew their mom was a bit "different," they just didn't know why. I may have convinced myself that they were oblivious to my disorder, but how could that be true when we'd be walking out the door to go for dinner and one of them would ask, "Are you eating today, Mommy, or just watching?" or they'd shout, "Look, Mommy's a dinosaur!" because the bones of my spine would poke out so sharply from under my skin.
They knew something was wrong, they just didn't know what it was.
After I found recovery, created my Fit vs. Fiction body image workshops and started speaking out and writing about body image and eating disorder issues, I knew that I had to come clean to my kids. I couldn't be sharing my truth at schools with children I didn't know while not explaining the situation to my own children first. I could have kept it brief, or cleaned it up a bit. I could have made it a bit less scary or gross, but I chose not to, and here's why.
Eating disorders are evil, nasty and cruel. The damage they cause is not just physically devastating, but also breaks us down emotionally, psychologically and spiritually. They are also incredibly difficult to recover from.
It seems like more and more celebrities have been opening up their own eating disorder issues recently. Lady Gaga spoke out about her battles with bulimia and actresses Lucy Hale and Demi Lovato shared their struggles as well. I think it's really important when celebrities come clean about their body image issues because their fans need to see that even the perfect people aren't so perfect. I know that there are kids who felt inspired by Demi's revelation and I wouldn't be surprised if hearing about her problems encouraged other kids to seek help for their own.
But here's why, for my kids, that isn't enough. While we're listening to the adversity that these women overcame and while we're hearing about how bad things may have gotten for them, they still seem pretty fabulous. As difficult and painful as things may have been for them at times, right now, in the eyes of their fans, their lives seem more than OK. They've got fame, they've got fortune and they've got beauty. It's crucial for young people to understand that there is NOTHING glamorous about eating disorders.
The reason why my kids won't be pulled into my body image nightmare is because they've seen the reality of it first hand, they just didn't understand it until now.
They remember seeing me lying on the couch, unable to make it up the stairs to tuck them in at night. Now they know it's because I had spent the day binging and felt too sick to move.
They've seen me crawl up the stairs instead of walk like everybody else and now know I'd gone days without eating and was too weak to stand.
They remember trying to figure out what happened to all their Halloween candy when they knew they should still have bags of it left, only to find empty wrappers in my bedroom. Mystery solved.
They remember wondering why we didn't join the rest of the family on family vacations and why I'd cry when the word bathing suit came up. They think It's silly, but now they know why.
They also know about the times, while they slept, when I walked for hours to the gym in the middle of the night after not sleeping for days because my fear of gaining weight was more intense than my fear of dying.
I don't try to hide what I did or how my disorder made me feel. I want them to understand why I am so determined to change the way kids treat and feel about themselves these days. I want them to appreciate the value of who a person is over what they look like and that going through horrible things does not make us horrible people.
My eating disorder was disgusting. I am not a disgusting person for having battled it.
I believe that our kids can learn as much from our troubles as our triumphs. My kids know that I'm not perfect. They know that I've fallen several times. But they've also seen me pick myself back up each and every time.
I won't hide the dirty, ugly truth from my kids because I want them to know that life can be tough. But they can be tougher.
Meet Our Body Image Heroes
The Golden-Globe winner told HuffPost Live how her father shaped her perspective on beauty: Beauty was very much on my mind. I had a father that would -- we would look up at billboards and he would say, "That's one version of beauty. You're another version of beauty. And she's a version of beauty. And that girl? She's another version of beauty." He always said that beauty came from within, and as much as you're younger and you're [sarcastically] like, "Yeah, beauty comes from within" -- no, beauty does come from within. I've met some of the most beautiful people, and sadly their heart is just not smiling, and that destroys it all. And then other people that aesthetically aren't considered as beautiful are the most gorgeous people I've ever seen in my life.

After the media focused on her alleged weight gain in September 2012, Gaga hit back at critics by baring her body in photographs, sharing her struggles with an eating disorder, and inviting her fans to join her in a "body revolution."

Adele says she tries not to worry about her body image and doesn't want to be a "skinny minnie." "The first thing to do is be happy with yourself and appreciate your body -- only then should you try to change things about yourself."

The actress took to Twitter to say, "I'm not trying to be hot. I'm just trying to be a good actress and entertain people."

In a powerful 2012 piece for Jezebel, the comedian responded to people who criticized her appearance: I grew up hard and am still hard and I don't care. I did not choose this face or this body and I have learned to live with it and love it and celebrate it and adorn it with tremendous drawings from the greatest artists in the world and I feel good and powerful like a nation that has never been free and now after many hard won victories is finally fucking free. I am beautiful and I am finally fucking free.

After the March 2012 frenzy around Judd's "puffy face," the actress fought back in The Daily Beast, calling the media out for making women's bodies "a source of speculation, ridicule, and invalidation, as if they belong to others."

The "Orange Is The New Black" actress wrote a powerful essay for Glamour about her struggles with self-esteem and journey to body love. She's now dedicated to making sure all body types are seen on-screen: "Ideally, I want to see all beauties, all shapes, all sizes, all skin tones, all backgrounds represented in my profession. Now that I am blessed to be that reflection I was once looking for, I'm making a promise to speak out for that little girl that I used to be."

Tate's essay about body image and motherhood not only broke the Internet; it has sparked a movement of "moms who stay in the picture."

The fitness blogger and personal trainer posted a poignant video in response to online commenters' criticism of her physique. "In this video, you will experience what it feels like to be constantly bombarded with outrageous negativity," Ho wrote in a blog post introducing the video. "You will see what it looks like to have your self-esteem stripped away. You will read real comments left by real people. You will see me struggle with my own appearance."

The "Precious" actress had the most incredible comeback to cruel comments about her weight.

On her informed, thoughtful blog "The Beheld," Autumn writes about beauty, body image, appearance and her two -- that's right, two -- mirror fasts.

Gruys went on a year-long mirror fast during which she did not study her reflection in mirrors or other reflective surfaces, or look at photographs of herself.

"I am always in support of someone who is willing and comfortable in their own skin enough to embrace it," the singer said in a recent interview.

At the 2012 New Yorker Festival, the magazine's TV critic, Emily Nussbaum, asked Lena Dunham, producer, creator and star of the hit HBO show "Girls," why Dunham is naked in so many scenes. Dunham responded, "I realized that what was missing in movies for me was the presence of bodies I understood." She said she plans to live until she is 105 and show her thighs every day.

Chung responded to critics who suggested that her slight frame made her a bad role model for young women, saying: "Just because I exist in this shape doesn't mean that I'm, like, advocating it."

The NYU student started the amazing Body Love Blog, where she posted this picture of herself and wrote an open letter to those who feel entitled to shame others for the size or look of their bodies.

This 5-foot-tall, 200-pound singer spoke openly about her weight to The Advocate, saying, "I feel sorry ... for people who've had skinny privilege and then have it taken away from them. I have had a lifetime to adjust to seeing how people treat women who aren't their idea of beautiful and therefore aren't their idea of useful, and I had to find ways to become useful to myself."

In 2013 interview with Parade, Kaling said that she was tired of being discussing her appearance: "I always get asked, 'Where do you get your confidence?' I think people are well meaning, but it's pretty insulting. Because what it means to me is, 'You, Mindy Kaling, have all the trappings of a very marginalized person. You're not skinny, you're not white, you're a woman. Why on earth would you feel like you're worth anything?'"
Follow Marci Warhaft-Nadler on Twitter: www.twitter.com/fit_vs_fiction
FOLLOW HUFFPOST
HuffPost

Health and Fitness

HuffPost
Health and Fitness