Pregnancy's Not a Crime, So Don't Hide the Evidence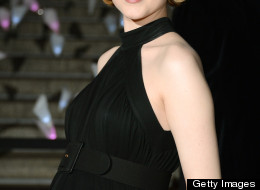 I am so confused.
Earlier today, I was picking my kids up from school when I saw a woman pushing a baby carriage. At first I assumed that the woman was the child's mother, but when I took a closer look, I could see through her shirt that her stomach was not completely flat and that her arms and legs weren't covered in chiselled muscle.
The baby looked at least six weeks old, which we know from reading People magazine and watching Entertainment Tonight, is more than enough time to pop our babies out and suck our bodies back in. I assumed that this woman could not have been the baby's mother because that's not what post-pregnancy bodies look like! While she didn't look like a new mom, she seemed to act like one. She was singing to the baby and pointing out the things they passed in the street, and seemed to be enjoying herself.
I just don't get it.
If she was, in fact the mother of this new human being, what has she been doing for the last few weeks? Is she choosing to spend more time with her newborn than her personal trainer? Is she resting her body while her baby naps instead of shredding it to a Jillian Michaels DVD? One also has to wonder what she's been eating! I'd be willing to bet that she's allowing herself to nourish her body with foods from ALL of the food groups and is actually eating until she's satisfied instead of following the weight loss diets of new moms like Tori Spelling who recently lost 45lbs and is proudly showing off her rockin' body on this month's cover of US magazine. Tori is gracious enough to share her diet tips with us, which I'm sure all pregnant women can relate to because, let's face it, who can't relate to Tori Spelling? She's just like us!
Hollywood Life reports "For breakfast she starts the day with a brown rice cake and Smart Balance chunky peanut butter. At lunch, she loves having soup and her favourite lunch is vegetable puree. For dinner, she tends to eat fish or steak with vegetables."
Wow, I'm full just from reading about all that food!
What is it about some celebrity moms that gives them the willpower that the rest of us lack to put their bodies before their babies? What is wrong with the rest of us who are incapable of putting ourselves through gruelling workouts and on overly restrictive diets almost immediately after childbirth? We should be ashamed of ourselves!
OR...
Maybe, just maybe, we need to give ourselves a break. I completely understand the pressure famous moms are under to retain their "Hot chick" status during and immediately following their pregnancies, but how great would it be if they didn't cave into that pressure? If we truly want to support each other as women, we need to start glorifying the beauty of our honest to goodness pregnant and post-pregnant bellies instead of demonizing every stretch mark or area of sagging skin. Pregnancy isn't a crime, so why the need to hide all of the evidence?
Were you able to completely enjoy your pregnancies, or did you spend part of it worrying about losing weight afterwards?
Celebrity Kids: Out And About
Charlize Theron and Jackson stroll to Pinkberry for a treat.

Sarah Jessica Parker out and about with her precious twins, Marion and Tabitha Broderick.

The Affleck girls are out for a stroll on a sunny day in L.A.

Matilda Ledger steps out with her mom, Michelle Williams.

Kingston and Zuma Rossdale go for a spin in New York City.

Skyler Berman is guaranteed a front-row seat, especially at his mama's show.

Jessica Alba grabs a treat with with daughter Honor.

Katie Holmes and her daughter, Suri Cruise, step out in New York City in August 2012.

Alexis Denisof and a pregnant Alyson Hannigan step out for a walk with their daughter, Satyana.

January Jones and baby Xander hang out by the pool in Topanga Canyon, Calif., in April 2012. (FameFlynet)

Jennifer Lopez hits The Grove with twins Max and Emme.

Nicole Richie and Joel Madden took their kids out for some fun in the sun in Santa Monica, Calif.

A very pregnant Jennifer Garner supports her back as she looks on at daughter Violet.

Gavin Rossdale and Gwen Stefani take their littles out for a day of fishing.

Nicole Kidman steps out with baby Faith, 13 months.

Victoria Beckham was spotted with daughter, Harper, and one of her three sons, Cruz, at the MLS Cup Final in Carson, California.

Heidi Klum takes her kids to the Katy Perry concert at the Staples Center in Los Angeles, California.

Ben Affleck is on daddy duty as he spends the day out with daughters Violet and Seraphina.

Suri Cruise flashes her million dollar smile while out and about in New York City with Mom, Katie Holmes.

Kendra Wilkinson's cute little man, Hank Jr., had a fun day out with his famous mom and dad for a playdate in the park.

Hugh Jackman takes his daughter Ava for a dip while he and his family vacation in St. Tropez, France.

Sandra Bullock steps out with her little guy Louis for a day out in Los Angeles, Calif.

Reese Witherspoon enjoyed a stroll on the beach with her daughter Ava and some friends during a Fourth of July party in Malibu, California.

It was a family affair at the Fourth of July parade in the Pacific Palisades area of Los Angeles. Ben Affleck and wife Jennifer Garner took their adorable little ladies, Violet, 5, and her younger sister Seraphina, 2, to show their red, white and blue pride on July 4th.

Pink and husband Carey Hart enjoy enjoy a beautiful beach day in Malibu, CA with new baby Willow.

Jennifer Lopez takes her twins, Emme and Max to the Parc Monceau in Paris, France where they played on the carousel and swings.

Heidi Klum spends a fun filled day with daughters Leni and Lou at a park in the Tribeca section of New York City.

Halle Berry wears a blue dress over her bikini as she takes her daughter Nahla shopping for groceries at Bristol Farms.

Ellen Pompeo holds on tight to her daughter Stella during a drink break from their play date in New York City.

Bethenny Frankel strolls with her husband Jason Hoppy and their daughter Bryn through the West Village in New York City.

Rachel Zoe and her husband Rodger Berman show off their brand new son Skyler Morrison at the "InStyle's Dinner With A Designer" for Rachel Zoe at Soho House in West Hollywood, California.

Ashlee Simpson shows off her stylish side in a mini skirt and hat as she carries her son Bronx through Studio City in Los Angeles.

Courteney Cox takes her little lady, Coco and a friend, for an ice cream break in Malibu.

Alanis Morissette leaves her home in Los Angeles with her hubby Mario and their 4-month-old son Ever.

Gwen Stefani heads out to Primrose Hill giving her son Zuma a push in the stroller in London, England.

Sean Combs aka Diddy takes his twin daughters D'Lila Star and Jessie James to the Westfield Mall in Century City, Calif.

Jennifer Garner makes her way out actor Adam Sandler'­s home with Seraphina who holds on to a balloon and has a painted face.

Katie Holmes and Suri spent a little time in the hotel pool and it looks like Holmes was trying to teach her little lady how to swim.

Rebecca Gayheart goes for a ride with daughter Billie Beatrice, spending a fun filled mother daughter day at the park in Los Angeles.

Mark Wahlberg and wife Rhea Durham take little Michael Wahlberg out shopping in Los Angeles.

Gavin Rossdale chases after son Zuma on the beaches in Malibu. He and Gwen Stefani spent their Memorial Day with their boys having some fun in the sun.

Rebecca Gayheart shops with darling daughter, Billie Beatrice in Los Angeles.

Halle Berry takes an after school walk with daughter Nahla Aubrey in Los Angeles. The little overall clad artist colored her mom a picture and carried a pink cartoon backpack!

Little Zuma Rossdale showed his American spirit as he dressed up in a Captain America costume while on a Ralphs run with his nanny in Los Angeles.

Violet Affleck is ready for the 4th of July as she sports some red and white stripes during a playdate with mom, Jennifer Garner, and a friend.

Nicole Kidman was all smiles as she arrived in Sydney, Australia holding hands with daughter Sunday Rose and baby Faith in her arms.

Halle Berry is a proud mommy as her daughter Nahla makes her way across the monkey bars at a local park.

Jennifer Garner gives her youngest daughter Seraphina a lift while out shopping.

Angelina Jolie exits Grauman's Chinese Theatre after the "Kung Fu Panda 2" premiere, holding the hands of two of her six kids, Shiloh and Maddox.

John Travolta steps out with his little man, Benjamin.

Marcia Cross takes her twin girls, Eden and Savannah to the Santa Monica Pier where they had a blast riding the rides.

What a fashionable mommy/daughter team! Milla Jovovich daughter Ever are spotted at LAX on their way to Paris.

Rebecca Gayheart spent the day in the park with hubby Eric Dane and their daughter Billie in Hollywood.

Tiffani Amber Thiessen takes chubby cheeked baby girl, Harper Renn for a walk in New York.

Usher grabs the hand of his little mini me, son Raymond V, as the pair leave a vegetarian restaurant.

Ellen Pompeo pushes her sweet little girl Stella on the swings, when the mommy-daughter duo stopped at a local playground in New York City.
Follow Marci Warhaft-Nadler on Twitter: www.twitter.com/fit_vs_fiction