What Will Your Candidate Do to Support Mental Health?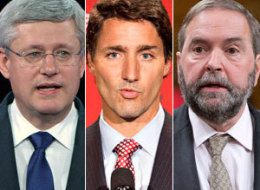 One issue that needs to be discussed in this long election period is Canada's abysmal record dealing with mental illness. Despite Prime Minister Harper having established a Mental Health Commission in 2007 in order to act as "a catalyst for improving the mental health system" and, in the last budget, renewing their mandate for a further 10 years starting in 2017/18, our record is abysmal.
"The Canadian healthcare system continues to critically underperform for individuals with mental illness," writes the Mood Disorders Society of Canada (MDSC). Dave Gallson at the MDSC points out "while there have been some improvements across various federal and provincial mental healthcare systems, there are many areas where changes are desperately needed."
These comments were based on a Canada-wide survey conducted between June 16 and June 27 with 2245 individuals. This was a repeat of a survey conducted in 2011. What they found was that 63 per cent of those surveyed were not satisfied with what they experienced. Of those not happy, 64 per cent complained about excessive wait times for service while 45 per cent felt that healthcare providers failed to show them respect/empathy, 41 per cent were rushed at their sessions and 39 per cent felt that mental illness was not a priority for the system.
Imagine if these statistics related to heart attacks or cancer. Having to wait an inordinate amount of time only to find staff disrespectful and lacking in empathy would not be tolerated. Yet it is when someone has a mental illness.
As for emergency room services , 82 per cent were dissatisfied with 67 per cent saying that staff showed a lack of concern. Another interesting statistic was that 71 per cent of those with mental illness live with their families.
One statistic in their report suggests that things are getting worse not better. In the 2015 survey, 38 per cent reported that they had to wait over 12 months for treatment after they asked for help. In 2011, that was 35 per cent. Wait times are worse now than previously.
Meanwhile, the John Howard Society's recent report on mental illness among prisoners in Ontario jails points out that "Ontario must stop punishing people for their mental health issues and take 'bold and immediate action' to decriminalize mental illness," as described by the Toronto Star. It also "recommends a massive system overhaul, urging the province to quit relying on police and courts as primary responders and to take meaningful steps to improve the mental-health-care system and keep vulnerable people out of jails."
Jacqueline Tasca, a co-author of the report and policy analyst with the John Howard Society of Ontario, said to the Star, "When the health system fails to treat mental illness, the justice system punishes the symptoms."
Again, we do not lock up those who have heart problems or cancer but, as the John Howard Society Report states: "Unfortunately, people are often only connected to treatment and programming (for mental illness) as a result of justice involvement -- if at all." And that "family members, often desperate to connect loved ones in crisis to psychiatric care, call the police."
Those of you who follow my blogs here know that I have devoted a number of them to criticizing both the Mental Health Commission of Canada and the Ontario Government. The Ontario government has ignored many of its own reports on improving the system including an all-party committee. One of my criticisms of the Mental Health Commission is that health care is a provincial matter. All the commission can do is make recommendations and write reports.
Dr Joshua Tepper, however, suggests that "health leadership -- setting big-picture goals, helping achieve best practices across the country and providing long-term, sustainable funding models -- can be the role of the federal government." Dr. Tepper is currently an emergency room doctor in Toronto among other roles and he was an assistant deputy minister of health in Ontario.
I agree with Dr. Tepper when he says that "Canadians should be pressing the parties to take a leadership position on the healthcare file."
And one aspect of that file that needs the most is mental illness. Let's hear what the parties have to say on this topic.
MORE ON HUFFPOST:
9 People Who Have Changed The Conversation Around Mental Health
Don't be fooled by Terry Bradshaw's demeanour on NFL broadcasts; even tough guys like the Super Bowl-winning former quarterback have struggled with depression. The ex-Pittsburgh Steeler opened up about his struggle with the illness in 2004, and how he had difficulty "bouncing back" after a divorce. "With any bad situations I'd experienced before — a bad game or my two previous divorces — I got over them. This time I just could not get out of the hole." He has also talked openly about his struggles with memory loss, which resulted from concussions he sustained in his playing days.

In "Silver Linings Playbook," Bradley Cooper played Pat Solitano, a Philadelphia man struggling with bipolar disorder after being released from an institution. Cooper admitted to knowing very little about the illness before the role, but he has since spoken openly about mental health, talking about veterans dealing with PTSD in a speech at the MTV Movie Awards, and attending the White House's National Conference on Mental Health in 2013. At the conference, he talked about how a friend was diagnosed with bipolar disorder, and how people dealt with it by not talking about it. Cooper encouraged delegates to "[help] people understand that they're not alone, that the thing they're feeling, it probably has a name."

Last year, as Robert De Niro's film "Silver Linings Playbook" was in theatres, he broke down crying while talking to Katie Couric about his father's difficulties with bipolar disorder. "I don't like to get emotional, but I know exactly what he goes through," he said of the film's character Pat Solitano (played by Bradley Cooper). De Niro's public discussion helped to show how families also suffer when people close to them experience mental illness.

Canadian Olympic medallist Clara Hughes is among the most prominent voices speaking out about mental health in the Great White North. The speed skater and cyclist, who is the only person to ever win multiple medals in both the Summer and Winter Olympics, has been open about her struggles with depression, which have been present throughout her athletic career. Hughes took that experience and channeled it into a job as spokesperson for Bell Let's Talk, an initiative that aims to end the stigma around mental illness. She cycled across Canada for 11,000 kilometres as part of "Clara's Big Ride for Bell Let's Talk," which triggered a conversation around mental health from coast to coast to coast. Hughes visited 105 communities and 80 schools and youth groups as part of the ride.

Michael Landsberg, host of TSN's Off the Record, cuts an energetic figure on TV. But in 2010, he went public about his struggles with depression in a TSN special alongside ex-NHLer Stephane Richer in an effort to let men know that it's OK to talk about it. The special triggered as many as 30 emails, all of them from men, Landsberg told The Toronto Star. Years later, he helped a woman who tweeted at him about her plans to kill herself. Landsberg found the woman and sought help for her from the police.

Actress and singer Demi Lovato did not have a strong relationship with her father, but when he died, she went public about both his and her own struggles with mental illness. She also established the Lovato Treatment Scholarship, which helps to pay for people's treatment.

As a figure skater, Elizabeth Manley did Canada proud by winning a silver medal in ladies' singles at the 1988 Winter Olympics in Calgary. Prior to the 1984 Sarajevo Olympics, she experienced a series of unfortunate events. Her coach left her, she ended up training in the U.S. away from those closest to her, and her parents divorced. Manley gained weight and her hair fell out. She was diagnosed with a nervous breakdown and depression. Manley has since become a spokeswoman on mental health issues. She told her story in her 1990 autobiography "Thumbs Up!" and organized "Elizabeth Manley and Friends," a 2012 benefit show whose proceeds went to teen mental health initiatives.

Who can forget Amanda? The 15-year-old from Port Coquitlam, B.C. jumpstarted a whole new discussion on bullying and mental health after she went public with allegations of harassment in a heartbreaking video that was posted on YouTube. Then on Oct. 10, just over a month later, she killed herself. Her death sparked an outpouring of emotion from around the world, and prominent voices such as B.C. Premier Christy Clark cited her in speeches at We Day 2012 in Vancouver. Her mother Carol Todd also set up a trust fund at Royal Bank of Canada, which would raise money for young people living with mental health issues.

In 2006, Margaret Trudeau, ex-wife of former prime minister Pierre Trudeau, went public over her struggle with bipolar disorder, and how she used marijuana to cope with it. She has spent subsequent years since giving speeches about the condition, telling packed audiences about her highs and lows. Her book "Changing My Mind" details her life as it's been affected by the disorder and offers advice to others who live with it.
Follow Marvin Ross on Twitter: www.twitter.com/dysdads