Some Advice For Ontario's New Health Minister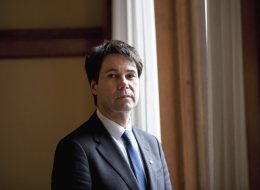 For those of us advocating for improvements to services for the mentally ill in Ontario, the appointment of Dr. Eric Hoskins as the new Minister of Health is a breath of fresh air. Dr. Hoskins, as a physician, should have a good grasp of the health issues facing citizens in this province even though his medical experience is in the impact of war on children. His activity in that sphere suggests compassion.
Dr. Hoskins, we hope, will be a problem solver utilizing proper evidence. He is, after all, a graduate of McMaster University which "created a revolution in health care training with the establishment of a medical school that pioneered a problem-based learning (PBL) curriculum, which has since influenced health care education worldwide." McMaster also pioneered evidence-based medicine.
To help make his transition a little easier, I would like to offer some suggestions for improving services to the mentally ill in our province that will also save money.
Please do not ignore this problem or attempt to reinvent the wheel. The solution to many of the problems facing the mentally ill and their families have already been laid out for you. Unfortunately, they have been ignored. We do not need another study or task force. They are costly and will likely only return the same suggestions you already have.
You could go back and take a look at the report called The Time Is Now which your government inherited when first taking office in 2003 if you can find it. I can no longer find it on the government website. But, many of those recommendations are contained in the excellent report presented in 2010 by an all party committee. Even if your party did not have a majority, you could have implemented those reforms because they were agreed to by the opposition.
And two key recommendations should not cost much if any money. Recommendation 21 in that report suggests changing the Mental Health Act to make it easier to provide treatment for people. That deals with the issue of involuntary treatment and you do not have to do any research. The courts have already ruled that this is not a violation of the Charter and that community treatment orders or assisted outpatient treatment orders do work. If you look at the evaluations of New York State's legislation called Kendra's Law, you will find that this type of strategy reduces hospitalizations by 77 per cent and reduces the cost for the most expensive services.
Another sore point for families is the current privacy legislation which prevents medical staff from discussing anything with the families of those over the age of 18. The Select Committee recommended that this be changed and that would not cost. In fact, it would save you money. Many family members "told the Select Committee (P.17) of their frustration at being emotionally and financially responsible for their loved ones while not being considered a partner in care by the health care system."
One family caregiver pointed out to me that "family caregivers are doing the work of the former institutions and are already providing supportive housing to up to 90 per cent of people with mental illness" but the system will not talk to them. The Mental Health Commission of Canada in its report on Family Caregiving points out that caregivers help facilitate recovery (p.13) and those with schizophrenia experience fewer relapses and fewer hospitalizations. These save money in addition to providing better care.
If you were just to implement these changes, Dr. Hoskins, you would do immeasurable good for the mentally ill and their families and you would save taxpayers money. It is a win-win situation and I'm more than happy to help or to recommend those who can. I would be much happier if I weren't continually berating your government for its obvious but easily rectified failures.
MORE ON HUFFPOST:
The Toll Of Mental Illness In Canada
In any given year, one in five people in Canada has a mental health problem or illness.

Of the 6.7 million people who have a mental health problem, about one million are children and teenagers between nine and 19 years old.

Mental health problems cost at least $50 billion a year, or 2.8 per cent of gross domestic product, not including the costs to the criminal justice system or the child welfare system.

In 2011, about $42.3 billion was spent in Canada on treatment, care and support for people with mental health problems.

Mental health problems account for about 30 per cent of short- and long-term disability claims.

If just a small percentage of mental health problems in children could be prevented, the savings would be in the billions.
Follow Marvin Ross on Twitter: www.twitter.com/dysdads