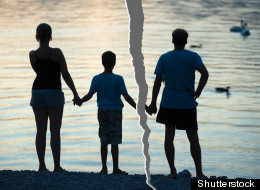 The moment the judge said in the court that my divorce is granted and asked if there was anything else I wanted to add to the list of wishes granted on my behalf, it was a no-brainer -- I wanted my name back. My maiden name to be exact! This was in essence, almost the final act of severing myself from a life, a role and an identity that in itself no longer existed. I look back at that yellow copy of the judge's hand written addendum to the divorce decree sometimes and still get the same glimmer of happiness I experienced that day in court five years ago!
Little did I realize then the implications it would have for days, months, and years to come. Just as it was cumbersome to go through the motions of changing my name on EVERYTHING when I got married, it was equally if not more bothersome to do so now that I was divorced. The excitement of the name change was somewhat bittersweet in the sense that once again, this was one more thing that confirmed and grounded that a dream I had of a perfect marriage, life and family was just that...a dream.
BLOG CONTINUES AFTER SLIDESHOW
Michael Vana:When she said that she would divorce me so my mother wont be able to see our son without her being there.

greilcook:

dancinggrandma:My husband left for work and while he was gone, I read a book called "I'm OK; You're OK". It described parent/child/adult styles of behaving. When he came home, and from that time on, everything out of his mouth was "critical parent" to "naughty child" (me). I asked for a divorce a few weeks later. That book woke me up big time!

BitsyGem:

NotIfHeBegged:The moment I knew we were divorcing? Well... there should have been many moments before then, but the final straw was the day I went looking for the video of our daughter's first swim lesson, and instead found the footage of him having sex with other women. Plural. So. Damn. Done.

jillrh:Should have known after the drunken suicidal rant in front of the children.. should have known many times... but oddly enough it was the day he chased me out of the house (wearing a wife beater undershirt for visual effect) screaming, the kids without reacting (just another day on the farm) and I sat in my car wondering- which is more dangerous.... leaving the kids with him or trying to take them with me. Yea.... then I knew.

Judy Wickler:I knew when he came home from a golfing trip and, while emptying his suitcase I saw his t-shirts and socks neatly folded in an unlikely way.

@HuffingtonPost #themomentiknew When he proposed via MySpace, said "turn around." I took my time & when I saw the ring, asked "Is it real?"

HuffPost Blogger Dan Ehrlich:During our 25th anniversary 2nd honeymoon trip she said she wanted to move on in her life, but without me. Allin "Across a Crowded Room."

Roklady:I was scheduled for my 2nd C Section and he asked me to call a friend to be with me the day after the baby was born. He wanted to go on a business trip and I had "already done this before"

dkeiko:The moment I knew

boundary:After starting..and actually inventing the concept for our business...and he tells me to ask permission to speak at conferences because " he knows the political climate"

boundary:When I had carotid artery surgery and he wanted to know if he could go for a bike ride before picking me up...and never asked how I was.

ThinkLikeALady:#themomentiknew is when he stopped touching me, conversations ceased, and he wouldn't make eye contact anymore. Oh...and that Sat AM when I checked the cell phone bill and noticed there were 23 calls to a woman in one weekend.

Alaina Black:The moment I knew was when we talked all year about going to Hawaii, I even booked our $5,000 trip, and he decides he didnt "know what he wanted in life," so he moved out...leaving me with a booked vacation to paradise and a broken heart. And Orbitz doesnt give refunds...

caligurl0601:I knew when my beloved mother, who lived 3,000 miles away, unexpectedly passed away earlier this year and I asked my husband to use his frequent flyer miles to book a flight to be with my family and organize her home going service and $600 to rent a car. He agreed, and texted me that I owed him when I got back, and he said that he didn't mean money.

kate5130:I knew when my I told him I felt a lump in my breast and his response was "I'm going to go return these movies to the store". I knew right then and there I had to go.

emo mommy13:only been married a little over five years, and i'm over this. i can't do it anymore.

Cyrusboo:

tonua04:There were several small moments that led to my realization that neither of us are the same people. Better to walk away on good terms.

tonua04:When I realized that we had stopped fighting... It just didn't seem worth the energy... Wow! What a realization!
In my mind, changing my name back to my maiden was an act of freedom. I would finally free myself of the association with this man and life that brought me years of pain and unhappiness. Having been a wife, a daughter-in-law, a mother, a daughter, a sister -- everything but ME -- this was my final release. This short-lived joy came to a screeching halt the first time I had to update paperwork at the kids' school and doctor's office. I was looking at a piece of paper that now separated my kids and I by something as insignificant yet at that same time as important, as a name. I was now Ms.So-and-So, no longer Mrs. So-and-So.
Would my kids be looked at differently? Would people wonder if they were adopted or foster kids? Will there be speculation among the Indian teachers at their school as to the who, what, where and whys of my kids' life? So many questions went through my mind at that one moment of filling out the emergency card for their school.
My kids, bless their hearts, didn't share or display any negative feelings towards me changing my name. Shortly thereafter a call from their doctor's office was a jolt of reality as well. As I revelled in this newfound identity; the customary changing of my name on every public forum and media as possible, notifying friends and family to update and change their way of identifying me, came the call. "May I speak to Mrs. So-and-So?"
My immediate, perhaps a bit bratty reaction was to tell the caller that they have the wrong number. However, seeing the caller ID with the doctor's name snapped me back to reality. I politely notified them this is the mother and to please update their record to the name change. This conversation was repeated numerous times over the next few months with the school, the teachers, the doctor's office, the counsellor, the old school, the courts...you get the idea.
Now comes the fun part...the kids' friends. The circle of friends the boys had was blessedly a well mannered group of kids. They always referred to me as Mrs. So-and-So. To now have to tell these kids to instead call me Ms. So-and-So was a little bit more than awkward. Between my kids' prodding and my glares of "The Look" the friends soon learned to call me with the new name. I feel blessed that my boys understood the importance for me to change my name. They themselves were always very quick to correct anyone that mistakenly identified me with their dad's last name. I still find it a little strange at times when I introduce myself to teachers. However, I have accepted that a different last name among family dynamics today is an acceptable norm in the American subculture. Perhaps not so much among the South Asian culture.
The reality is that it is becoming more common in all realms than before. I could have kept my married last name as my mother had. However I felt it more important to disconnect myself in order to move on and create an identity for myself. Their dad's last name is forever a part of my kids' life and future. That's a legacy they will carry on for him and with them. My role in that has been fulfilled and I am now free to continue with what I feel is meant to be my legacy.
My contribution to that for my children does not have to be identified to a name. They, as my children, are a part of me and will carry that forth with or without a name associated with it. So, what's in a name you ask?It's an identify for myself and myself alone. In the end, that's what matters.
By Vaishali Sharda
Follow Vaishali @v4vaishali
Read about Vaishali's journey as a single South Asian mom
"Mom, I'm Leaving Him and Getting a Divorce."
Follow masalamommas on Twitter: www.twitter.com/@masalamommas