I Found The Light At The End Of My Postpartum Mood Disorder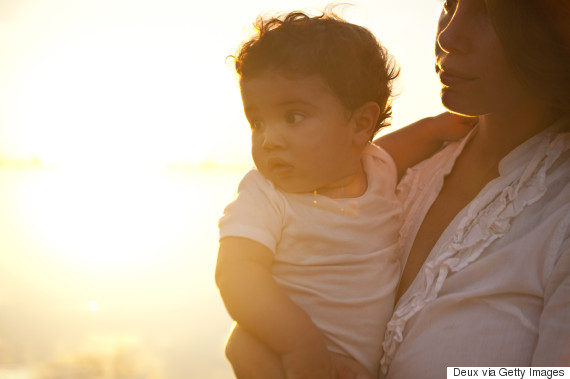 (Photo: Deux via Getty Images)
So often when we refer to "postpartum," our minds jump to "postpartum depression." And yet, it is still something we are afraid to talk about. Women who do struggle with it are afraid that if they tell anyone, their children will be taken away. That is because the media focuses on the most tragic cases of postpartum mood disorders, without ever really examining the truth.
Postpartum mood disorders are so much more than just depression. Anxiety, obsessive compulsive disorder, the blues, manic states and, more rarely, psychosis all make up the spectrum of postpartum mood disorders. My own experience parallels the experience of so many, and yet has its own unique complications.
The birth of my first child in 2012 came after a complicated third trimester and a difficult birth. So difficult, in fact, I would in later months be diagnosed with post-traumatic stress disorder (PTSD). My PTSD was circumstantial and had nothing to do with the treatment I received -- the doctors and nurses who cared for me and my child were incredible. Ten days after I gave birth, I was readmitted to the hospital with a postpartum infection that became very dangerous.
In that moment I felt like I was not a mother, and certainly not a good one.
I was so weak and ill that I could not pick up my baby, let alone feed him. That moment when I had someone else pick up, feed and snuggle my darling baby back to sleep was the moment it all started going downhill for me. In that moment I felt like I was not a mother, and certainly not a good one.
It took me three months to seek help for how I was feeling. And when I did reach out for help, my own doctor dismissed me, saying it was "just hormones" and to "come back in a month." Thankfully, I had a wonderfully supportive family around me and I demanded better.
But I shouldn't have had to fight for help. A month later, when I finally met the psychiatrist, I was diagnosed with PTSD and postpartum depression. I was put on medication and received talk therapy. Sleep deprivation played a huge role in my mood, but I wasn't in a place to afford the kind of help that would have fixed that. Truthfully, I am not sure I would have accepted it even if I could afford it, because my identity was still wrapped up in being the "perfect mother" -- as if there is such a thing. With time, medication, and support, I began to enjoy my life and my baby.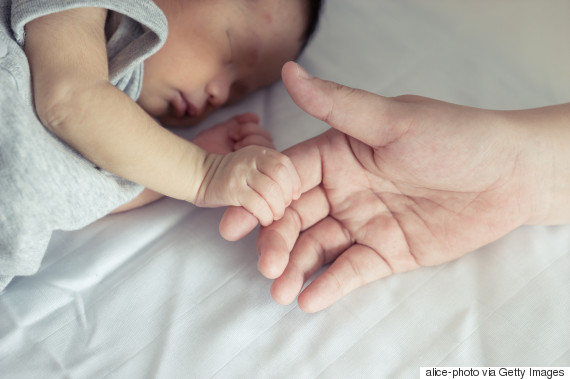 (Photo: Alice-Photo via Getty Images)
During my second pregnancy, I was watched very closely. When, once again, complications arose in my pregnancy, I was considered a high risk for relapse. And while we thought I had escaped relapse for a while, three months after the birth of my second child, I fell into a very deep depression. Once again, I received treatment in the form of therapy and medication. Once again, I began my slow crawl out of the darkness.
Postpartum depression and mood disorders are a dark pit of tar. It clings to you. You wonder if you will ever get rid of it all. One night of bad sleep, a knocked-out tooth (true story!) or a fight with a partner can send it all tumbling back into your lap.
Postpartum depression and mood disorders are a dark pit of tar.
It isn't always tears. Sometimes it is rage, or apathy, or just a desperate desire to run away from it all. You become convinced that your family would be happier if you weren't there, and you wonder if you should just escape to a different life in another place. Sometimes it is heart-wrenching sobs. And almost always it is bone-deep exhaustion.
If there is anything I wish I could scream from the rooftops, it is this: there is no shame in mental illness, and there is no shame in seeking help. For some, talk therapy or cognitive behavioural therapy will be the answer. For others, medication will be necessary and there is no shame in that, either. For me, the answer was, and continues to be, medication. We do not begrudge someone with diabetes their insulin, and mental illness can be just as devastating as physical illness.
Every year leading up to January 25 I tell my story. Every year I hope that my story will touch just one person and help them to see that, however faint it is, there is light in the darkness. So talk, tweet, text, do whatever you can this January 25 to raise awareness and end the stigma.
Follow HuffPost Canada Blogs on Facebook
Also on HuffPost:
10 Biological Causes of Postpartum Depression
The sudden drop of estrogen and progesterone following labour may play a role in the onset of PPD. According to the authors of a 2012 Swedish study, "downregulation of endogenous hormon production in women with PPD history elicits depressive symptoms in more than 60% of cases." Hypoestrogenism, as it's called, has also been shown to cause depressive symptoms at other times of a woman's life. However, there are other studies which challenge this concept and more research is needed.

A number of studies have shown that women with PPD have hypoactivation of the hypothalamic-pituitary-adrenal axis (HPA). The HPA axis controls your reaction to stress and women with PPD have have higher levels of corticotropin-releasing-hormone (CRH), better known as the cortisol, the stress hormone which is released by the HPA axis.

Though it's not yet known why, research is showing that "failed or discontinued lactation" is associated with the onset of PPD symptoms and that it could have something to do with the feel good hormone, oxytocin, that's released during milk let-down.

Women with PPD have been found to have lower tryptophan and serotonin levels. Tryptophan is an amino acid and serotonin is a neurotransmitter. Both work together to reduce anxiety and alleviate stress. It's not known why women with PPD have lower levels of tryptophan and serotonin and researchers are looking into genetics as a possible reason.

Women with PPD reportedly have lower brain-derived neurotrophic factor (BDNF) levels. BDNF works with serotonin, the feel good neurotransmitter, also known to be low in women with PPD. Authors of a 2012 Swedish paper report that "PPD is likely to be the results of an interaction effect between hormonal changes and these brain neurotransmitter systems."

Our circadian rhythm is our body clock which tells us when it's time to sleep and when it's time to be awake and alert. Melatonin, the sleepy hormone, is involved in this process. While melatonin levels should be highest in the evening, it's been shown that women with PPD have significantly higher melatonin levels in the morning suggesting their circadian rhythm is out of whack. Of course this makes sense as new mothers often go hand in hand with a lack of sleep as their care for their babies but researchers note that it's important to consider that insomnia can also be the consequence as well as a cause of depression.

Many people with depression experience a worsening of their symptoms during the fall and winter months. This is known as Seasonal Affective Disorder (SAD) and is more common among women. Some studies have shown that women who give birth in the fall or winter have an increased rate of PPD than women who give birth in spring or summer. It's also been reported that there's a "significantly higher risk" for PPD symptoms to present themselves at six weeks or six months postpartum in women who have given birth in the months from September-December.

Lower vitamin D levels have been found in postpartum women compared with pregnant women and women with mood disorders have been shown to have a vitamin D deficiency. Researchers are wondering whether nutritional habits may play a role.

It's thought that perhaps some women suffering from PPD are actually suffering from a psycho-neuro-immunological disorder in which their inflammatory response to labour has been exaggerated. Studies show that inflammation can produce anxious and depressive symptoms.

Women with the baby blues have been shown to have higher thyroid-stimulating-hormone (TSH) levels. Women with higher TSH levels tend to have higher depression scores at four weeks postpartum. Women in a study who reported PPD symptoms six months postpartum also had hypothyroidism at the time of delivery.
Follow Meaghan Grant on Twitter: www.twitter.com/TOFamilyDoulas