Haiti Faces A Long Road To Recovery After Hurricane Matthew
On October 4th, my colleagues and I anxiously followed the news as Hurricane Matthew tore through Haiti. Though all of us were hoping and praying the damage would be minimal, the storm was deadly.
In the days before the hurricane, our staff in Haiti had amassed emergency supplies in case of the worst. They were able to dive in and help as the winds and rains died down, assessing damage and providing immediate aid.
But as news emerged from the area, we realized that the people of Haiti would be struggling to recover from this storm for a long time to come.
These photos tell a story of great tragedy, community cooperation, and the strength of Haiti's people to get up and begin rebuilding.
"In some parts of Haiti you have 90 per cent of homes destroyed, plus people losing all of their crops," said John Hasse, director of World Vision Haiti of the long road ahead. "For them...it's what happens next week, what happens next month?"
The question of food
As World Food Day approaches, it's hard not to think about the food many of us take for granted here in Canada. In Haiti, World Vision is committed to distributing food aid to 15,000 families in the next two months. But, with so many crops destroyed, the effect of the hurricane will reach far beyond that.
When you add in the damage to roads, schools and clinics, combined with the risk of waterborne diseases like cholera that are increasing due to flooding, the people of Haiti are in desperate need.
But they are also resilient. These photos tell a story of great tragedy, community cooperation, and the strength of Haiti's people to get up and begin rebuilding.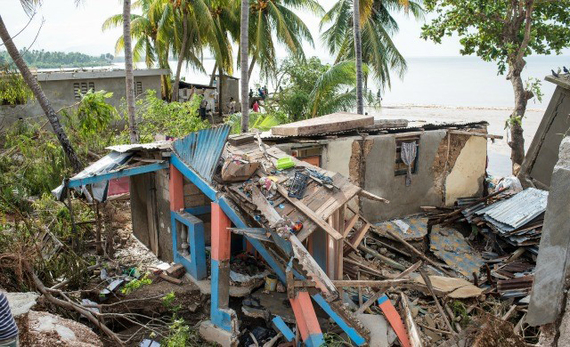 Homes have been decimated along the coast of Haiti in the community of Dupuy.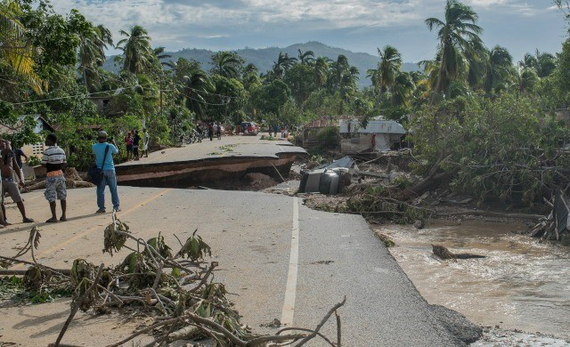 Roads were literally washed away in the floods.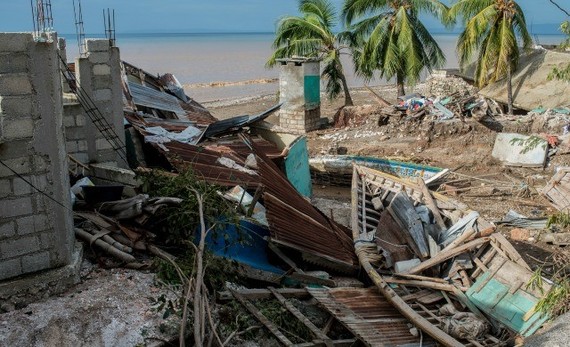 Crops and fishing boats have been destroyed, stealing peoples' livelihoods.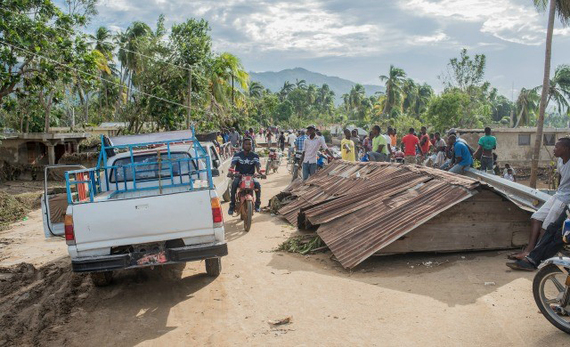 The winds were so strong that this roof was blown right into the road.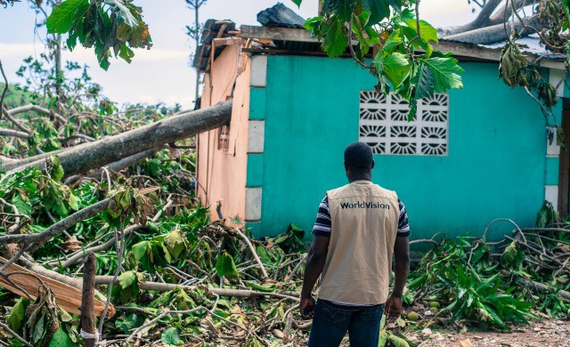 This tree crashed right through the roof and walls of this home in Saint Louis du Sud.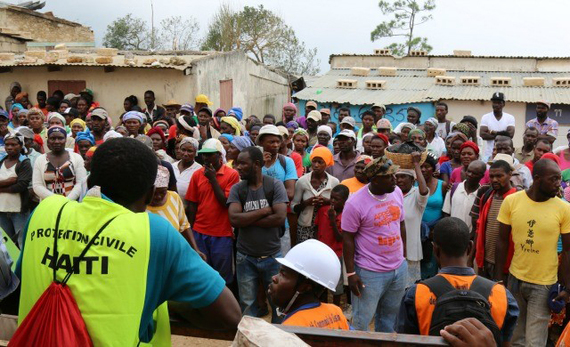 People who were self-sufficient now have to rely on emergency aid.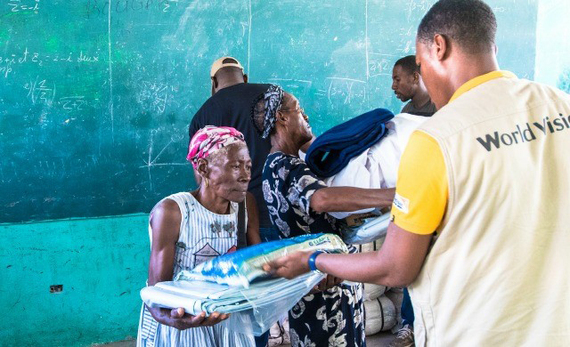 Our World Vision staff are providing things like blankets, tarpaulins, clean water, and hygiene kits to families.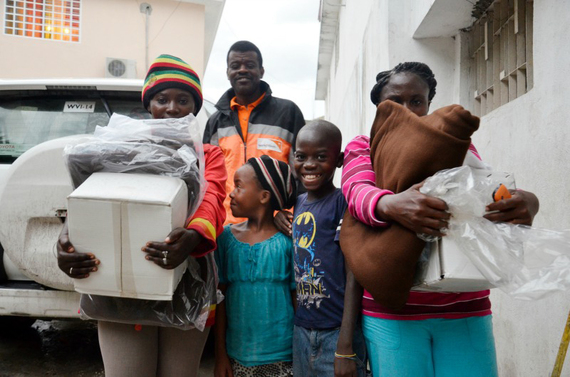 You can help provide emergency essentials like clean water, blankets, hygiene kits and more.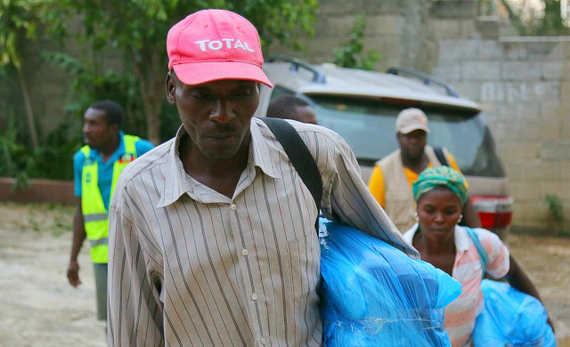 Family members carry home life-saving supplies to their loved ones.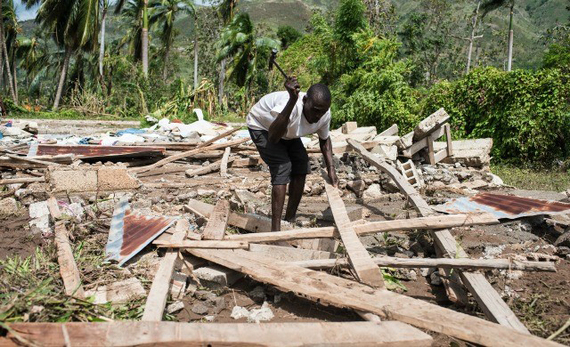 This church building was completely destroyed. Yves, a church member, tries to salvage some of the materials so they can rebuild.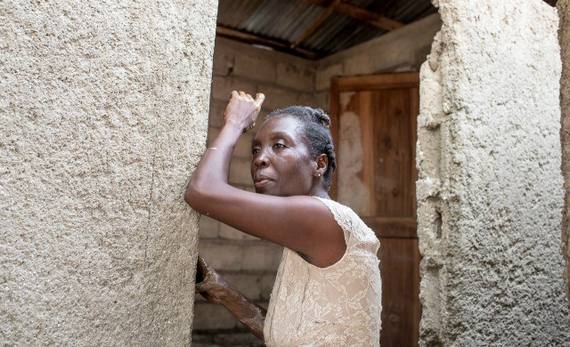 Gisèle, a mother of three, cleans her home from debris and mud. Haitians have been forced to start their lives again in the aftermath of the storm.
Haitians are ready to rebuild their country in the wake of this storm, but without the resources to do so, the next months and years could be desperate. You can help provide emergency essentials like clean water, blankets, hygiene kits and more.
Despite the horror of an emergency like this, I am grateful that World Vision will be there in Haiti, as we have been for 38 years, to help farmers replant, families rebuild their lives, and children get back to learning.
All photos by World Vision.
Follow HuffPost Canada Blogs on Facebook
Also on HuffPost:
It Is No Wonder Haitians Are Anxious
In 2010 I walked through buckets of bleach to disinfect my boots before entering and leaving the St. Marc cholera ward. The ward is still there and it is still receiving patients—196 admissions so far this November 2015 and two deaths. The trends this year are tripled compared to last year. 19,949 cases and 170 deaths occurred countrywide in July 2015, as opposed to 7,739 cases and 56 deaths in July 2014. One must remember that these are cases that made it to reporting centers and hospitals. It is suspected that many more incidents go unrecorded in remote regions. Official counts change rapidly and cholera does not discriminate between the old...

...or the young. Know also that this hospital does not have enough supplies; not enough rehydration fluids; and too few rapid detection tests. Millions and millions of dollars sent to Haiti and a few boxes of rehydration fluids stand between these souls and the morgue. As of June 30, 2012, $2.3 billion has been provided to support long-term reconstruction activities in key development pillars identified in the five-year United States Government (USG) Haiti strategy. (Source: USAID)

Graphic assembled by Jake Johnston of the Center for Economic and Policy Research. See data report.

Locked gate in Caracol at the employment kiosk for USAID's flagship project at the nearby Caracol Industrial Park. Sae-A Trading Co. Ltd.― Korea's leading garment manufacturer is the designated corporate anchor tenant. USAID provided $43.5 million in direct support for the Industrial Park. Foreign investors were promised the moon.

As a result, the employment numbers at Caracol's anchor tenant facility have been under intense scrutiny and criticism. The Korean Sae-A (S&H Global) employs 7,027; 4,976 are women. The only remaining evidence of the Clintons is this golden plaque on a community school. Up to 60,000 jobs have been promised in the industrial park, not all in the garment industry.

No visitors allowed inside. The $300 million, 590-acre park, opened with many promises in 2012 by then-Secretary of State Hillary Clinton and former President Clinton. Where are the Clinton's now? The total number of people working at Caracol at the end of September 2015 was 8,648. 40-60,000 jobs were promised at the PIC.

The Caracol-EKAM settlement was originally projected to provide permanent houses to approximately 3,750 to 4,500. Where were the workers supposed to live? In fact, no one with experience in that massive of a building project stepped forward, and as the future would unfold, the Potemkin village was crumbling before it left the drawing board. Then there was the sticky issue of payment. This was not free housing, and garment workers would be expected to pay a monthly mortgage as well as utility bills. 331 workers from Caracol live in homes built by USAID at EKAM.

This woman was fired because she took two days to go to a doctor in Port-au-Prince for what amounted to a stress-induced illness. It takes a day to drive back and forth IF you have a car. Korean employers did not care that she had endured unwanted sexual advances, supervisors screaming at her to "work faster," and fists pounded on tables if she failed to meet production. Still, all she wants is her job back.

This development of 750 300-400 square foot homes experienced cost overruns due to design changes (Haitians wanted more than 200 square feet to live in), labor disputes and protests, according to a report by USAID's Inspector General.

..along with foundations that are less than two years old. Would you pay rent here? The pay of about $5 a day at the Korean factory is the minimum wage.

Earlier this year, USAID's inspector general found that the project, which was originally estimated to cost about $53 million, ballooned to $90 million. While the price tag grew, the project shrunk. Indeed, the plan had originally called for building 4,000 houses by 2012, but as of July, only about 816 houses have actually been built. This man's house floods every time it rains.

Neighborhoods are still struggling to repair to third world standards

Bel Air is a neighborhood of Port-au-Prince. It was hard hit by the earthquake and the poverty is palpable.

2013 guesses of camp dwellers at 171,974 does not include all three camps: Canaan, Jerusalem, and Onaville. See report from Ayiti Kale Je. "Three years after its star-studded launch by President René Préval, actor Sean Penn and various other Haitian and foreign dignitaries, the model camp for Haiti's 2010 earthquake victims has helped give birth to what might become the country's most expansive – and most expensive – slum."

With a slum of this magnitude, clinging precariously to mountain and hillsides, if another earthquake were to hit Haiti, the toll could eclipse the 350,00 of 2010. The threat of mudslides in a heavy rain or hurricane is ever-present.

"Circumspect" (Wary and unwilling to take risks in analysis) Download the report here.
Follow Megan Radford on Twitter: www.twitter.com/MegRadford