Something As Simple As A Kitchen Garden Can Lift An Entire Family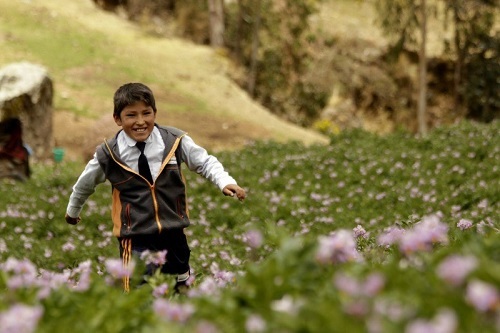 In Bolivia, Franklin gets to run through a potato field on his way to school. "In our garden, I help plan potatoes and onions," he says. (Photo: World Vision)
When I was three years old, my family lived on the coast of Newfoundland in a little fishing village. Across from our home, the ocean crashed in white foamy waves against the shore. The ground was rocky, cold and wet -- not conducive to growing crops -- but next to my house my dad had eked out a small vegetable garden.
My dad's childhood on a farm in southern Ontario ran deep, and his green thumb produced potatoes, carrots, corn and green onions from the black earth. I could often be found with one of the latter sticking out of my mouth as I "helped" him in the garden. My rubber boots deep in the mud, I remember the feeling of triumph as I pulled leafy stalks from the ground.
These days my dad has a flourishing kitchen garden beside my family's home in Halifax, Nova Scotia. During harvest time my Facebook feed is flooded with pictures of bright tomatoes, copious amounts of green beans, and seemingly unending meals my mother cooks up with his basil, rosemary and oregano. It's enough to make my mouth water.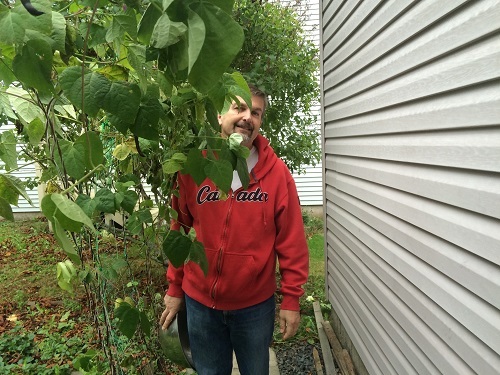 Dad and the beanstalk in Halifax! (Photo: Megan Radford)
Bringing country to the city
On my first trip to Bolivia, I was reminded of my dad's carefully tended garden when we visited a community on the outskirts of the city of Cochabamba. Outside many of the homes we saw were small squares of flourishing green produce. These gardens provide not only sustenance for the whole family, but, when they have grown large enough, a source of income.
Just like my father has gone back to his roots as a grower, these families, many of whom have moved to the city from rural farming communities, are once again tilling the earth. Urban farming has its own challenges, and World Vision provides the expertise to adapt traditional farming techniques to city life, offering sustainable, independent nutrition to a community in need.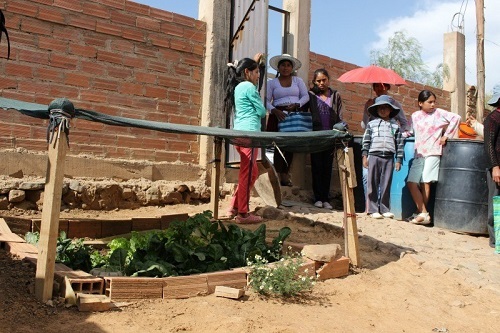 This kitchen garden outside a Bolivian home provides vital nutrients to a family. (Photo: Megan Radford)
Even in rural areas, World Vision is reawakening a love for growing things. In this community, a school garden teaches children lifelong skills and provides potatoes for the school's meal program.
The crop has been so successful that the leaders of the community have decided to start another potato farm -- one that everyone can participate in and enjoy. The money the community makes from selling their crops will go towards improving the local school.
Share the love of the harvest
This October, as we enjoy the harvest with family meals, trips to the apple farm and pumpkin carving, I'm remembering the farmers we partner with around the world. Growing your own food, as my father will tell you, is an ancient and precious tradition. But more than that, it is life-giving to families and to those of us who enjoy the fruit of farmers' labour. I think that's something to be celebrated.
World Vision thinks so, too, and we're doing just that. We're asking you to join us in carving a heart into your harvest pumpkin. Text LOVE to 41010 to give a $10 donation of crop seeds to farmers. Then share a picture of your pumpkin on social media with the hashtag #CarveAHeart to spread the word!
Let's honour the hard work of those who grow the things we eat, and allow communities in need to enjoy the same delicious food.
Carve a heart this October and help farmers share the love of the harvest!
Follow HuffPost Canada Blogs on Facebook
Also on HuffPost:
Basil is a great addition to many meals, especially pastas and tomato dishes. Basil plants prefer warm, sunny areas with ample drainage. Remove any flowers when they appear, as they will deter the leaf production. In addition to its delicious flavor, basil is a good source of vitamin A, and can act as an anti-inflammatory agent.

Parsley is somewhat hardy and prefers light shade. It is biennial and will often seed itself. Parsley can be used to flavor a wide variety of dishes. Be patient, as sometimes parsley seeds can take a few weeks to germinate. Much more than just a decorative garnish, the world's most popular herb is rich in vitamin C and has carcinogen neutralizing capabilities.

Sage is a durable perennial that is perfect to sow outdoors in May. It is excellent for seasoning various meats, and its attractive appearance is a welcomed sight to any garden. Appropriate to its name, sage boosts brain functions. Research in Pharmacological Biochemical Behavior confirmed the herb to be incredible at enhancing memory.

Rosemary is tolerant of poor soil as long as it has adequate drainage. Because rosemary seeds germinate so slowly, it is recommended to plant it from other small rosemary cuttings. It is a delicious herb often used to add flavor to many meats. In ancient Greece, students would place rosemary sprigs in their hair when studying for exams, as it has long been associated with aiding memory.

Thyme is a good source of iron, and is a staple ingredient in cuisines from the Caribbean to the Middle East. Thyme is best grown transplanted from seedlings and loves sunny areas. Because it's a perennial, it will return every year, but it's best to only harvest a small amount the first summer to let it establish itself firmly.

Dill is a pretty hardy herb, willing to tolerate most soils and conditions. It's fairly easy to care for, and is a great herb for beginning gardeners. Native to eastern Europe, the Mediterranean, and western Africa, Dill adds a tangy flavor to many entrees, but use sparingly or it will overwhelm other flavors.

Oregano is an easy herb to grow from the seed. It likes sunny areas, and is ready for harvest when flowers appear. In addition to its delightful flavor, famous in Italian dishes, oregano is also an effective anti-bacterial.

Peppermint is a cool refreshing addition to hot summertime meals. It's excellent for making tea, and even soothes stomach problems. Mint can easily become an invasive species, especially in rich soil, so grow the plant in pots or confine it with edging to prevent it from taking over your garden.

Lavender will add a mildly sweet flavor to food, but most people prefer to grow it simply for its pleasant aroma and the lavish eye candy it adds to any garden. The Egyptians used it for perfume and mummification, and the Romans used it for bathing. Additionally, lavender oil is excellent for healing burns, wounds, and insect bites. Lavender is commonly transplanted from the cuttings of another plant, and although mulch will help it through tough winters, it grows better in the milder regions of the United States--especially well in light, dry soil.
Follow Megan Radford on Twitter: www.twitter.com/MegRadford